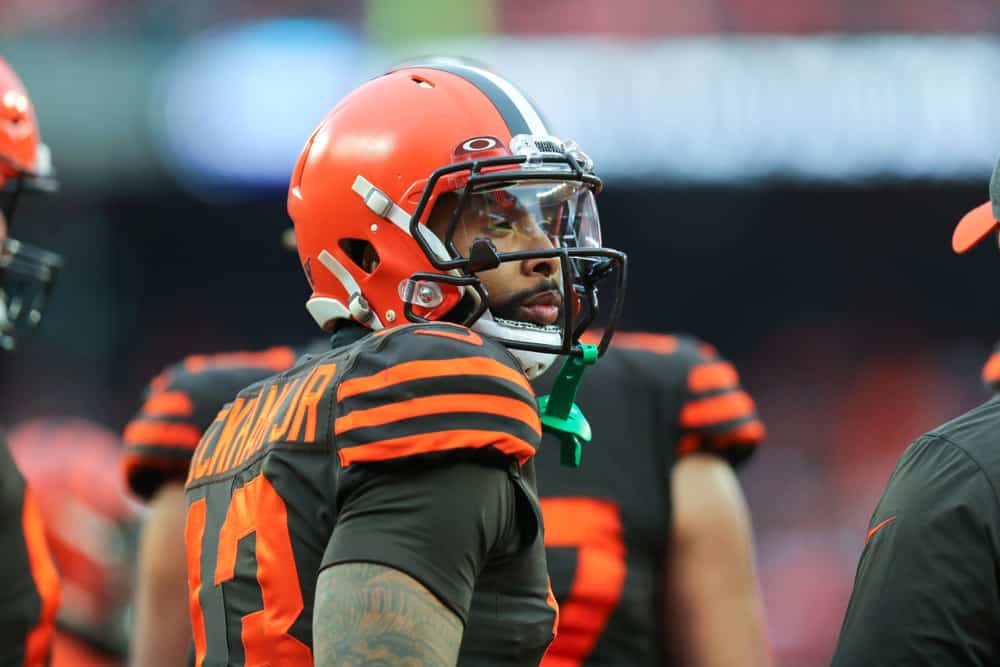 Many across the world are still grieving the loss of Kobe Bryant.
The former Los Angeles Lakers star tragically died on January 26th in a helicopter crash that included his daughter and seven others.
Many across the sports world are still having difficulty processing the sudden death.
His death struck a particular nerve with Cleveland Browns star wide receiver Odell Beckham Jr.
.@obj pays tribute to the #BlackMambahttps://t.co/nmj0hGM42w

— HotNewHipHop (@HotNewHipHop) February 9, 2020
The New Ink
Beckham talked on his Instagram story on Saturday to document the addition of his new tattoo.
The tattoo was added to the right side of his abdomen.
View this post on Instagram
He has not shared the final product yet but the video showed that the tattoo features a portrait of Bryant's face and his "signature" scowl.
He joins current Lakers LeBron James and Anthony Davis in getting memorial tattoos of Bryant.
LeBron's new tattoo dedicated to Kobe Bryant 🐍💜

(via @KingJames) pic.twitter.com/rECV6obcJc

— The Crossover (@TheCrossover) February 1, 2020
The Memories
When Beckham was in Miami for Super Bowl weekend, he discussed some of his favorite memories of Bryant.
"There's some many, it's hard to choose from, from the buzzer-beaters to matchups with Allen Iverson," Beckham said. "I think probably one of my favorite moments was seeing him young and just seeing how he was competing against [Michael] Jordan so badly. You can see how badly somebody wants it and how competitive they are and I think that was an early start to show what kind of player he was going to be and what kind of legacy he was going to leave behind."
Odell reflects on his favorite Kobe moments. @obj #MambaForever pic.twitter.com/mmXfiNpg5k

— Complex Sports (@ComplexSports) January 31, 2020
Memorial For Kobe Set
Beckham might be one of many that attend the memorial for Bryant.
The announcement for the memorial came over the weekend.
Los Angeles will host a public memorial Feb. 24 at Staples Center for Kobe Bryant and eight others killed last month in a helicopter crash. https://t.co/dPybbLsWaJ

— Los Angeles Times (@latimes) February 6, 2020
Other Odell News
New general manager Andrew Berry addressed Beckham's off-the-field incident over the weekend.
During the College Football National Championship, an arrest was warranted from Beckham slapping a security guard on the butt inside the LSU locker room.
During his introductory press conference, Berry said that he had talked to Beckham about the incident.
That also included Kareem Hunt about his traffic stop where officers found marijuana and an open container of Vodka.
He made it clear that both players have a role in the team's success moving forward.
"We've had really great conversations, he's one of the most talented receivers in the league. And we're certainly happy to have him here. But again, everybody is going to have to fit into our culture in terms of being tough, smart and accountable. Both of those guys know that".