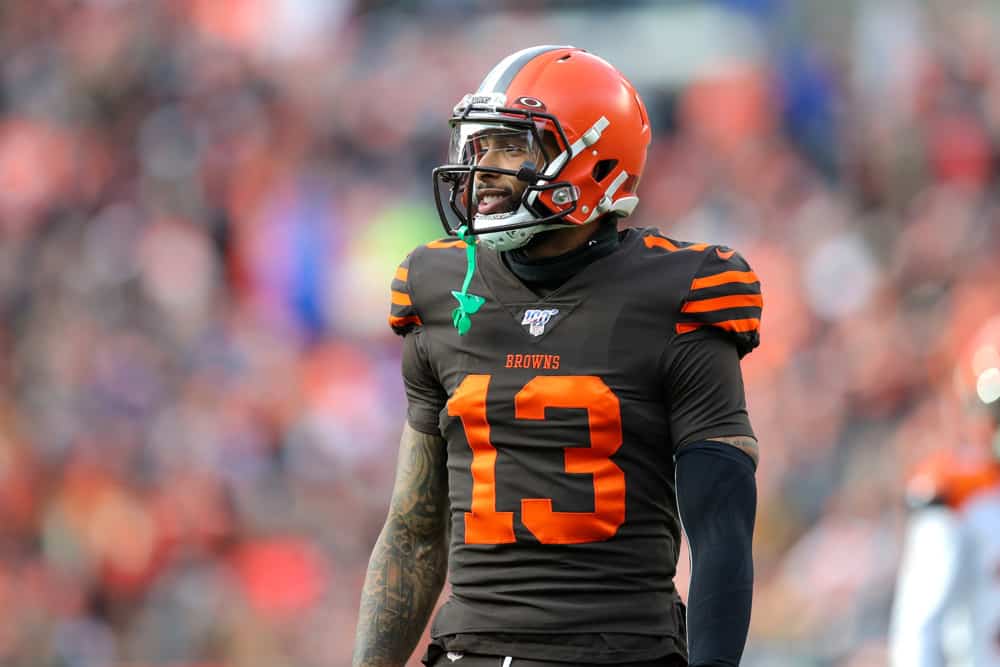 Browns Nation is busy wondering about the 2020 NFL draft and how many free agents Andrew Berry will sign.
But one thing Berry hasn´t done so far is pull off any blockbuster trades.
It was a year ago this week that Berry´s predecessor blew up Twitter.
One year ago today the #Browns made one of the biggest moves in team history by acquiring superstar WR Odell Beckham Jr.

— MoreForYouCleveland (@MoreForYou_CLE) March 12, 2020
Dorsey made Odell Beckham Jr a member of the Cleveland Browns.
Visions of Beckham Jr and his good friend Jarvis Landry lining up together brought smiles to Browns fans.
Pundits predicted a Pro Bowl season for Baker Mayfield.
Cleveland was a fashionable pick to win the AFC North.
An awful lot of folks called the Browns Super Bowl contenders.
According to https://t.co/uhtbrrdHmz, #Browns have gotten the most bets to win the Super Bowl. Since late January, Cleveland's odds have dropped from 25/1 to 14/1

— Scott Petrak ct (@ScottPetrak) June 5, 2019
But things didn´t work out as expected.
Beckham managed to play all 16 games, but he couldn´t practice most of the year as he nursed a sports hernia.
Mayfield never found the range with Beckham.
Dorsey gave up Jabrill Peppers and a pair of draft picks for his new wide receiver.
Peppers did not impress New York fans much either.
So, who won Dorsey´s big deal?
How Did the Trade Help Cleveland?
Jabrill Peppers underwhelmed in his short time in Cleveland.
But his absence loomed large as injuries, suspensions, and bad tweets decimated the unit.
Cleveland lost first-round (17 overall) and 3rd round (95 overall) draft picks in the deal.
Odell Beckham was supposed to be worth that price.
Add the following, and there is no limit to how well the #Browns team passing grade could improve in 2019:

✅Odell Beckham Jr.
✅Todd Monken as OC
✅Baker in his second year
✅*The league's fifth-highest graded receiver added via trade

*Odell Beckham Jr. https://t.co/SgZLf4LVX6

— PFF CLE Browns (@PFF_Browns) July 1, 2019
He was a 3-Pro Bowler and big-play machine in New York.
But he also came off a pair of incomplete seasons due to injuries.
Beckham played 12 games in 2018 and had season-ending ankle surgery after Week 5 of the 2017 season.
He also brought a history of on-field and off-field antics that prompted the Giants to trade him away.
Those trends continued in 2019.
From NFL Now: #Browns WR Odell Beckham underwent surgery to repair a core muscle injury, one he played with all year. pic.twitter.com/8s4p032HbH

— Ian Rapoport (@RapSheet) January 21, 2020
Beckham managed to play all 16 games, but he struggled with a sports hernia.
Managing the pain meant missing a lot of practice time.
That contributed to his shaky performance with Baker Mayfield.
Beckham finished the season with over 1,000 yards.
But it might have been the ugliest 1,000-yard season in NFL history.
Mayfield connected on only 55-percent of his passes to Beckham.
That was a career-worst catch percentage rate for Beckham, as was his 4.5 catch-per-game rate.
Controversy magnified Beckham´s performance struggles.
Cleveland Browns – ProFootballTalk Freddie Kitchens: "No dysfunction" with Odell Beckham, Jarvis Landry cleat issue https://t.co/xk7OSln5va

— Cranky Browns Fan (@CrankyBrownsFan) November 4, 2019
The league threatened to pull him from a game over illegal cleats.
It was widely reported Beckham asked teams to "come get me" in a bid to entice a trade out of Cleveland.
Beckham denied those rumors.
But his postseason appearance in the LSU locker room after their championship did not help matters.
How Did the Trade Help the Giants?
New York replaced Beckham with a group of receivers.
The team wound up with 400 fewer receiving yards, but 8 more touchdowns from the group.
Sterling Shepard (24), Golden Tate (35), and Darius Slayton (53) scored PFF rankings higher than Beckham (60).
But none of them managed to play a full season.
Jabrill Peppers also lost 5 games after he broke a transverse process in his back.
Prior to that, he was becoming a leader in the Giants´secondary.
🚨 PICK-6 ALERT!

Jabrill Peppers takes it to the 🏠#WASvsNYG

(via @Giants)

— PFF (@PFF) September 29, 2019
His 76 tackles in 11 games almost topped the 79 he made in 16 games for Cleveland the season before.
He had one interception, his first career pick-six, and forced three fumbles.
But he also missed 12 tackles and allowed a completion rate of almost 70-percent.
Still, at just 24 years old, the Giants are expected to pick up his fifth-year option in May.
New York selected defensive lineman Dexter Lawrence with the 17th overall pick.
Lawrence started all 16 games and had a solid, if unremarkable, rookie season.
He finished with 38 tackles, 4 for a loss, 2.5 sacks, and 21 QB hurries.
Giants rookie DT Dexter Lawrence is the top-graded rookie defensive lineman this season.

Has the No. 8 grade among all interior defensive linemen.

Powerful and disruptive in the run game to go with 13 pressures through six weeks.https://t.co/fkAEILIFuR

— Steve Palazzolo (@PFF_Steve) October 15, 2019
Pro Football Focus ranked Lawrence as the 8th best interior lineman in the NFL.
Edge rusher Oshane Ximines joined New York via the traded third-round pick.
He was less impressive as he eased into the line rotation.
But his 4.5 sacks is the same number Jason Pierre Paul had as a rookie.
So, Who Wins the Odell Beckham Trade?
Browns head coach Kevin Stefanski is in touch with Beckham about expectations for 2020.
Stefanski stressed the need for Beckham to participate in offseason sessions and practice.
Beckham, who never asked for a trade or said anything to indicate he wants one, says he is on board.
#Browns Odell Beckham Jr. has 'a good feeling' about Kevin Stefanski's plans for him and Jarvis Landry; 'More motivated now than ever' after playing hurt last year, he tells @ComplexSports https://t.co/jiYBnAdPUw

— Mary Kay Cabot (@MaryKayCabot) February 3, 2020
With Stefanski´s offense, a healthy body, and motivated Mayfield, Beckham could yet thrive.
But the biggest measure of the trade is how it affects wins and losses.
Cleveland was a disappointing 6-10 last season.
New York entered a full rebuild and came out at 4-12.
First-year performances give the edge in this deal to New York.
But like many trades, the true winner will emerge down the road.
Beckham: "2020 is going to be my year."#Browns pic.twitter.com/lWTBDCpB3q

— Tom Withers (@twithersAP) December 5, 2019
Will the Giants´additions power a defense-driven Super Bowl run?
Or will Mayfield-to-Beckham deliver a championship to Cleveland?
Browns fans can´t wait to find out.