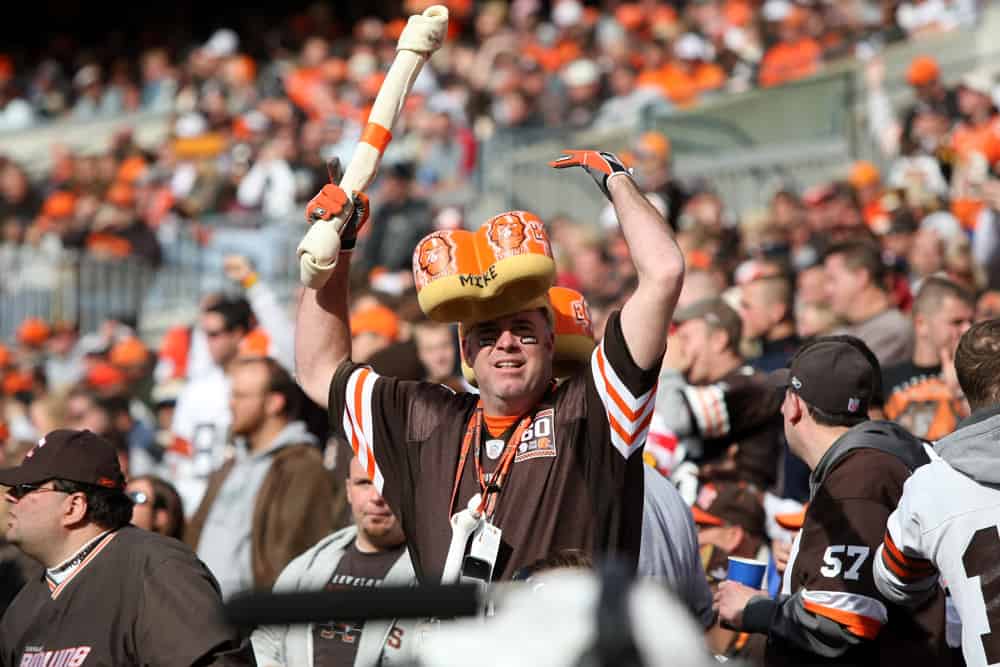 Getting upset with fans as a franchise is typically not a great look.
This is especially true if your franchise has been one of the league's worst since 2000.
The Cleveland Browns decided to do that anyways today as they took aim at Browns Backers Worldwide.
Per a report from Daryl Ruiter of 92.3 The Fan, chapters of Browns Backers Worldwide could see social media deactivation for criticism directed towards the team.
#Browns have informed Browns Backers Worldwide members that "Social media platforms using the chapter name that post negatively about the organization/personnel/players/etc. will result in deactivation"

— Daryl Ruiter (@RuiterWrongFAN) March 12, 2020
This, of course, is a bit of a silly gesture from the organization.
Before even getting into why, this was extremely poor timing from the Browns.
The coronavirus epidemic that has taken the world by storm and shut down numerous sports leagues across the globe is scaring a lot of people.
It's the focus of everyone in the nation and has caused great fear, so hey, why not choose now to get angry with one of the largest organized fan clubs around the world?
Poor timing aside, the statement doesn't even make sense on its own.
The Browns have amassed a record of just 101-234 since returning to the NFL in 1999.
That is horrendous, and quite frankly, the organization is lucky the city of Cleveland is as football crazed as it is.
It will always be a "Browns Town", my own personal time in the Cleveland sports radio market can assure you that.
It seems the Browns take advantage of that with the way they run things, and this last remark towards the Browns Backers is just the latest installment in the saga.
This sets a bit of a bad tone to all Browns fans as well.
This statement basically says the Browns will be upset with criticism from its own fan base.
Regardless of how bad the Browns have been, that just sends a bad message to your supporters.
Criticism falls upon any team at any given point in time.
Even the best franchises are criticized by their fans.
Look at the Patriots Twitter replies any time they lose a game.
It is far from a happy, gleeful bunch that say, "Oh well, we'll get them next time!".
Instead, you would see a large number of angry Bostonians that clamor on about Tom Brady being old and the dynasty coming to an end.
This seems unwarranted from a Browns fan perspective, but it creates additional pressure towards sustaining success as a team.
No, the front office, coaches, and players don't look at social media every waking moment to get motivation.
But social media certainly can help develop a certain culture within a fan base.
The better the culture, the stronger the support you will get as a team.
Trying to eliminate that criticism entirely in the form of social media deactivation destroys some of that culture that keeps fans hungry for their team to win a Super Bowl.
And like I said at the start of this, doing so as a currently dysfunctional franchise is just an odd thing to do.
Hopefully someone within the organization sees some of the fan reaction to this statement and find a way to retract it.