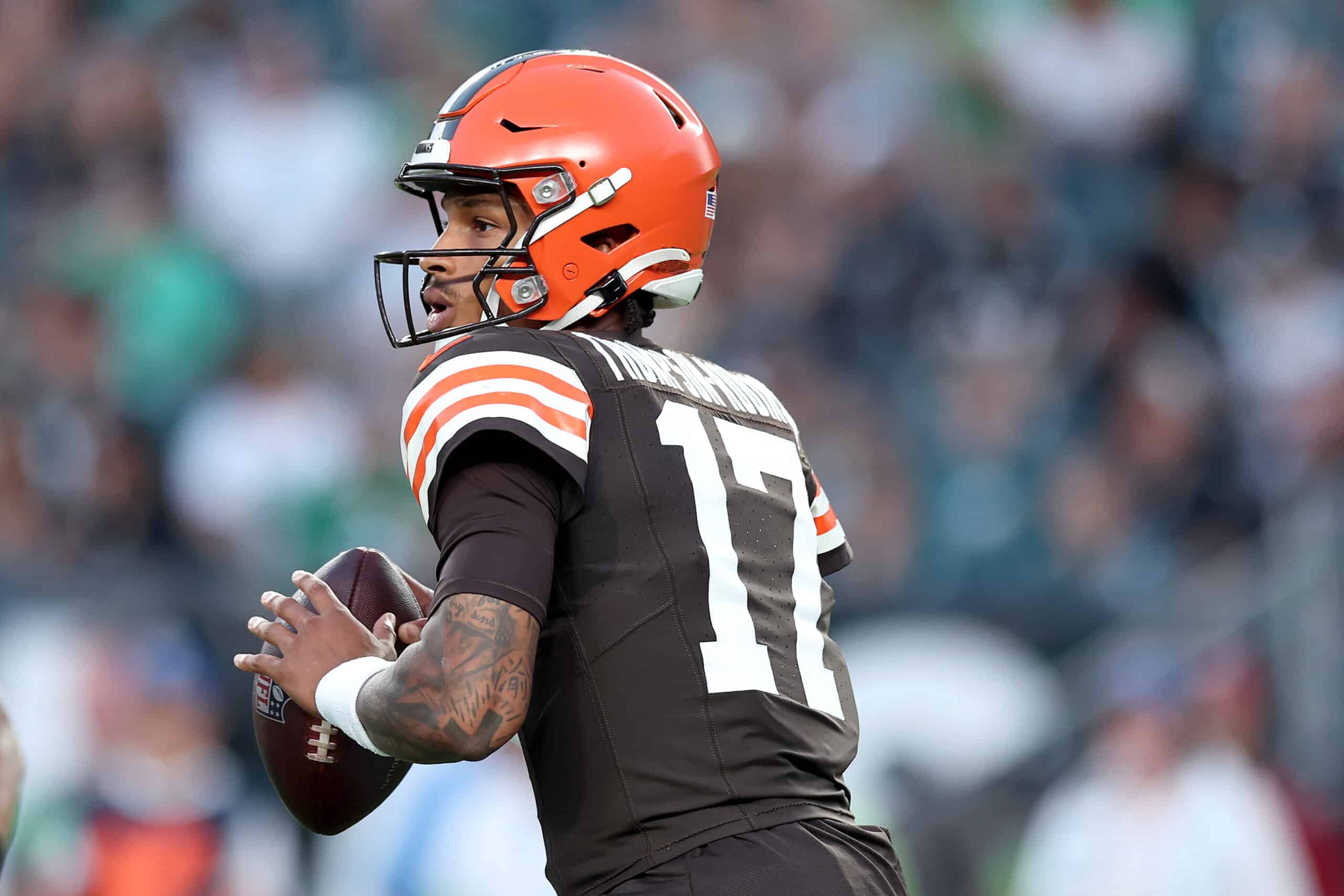 Through three preseason games, there is no doubt that Cleveland Browns rookie quarterback Dorian Thompson-Robinson is fun to watch.
During Thursday night's tie against the Philadelphia Eagles, DTR started the contest, completed 13 of his 25 passes for 164 yards, and rushed for 18 yards.
Additionally, Thompson-Robinson threw a pair of blocks for his former UCLA teammate, Demetric Felton.
After handing the ball off to Felton, DTR chased down Philly safety Terrell Edmunds and blocked him once, then a second time (which was called a penalty) knocking Edmunds to the turf.
"DTR is unbelievable to watch" @BostonConnr #PMSLive pic.twitter.com/P4crEKPJ9Z

— Pat McAfee (@PatMcAfeeShow) August 18, 2023
That type of aggressiveness by a quarterback has fans and media alike excited.
"DTR looks like he belongs in the NFL" talking head Pat McAfee gushed on his show on Friday. "He gets called for a blindside block and I don't know how many times a ref has ever thrown a flag for a quarterback wanting to get a little extra [hit]."
McAfee elaborated that the Browns should look for opportunities to put DTR in a position to use his aggressiveness.
"If you see a guy that enjoys that much physicality, he's that athletic, that you want to have on your team, go ahead and slide him right to the slot. Not that that's an easy thing to do."
As McAfee explained, Cleveland paid Deshaun Watson a ton of guaranteed money, so DTR will not be the team's starting quarterback anytime soon.
DTR got called for an "illegal blindside block" for this……. lmaooooo smh pic.twitter.com/w1vtlM6kZY

— FTB VIDS (@anotherFTBacct) August 18, 2023
However, there is a case to be made, according to McAfee, to try and get Thompson-Robinson some playing time.
"If you see what you got out of this DTR guy, let's figure out a spot to put him on the field, that's what these preseason games are all about."
After the game, Thompson-Robinson admitted he got into a little hot water when asked what Coach Kevin Stefanski thought about his block.
"I have a sweet spot for Felt. When he has the ball I want to stick my nose in there. But Coach Stefanski definitely let me have it after that one. No penalties. I definitely have to work on that going forward," Thompson-Robinson said.