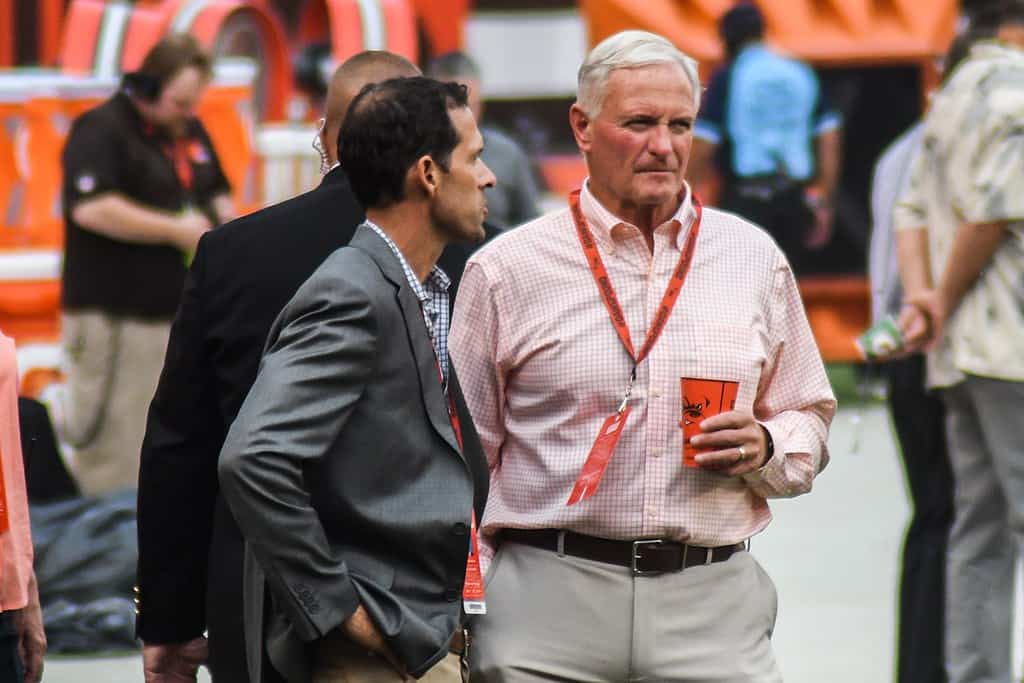 Having a top-10 draft pick in the NFL is an exciting, yet challenging, opportunity.
The expectation is that general managers will draft a franchise-changing player within those first 10 selections, and that's the challenge 10 front office teams face in the next week.
On a conference call on Thursday, Cleveland Browns Chief Strategy Officer Paul DePodesta expressed his belief that the team feels very good about their spot in the draft and the options they will have.
"We think there is going to be a very good player there for us at No. 10 – a very good player – and I don't have one player on my mind right now," he said. "I may feel differently come next Thursday night if only a couple of those players are off the board versus a whole lot of those players, but I think we really feel good about what we might be able to acquire at No. 10."
Offensive Tackle
Much of the conversation surrounding that 10th overall pick has been centered around offensive tackles.
The mock drafts certainly reflect that.
If the likes of Tristan Wirfs or Mekhi Becton are still sitting there when the Browns are on the clock, I expect them to take either one.
Both men were all-conference in their respective collegiate conferences, with Wirfs receiving Big Ten Offensive Lineman of the Year.
They are both being looked at as "can't miss" prospects that can immediately bolster any NFL unit.
Of course, if both guys fall under the "whole lot of those players" that come off the board that DePodesta referred to, Andrew Berry and friends could be looking at other options.
Trade Down
DePodesta also addressed the possibility of trading down, something the Browns are not all that unfamiliar with.
"We are very open-minded in general," DePodesta said. "We have moved down in the past. We have also moved up in the past. I wouldn't really put anything past us. I think we do have the philosophy that more picks are better. When you have more draws, you have a better chance of hitting on more guys. I think we believe in that generally, but that does not mean we will always be trading back as a result."
Trading down has not worked favorably for Cleveland historically.
The missing out of Julio Jones, Carson Wentz, and a flurry of other top-tier names comes to mind.
But, the possibility is there according to DePodesta.
#Browns Paul DePodesta said they'll be flexible on a trade up or down from 10. …'Best available player' will be the driver…Andrew Berry will make the final call on draft picks and trades

— Mary Kay Cabot (@MaryKayCabot) April 16, 2020
One rumor has the team trading down to draft Ezra Cleveland, an offensive tackle out of Boise State.
Earlier this week, Peter King from NBC Sports detailed how the Browns have a strong interest in Cleveland.
The man they want may not be there at 10.
If they think Cleveland (or someone else) is attainable later in the draft, do not be too shocked to see Berry trade down.
#Browns @RossRugger This is what I was talking about this afternoon.
Ezra Cleveland is 100% in play for the Browns and it's not at 10 pic.twitter.com/GidTHY7Ygm

— ChadP71 @BrownsAccess (@chadp71) March 2, 2020
Wide Receiver
It's unlikely the Browns look for a wide receiver in the first round of this draft, but the potential is still there.
Frankly, it may only come in the form of CeeDee Lamb.
Most mock drafts have Lamb as one of the first two, if not the first, receiver to come off the board.
Those mocks also project him being taken right around that 10th pick.
The former Sooner was a stud at Oklahoma, possessing the abilities to go up and get just about any throw and then make something happen after the catch.
Odell Beckham Jr. and Jarvis Landry aren't going anywhere, but whoever complained about too much talent at one position?
Expect Anything
Ultimately, don't be surprised by any move the Browns pull off during the draft.
This year's event in particular is a bit strange within the context of COVID-19.
It's unclear what exact impact that will have on the selections.
A disease doesn't necessarily change who the front office thinks is the best fit.
However, some of those draft night conversations might happen a little differently with telecommunications as opposed to in-person discussion.
And, of course, the Browns are at the mercy of nine other teams that get to select before them barring a crazy decision to try and trade up.