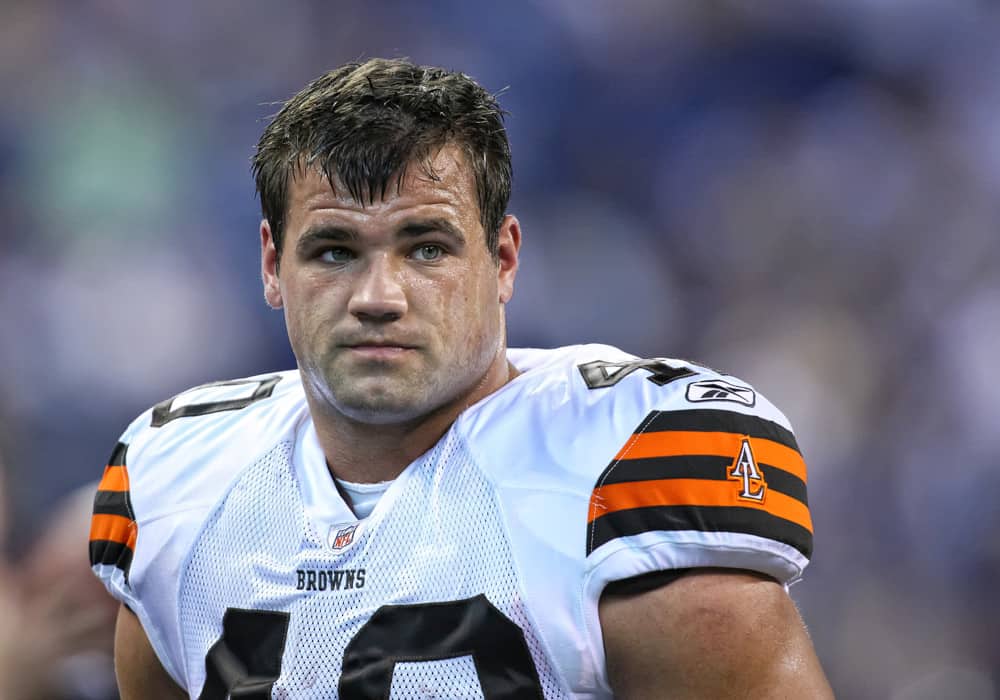 I bet Cleveland Browns fans thought the last time they would hear from Peyton Hillis would be in 2014 when he retired.
Or, perhaps, some may have stumbled across him being featured on an old copy of Madden NFL 2012.
Regardless, it's probably been awhile since his name graced your thoughts.
Turns out, the one-year-wonder is looking to play one final season with the brown and orange.
I'd come out of retirement to play just one more season with the @Browns

— Peyton Hillis (@thepeytonhillis) September 18, 2020
Where Has He Been?
As mentioned, Hillis retired from professional football following the 2014 season.
After his lone 1000+ yard rushing season in 2010, Hillis fell off quickly toward the end of his playing days.
Wish we would've seen more of this Peyton Hillis 🔥 pic.twitter.com/qWURxM9ric

— Footballism™ (@FootbaIIism) October 16, 2019
A nagging hamstring limited his production in 2011 with Cleveland.
After that season, Hillis would play one year with the Chiefs and two with the Giants before hanging up the cleats for good.
Not much was accomplished in any of those three seasons.
So that begs the question, what has Hillis been doing?
And why does he just now want to come out retirement?
We'll attack the latter half here shortly.
Hillis would move south to Arkansas following his playing days.
He, like many former athletes, decided to get into the media game.
His current podcast In The Backfield covers sports in general with a slight focus on Cleveland and the Browns.
After hearing bits and pieces of the podcast, it's clear Hillis still has a passion for the city of Cleveland as well as the Browns.
Earlier this summer, Hillis even admitted he wished he would have retired officially in Cleveland.
He didn't get the chance to do that five years ago, but it appears he wants a chance to do it now.
Should He Play?
It's impossible to tell what kind of playing shape Hillis is in these days.
He still looks like a football player in videos of his podcast, but he hasn't touched an NFL field in five years.
It doesn't matter who you are, that's a tough thing to overcome.
Guys in their current prime in the league sometimes struggle to stay in game-shape during the offseason.
I think people, especially those in the Browns front office, would be justified in their skepticism of this situation.
Hillis also admitted on Twitter in the replies to his original tweet that he would accept a fullback position.
That's where he would need to play given that Nick Chubb and Kareem Hunt are more than enough at tailback for this team.
The problem is, however, Andy Janovich has already spent a lot of time with this team, those running backs, and learning the system.
Hillis, on the other hand, would need to learn all of Stefanski's system on top of developing chemistry with Chubb and Hunt.
Janovich performed well against the Bengals on Thursday night and helped clear running lanes.
When you already have a proven asset at that position, why risk that on a guy who hasn't played in half a decade?
Again, Hillis' podcast is well done.
And, if we're being honest, that 2010 season was a ton of fun largely due to his rushing performances.
That was 10 years ago though. In this instance, it's probably best to just leave the past in the past and move on.