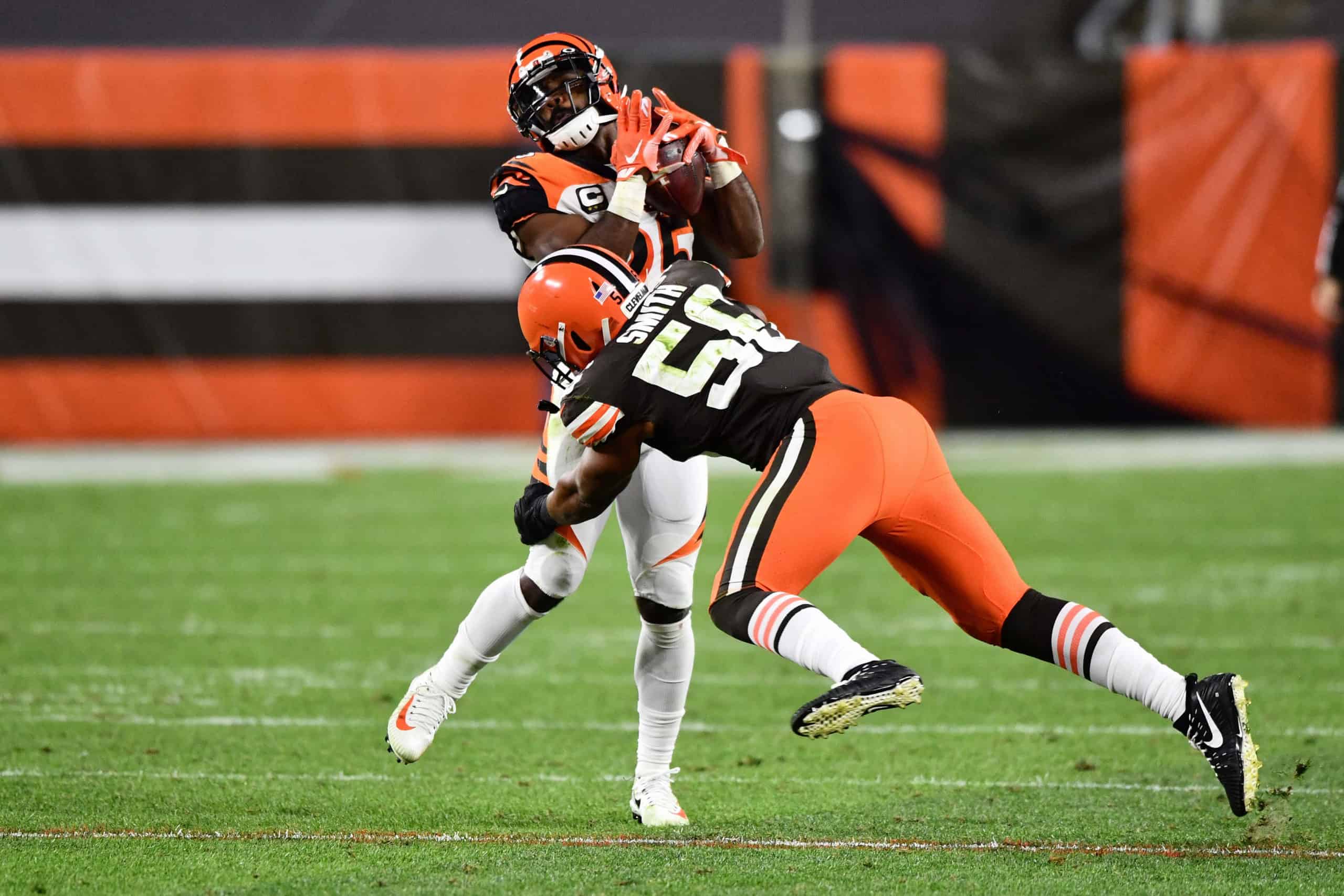 Cleveland received lots of kudos and positive feedback regarding its roster this offseason.
Multiple analysts and pundits cite Browns players and position groups among the NFL's best or the most improved.
Pro Football Focus continues to publish position group rankings after wrapping up their top players last week.
And almost every PFF list placed the Cleveland Browns or their players in top-ranked positions.
1️⃣ San Francisco
…
3️⃣ 2️⃣ Green Bay@PFF_Sam ranks all 32 NFL linebacker units ahead of the 2021 season ⤵️ https://t.co/re9gWUJPzR

— PFF (@PFF) June 8, 2021
But there is one position group not feeling much love so far.
PFF just ranked the Browns linebackers 27th among their NFL peers heading into 2021.
This comes a few weeks after failing to include a single Browns player among the top 32 linebackers.
Are the Browns linebackers a weak point in their rebuilt defense?
New #Browns LB Anthony Walker says rookie LB Jeremiah Owusu-Koramoah reminds him of former teammate All-Pro Darius Leonard.

Not a bad comparison.

— MoreForYouCleveland (@MoreForYou_CLE) June 3, 2021
Or is PFF putting too much credence into last year's performance?
PFF writer Sam Monson calls rookie Jeremiah Owusu-Koramoah the Browns best hope at improvement.
Monson values pass coverage above run-stuffing, which partially explains his low take on the Browns.
But is his ranking justified?
About That Linebacker Analysis
Cleveland fans and some analysts are putting a lot of pressure on Jeremiah Owusu-Koramoah.
That's what happens when you boast coverage skills, hard-hitting, smarts, and speed in today's NFL.
But Monson points out that only 4 rookie linebackers earned a 71 or higher PFF score over the past 5 seasons.
He fears JOK could find the going rough initially, limiting his impact on the defense.
The Browns got a STUD in Jeremiah Owusu-Koramoah!

He was the only FBS player with 140+ tackles, 5+ sacks, 5+ forced fumbles over the last 2 seasons.#NFLDraft pic.twitter.com/MAtIjIEyR1

— CBS Sports HQ (@CBSSportsHQ) May 1, 2021
We believe at least 5 rookie linebackers will sport an above-average PFF score after JOK's first season.
But at least Monson believes JOK will be a good linebacker eventually.
He has no appreciation for newly acquired Anthony Walker or the rest of the unit.
PFF gave Walker a 48.0 overall score last season despite 96 tackles and plaudits from his teammates.
New team, same drive for Browns linebacker Anthony Walker Jr. Video: Cleveland Browns pic.twitter.com/m2lhUM307V

— clevelanddotcom (@clevelanddotcom) June 2, 2021
Monson calls Walker, Mack Wilson, and Malcolm Smith "depth pieces."
He noted Sione Takitaki's excellent run-stopping score but says Cleveland needs a coverage linebacker badly.
Malcolm Smith was a top-10 PFF coverage linebacker last year, which got him re-signed.
And there was no mention of Jacob Phillips or rookie Tony Fields, both of whom have the speed Joe Woods wants.
Browns Linebackers Can Get It Done 
There are reasons for optimism about the Browns linebacker corps, starting with the players behind them.
Cleveland's secondary could be the most improved position group in the entire NFL.
While Monson puts heavy emphasis on pass coverage linebackers, it might not be as important in Cleveland.
Joe Woods is expected to employ extra safeties and corners in his base defense.
Malcolm Smith, Owusu-Koramoah, and the others still have cover responsibilities, but with better backup.
Anthony Walker is here for leadership and his tackling ability and is valuable in Cleveland's system.
Jason Tarver is confident our linebackers room will be an even stronger group in 2021 💪

— Cleveland Browns (@Browns) April 7, 2021
PFF's linebacker group ranking provides the biggest reason to relax about the Browns' unit.
Cleveland is joined at the bottom of the ranking by Washington (24) and the Los Angeles Rams (30).
Those two teams also join Cleveland among 2021's top 10 defenses, as projected by several analysts.
That includes Cleveland's #10 rank by Sportsnaut, their 7th rank by Bleacher Report, and the 3rd best rank from CBS Sports. 
So maybe PFF's linebacker analysis simply isn't keeping up with current-day top defensive trends.
Because weak link or not, Cleveland's linebackers are not likely to hurt the Browns 2021 playoff run.