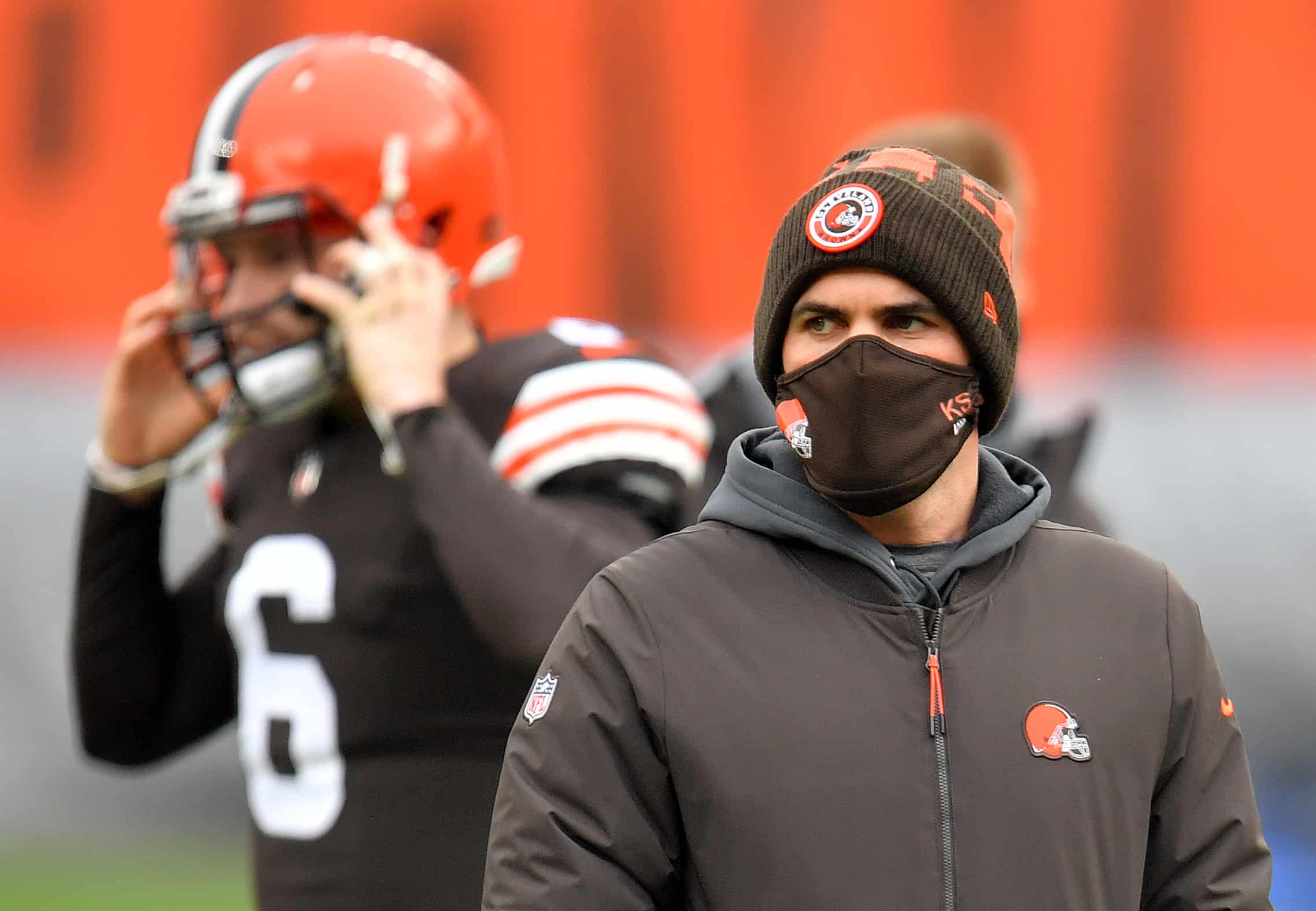 Kevin Stefanski had a rather successful head coaching debut for the Cleveland Browns.
He worked around Covid restrictions and a virtual preseason to implement his new offense.
Cleveland won 11 regular-season games, their highest total since their 1999 rebirth.
WE'RE IN. pic.twitter.com/IkSNZiJzrd

— Cleveland Browns (@Browns) January 3, 2021
Even though he wasn't there, the team's 12th victory was the most impressive and memorable.
Winning the wild card against their hated rivals on the road was the icing on the cake.
And the Browns were in it until the end the following week in Kansas City, too.
All of that earned Stefanski the 2020 Head Coach of the Year award.
THAT'S OUR COACH. 😤

Kevin Stefanski is the 2020 Coach of the Year! pic.twitter.com/EtY4p6ByrF

— Cleveland Browns (@Browns) February 7, 2021
It was only one season, and one could argue he'll need a few more to be considered a top coach in the NFL.
But Pro Football Focus argues that Stefanski is a top coach of the moment.
PFF's Eric Eager slotted Stefanski into the 7th position of his "Best Head Coaches Heading Into 2021" analysis.
Stefanski and Green Bay's Matt LaFleur were the least experienced coaches on the list.
Andy Reid, Bill Belichick, John Harbaugh, Sean Payton, and Sean McDermott filled out the top 7 positions.
How Stefanski Made The List 
Eager explained that head coach assessments did not include play calling, even if a head coach doubles as a coordinator.
His primary statistic was actual wins over expected wins and wins by multiple scores.
Cleveland had 4 wins and 3 losses by more than one score in 2020.
But their total points for and against projected to about a .500 record, making the Browns 11-5 finish surprising.
PFF also added up the players' WAR (Wins Above Replacement) to determine "expected wins" for the team.
#Browns HC Kevin Stefanski: I think we have the right guys that we are excited to work with and it's our job to develop them. The bottom line is they have a lot of work to do.

— Browns_Daily (@Browns_Daily) May 3, 2021
Eager does not provide the actual data point but mentions how the loss of Odell Beckham Jr affected the WAR.
One other factor was the coach's proclivity for going for it on fourth down.
PFF counts "admissable" fourth downs based on field position and yards-to-go.
Stefanski led the league by going for the first on 81% of admissable fourth-down opportunities.
It all added up to the 7th best ranking in the NFL for the Browns head coach.
What Stefanski Has To Do To Make The 2022 List
Expectations are higher all around for the 2021 Cleveland Browns.
They are a fashionable pick to top Baltimore for the AFC North title and a legitimate Super Bowl contender.
Player WARs are likely to increase, due to their 2020 performance and upgrades at multiple positions.
Cleveland's defense got much better on paper, although they will be one of the youngest units in the league.
Stefanski could continue to take gambles on fourth down based on his defense's ability to recover from a loss.
#Browns HC Kevin Stefanski tells @BullandFox "we want to be one of those last two teams standing; until that happens, we've got a lot of work to do"https://t.co/0Io998qPj7 pic.twitter.com/G49fz367Nu

— 92.3 The Fan (@923TheFan) May 4, 2021
Or he could punt more, hoping his improved defense will pin teams deep.
But the most effective way to repeat his top coach's ranking is to win lots of games.
Vegas betting lines have the Browns pegged at 10 victories.
Many analysts think that is on the low side, with many predicting 12-13 wins for Cleveland.
That would help his case and is probably the only stat Kevin Stefanski is concerned about.