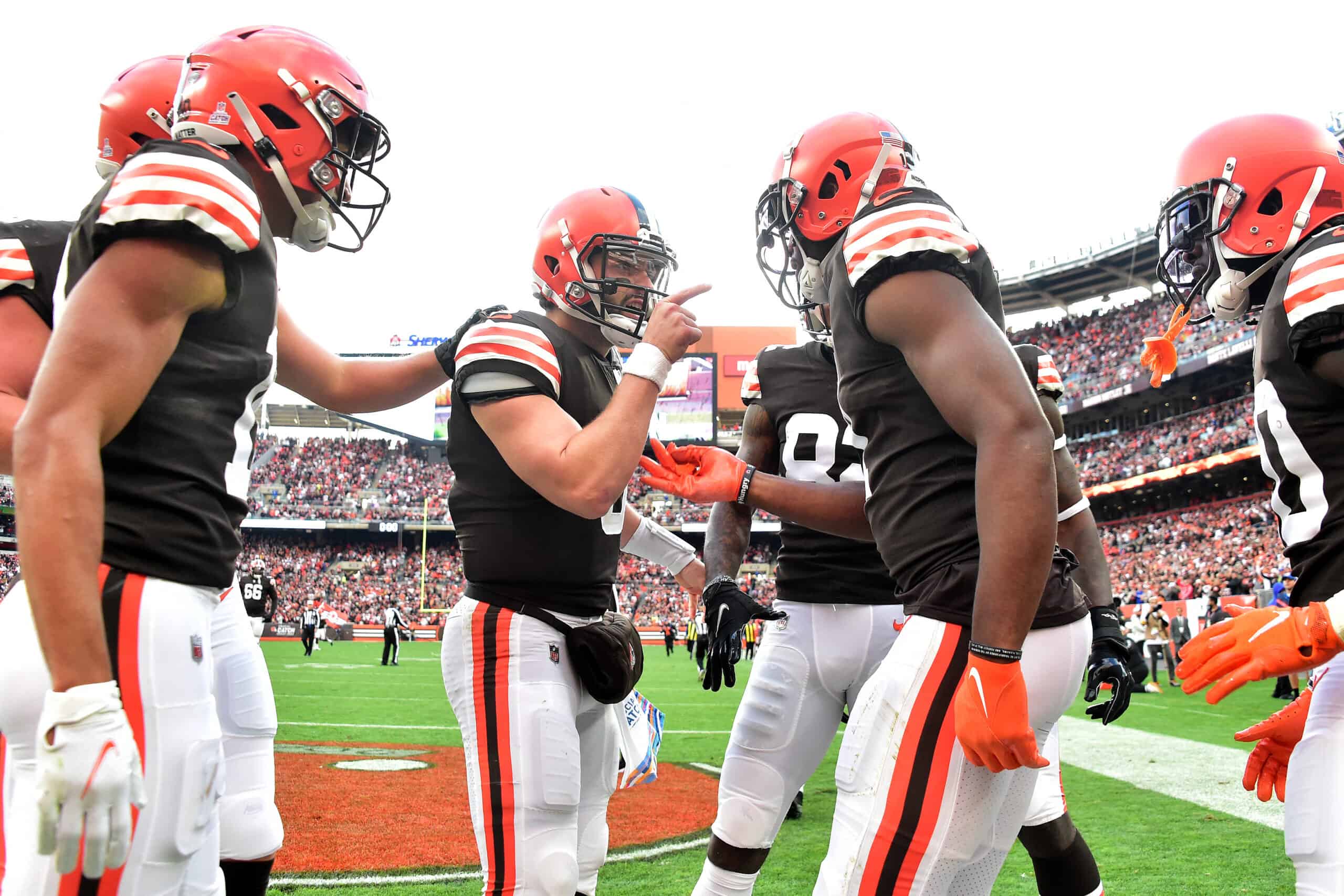 Through the first 11 games, it was has been a drama filled rollercoaster for the Cleveland Browns.
Finally, they were able to close the book on the Odell Beckham Jr. drama.
Now, the focus can get back on football, but the organization continues to play well below expectations.
In fact, it's tough to find players that are actually playing up to standards on the Browns right now.
Luckily, the Browns are still in the playoff hunt, but that is partly due to the excellent play by a few players.
3. Anthony Walker
The Browns got a steal when they signed former Indianapolis Colts linebacker Anthony Walker during the offseason.
For some reason, everyone overlooked the fifth-year linebacker, but the Browns were willing to give him a chance.
Before heading to Cleveland, Walker had two 100-plus tackle seasons under his belt.
He was also a favorite in the Indy locker room and a leader on their roster.
Darius Leonard posted a heartfelt message for former teammate and newest #Browns LB Anthony Walker… pic.twitter.com/p3mzA3OHzq

— MoreForYouCleveland (@MoreForYou_CLE) March 20, 2021
Now, Walker is making plays for the Browns and delivering in key situations.
Through eight games, Walker has 73 tackles, one sack, and two passes defended this season.
Those 73 tackles are a team-high and the second-most is safety Ronnie Harrison with 44 tackles.
It's outstanding that Walker has been able to record 73 tackles while only playing in eight games.
The 26-year-old is truly an elite tackler and a great presence to this locker room.
He is well deserving of an extension, but we'll see if the front office makes an offer.
2. Nick Chubb
It has been four seasons and organizations still have no answer for running back Nick Chubb.
The two-time Pro Bowl back continues to run through professional defenses like he is playing backyard football.
It's hard to imagine that the Browns would be anywhere near playoff position without Chubb on this roster.
He continues to make plays each and every week and might be able to earn himself the rushing title in 2021.
Through eight games, Chubb has 851 yards with six touchdowns on the ground.
It's also worth noting that Chubb has been able to make an impact in the receiving game as well.
NICK CHUBB IS BACK 🔥 pic.twitter.com/WnYyvmWfD0

— PFF CLE Browns (@PFF_Browns) November 21, 2021
Honestly, there's not another player on this offense as reliable as Chubb right now.
It's uncertain what wide receiver Jarvis Landry or quarterback Baker Mayfield will give this team on any given Sunday.
However, the Browns can count on Chubb for basically 100 total yards on a weekly basis.
1. Myles Garrett
Yes, Chubb has been impressive, but pass rusher Myles Garrett is off the charts this season.
It seems like the two-time Pro Bowl defensive end is playing a video game with the numbers he's producing this season.
Through 11 games, Garrett has 37 tackles, 13 sacks, and two passes defended.
Those 13 sacks are currently leading the league right now and 4.5 of them happened in one game.
Myles Garrett is a force of nature 🌪

Franchise record 4.5 sacks on the day

(via @NFL)
pic.twitter.com/VAhpoK7CH5

— Bleacher Report (@BleacherReport) September 26, 2021
The Browns gave Garrett a massive extension and he has proven to be worth every penny.
The 25-year-old pass rusher is headed towards a career year in 2021.
He came into the season with a career-high 13.5 sacks, which he should easily surpass.
Honestly, Garrett might be able to break some records before the season is over.
He is easily the best player on this roster right now and that will likely continue throughout the rest of the season.