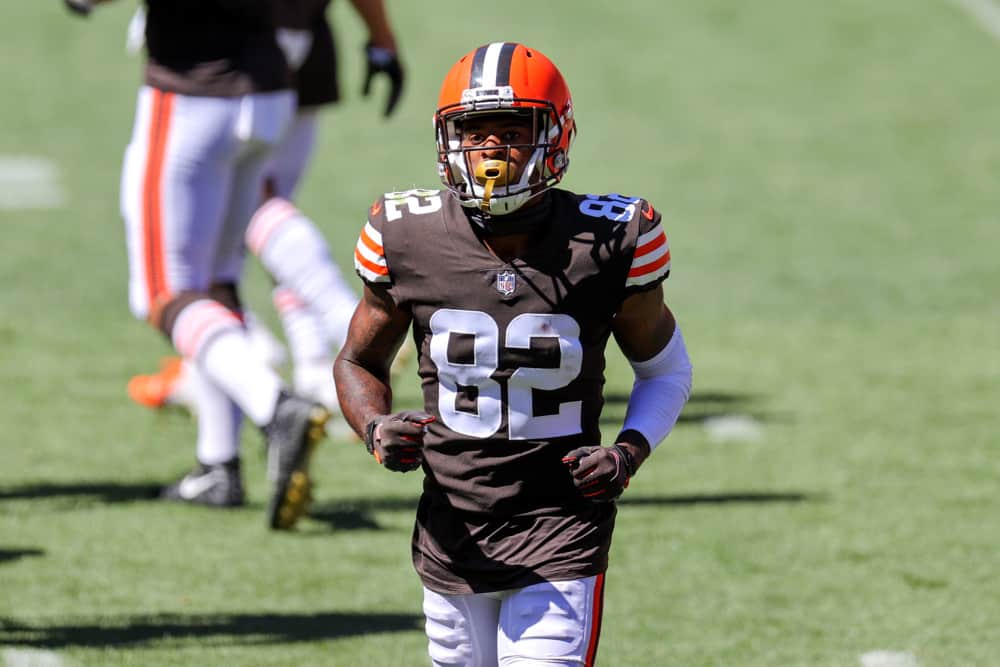 Rashard Higgins was one of the many victims of Freddie Kitchens' lack of leadership in 2019.
Some Cleveland Browns fans may have even thought Higgins was no longer on the team before his touchdown grab Sunday against the Indianapolis Colts.
Higgins is indeed still on the roster and did have one reception in Week 1's blowout loss to the Baltimore Ravens.
But the touchdown Sunday saw his teammates roll out the red carpet for the man known as "Hollywood" and signal to the world that he is seeking to make the most of this new opportunity.
✨ @CALLME_WOOD's red carpet walk is up for this week's #BudLightCelly ✨

Tweet #BrownsCelly to vote! https://t.co/iVePhA9spP pic.twitter.com/90KvFduRPj

— Cleveland Browns (@Browns) October 13, 2020
Higgins Getting More Playing Time
Higgins struggled to be on the gameday roster in 2019 and the same was becoming true in 2020.
KhaDarel Hodge held down the other receiver spot behind Odell Beckham Jr. and Jarvis Landry.
Then Hodge hit the injured reserve and Higgins was elevated to the gameday roster once again.
His return went well as he caught all three of his targets and scored the aforementioned touchdown.
The chemistry between Hollywood and Baker Mayfield should not come as a surprise.
The two worked well in 2018 when Higgins put up a career-high 572 receiving yards and four touchdowns.
This came after Higgins was part of a 1-31 stretch and he seemed to be the only good receiver from that infamous 2016 Browns draft class.
But Kitchens came in and everything got messed up and fast.
All the chemistry Higgins and Mayfield created in 2018 was not utilized and the receiver finished with four receptions in 10 games played.
Kevin Stefanski seems to be all about letting players work to their strengths, like Kitchens did in 2018 as offensive coordinator, and that is great for everyone involved.
Higgins' Status in Cleveland
Higgins is also playing to earn some significant money beyond this season.
He signed a one-year deal worth $910,000 and more performances like the one on Sunday should easily raise his value.
The only receivers on the roster under contract beyond this year are Landry, Beckham, and rookie Donovan Peoples-Jones.
The latter has mostly been used as a returner.
This team is in no position to move on from a receiver who works well with Mayfield.
The front office should directly ask him, given he receives his own extension, if he believes Higgins is a valuable part of the offense.
Any problems when Kitchens was in town can be forgotten Cleveland's own Hollywood receiver can potentially get a multi-year deal and avoid worrying about a contract for once.
The fact he was able to show up Sunday and score a touchdown proves Higgins never stops working in the hopes of making a big play.
Watch Rashard Higgins. https://t.co/DBbWXKDfHa

— Brent Sobleski (@brentsobleski) October 11, 2020
He did not complain or refuse to do his job.
Instead, he stayed ready and it paid off in a big way.
The Browns drafted four receivers in 2016 and then ended up acquiring Landry and Beckham in the following years.
Higgins being the only successful receiver from that Browns class is just fine if he works well with Mayfield.
That is why the Browns stockpiled so many draft picks starting in 2016.
Having a surplus of talent was the plan and surprise performances from players like Higgins are a great bonus.