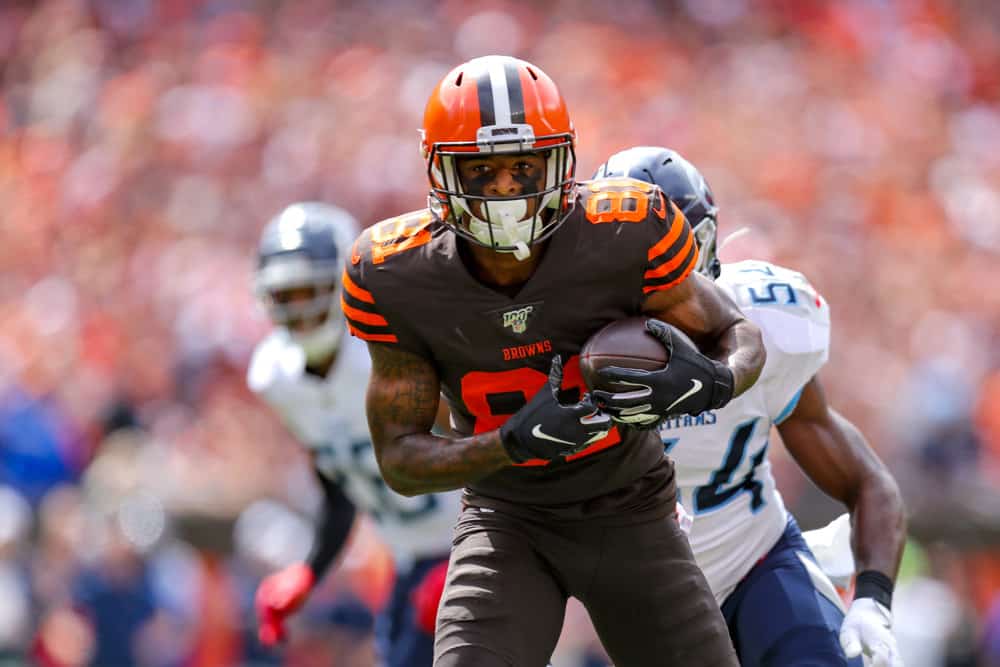 The 2019 season was an all around disaster for the Cleveland Browns who missed the playoffs once again.
The Browns were given high expectations heading into the 2019 season and failed to meet them.
Head coach Freddie Kitchens was let go after a disappointing 6-10 finish.
However, it appears the players in Cleveland are ready to turn the page.
Wide receiver Rashard Higgins had this to say after signing a one-year veteran minimum deal with Cleveland this offseason.
"I've been through hell and back in Cleveland and I've seen the rain and now it's time for the sunshine,'' says Higgins.

"I want to see us prevail,'' he said. "I want to see us win, so I couldn't give it up that easy. I'm not in it for the money, I'm in it for the glory. I'd rather just win with a team that I've been with.''

"But it will be all worth it,'' he said. "I promise it will be. I was never worried, to be honest.''
The #Browns are resigning WR Rashard Higgins to a 1-year deal. Hollywood is staying in Cleveland. 🙌🏽

— Camryn Justice (@camijustice) April 28, 2020
Higgins 2019 Struggles
Higgins has been with the Browns since they drafted him in the fifth-round of the 2016 NFL Draft.
He enjoyed a breakout campaign with 39 receptions, 572 receiving yards, and four touchdowns during the 2018 season.
However, the 2019 season was an absolute disaster for Higgins.
Higgins saw a total of 11 targets last season after seeing a career-high 53 in 2018.
Both Kitchens and Higgins didn't see eye-to-eye and it caused some issues in the locker room.
It started when Higgins reportedly refused to play against the Seattle Seahawks in Week 6.
Higgins had missed the previous four games due to a knee injury, but the Browns activated him to play in that game.
He felt that he should've been activated the week prior and publicly stated that to the media.
After that, Higgins saw the ball come his way eight times over the last seven games of the regular season.
Multiple players were frustrated with Kitchens and the organization knew it was time for a change.
The Light at the End of the Tunnel
Higgins and teammate Jarvis Landry talked about the 2019 season and Higgins had this to say.
"We've got to get back to having fun. The year we were winning [in 2018], we were having fun with it, so getting that feeling back, that's what we're looking for," says Higgins.
New head coach Kevin Stefanski has already reached out to Higgins and it sounds like the two are ready to get to work.
"He's somebody that believes in — believes a lot in me, actually,'' Higgins said.
Higgins has been through the rough 1-15 and 0-16 seasons with Cleveland and knows this team is close to being competitive.
"We know what we're capable of and I know what I'm capable of and we'll try not to let anything stop us," says Higgins.
It sounds like the Browns players are excited for this new chapter under Stefanski.
Can Higgins Bounce Back in 2019?
Higgins showed promising shows during the 2017 and 2018 seasons.
He believes that both him and quarterback Baker Mayfield have an excellent chemistry together.
#Browns WR Rashard Higgins is returning to the team on a 1 year deal . Was offered more money elsr where but decided to stay with Browns because of his love snd belief in Baker Mayfield . #DawgPound pic.twitter.com/6jHAHv0BCx

— #GoBrowns (@BrownsMediaNow) April 28, 2020

"It's a trust factor,'' Higgins said. "I trust him, he trusts me. I believe in him, he believes in me.''
He's confident that the two will still have solid chemistry together despite Higgins not getting many reps with Mayfield last season.
"That's something you can't take away from us,'' says Higgins.
The Browns don't have much depth at receiver after Odell Beckham Jr. and Landry.
Higgins has a great chance at earning the No. 3 receiver spot during camp.
He certainly feels the Browns will be a much better team this season, so hopefully Higgins is able to bounce back on the field too.