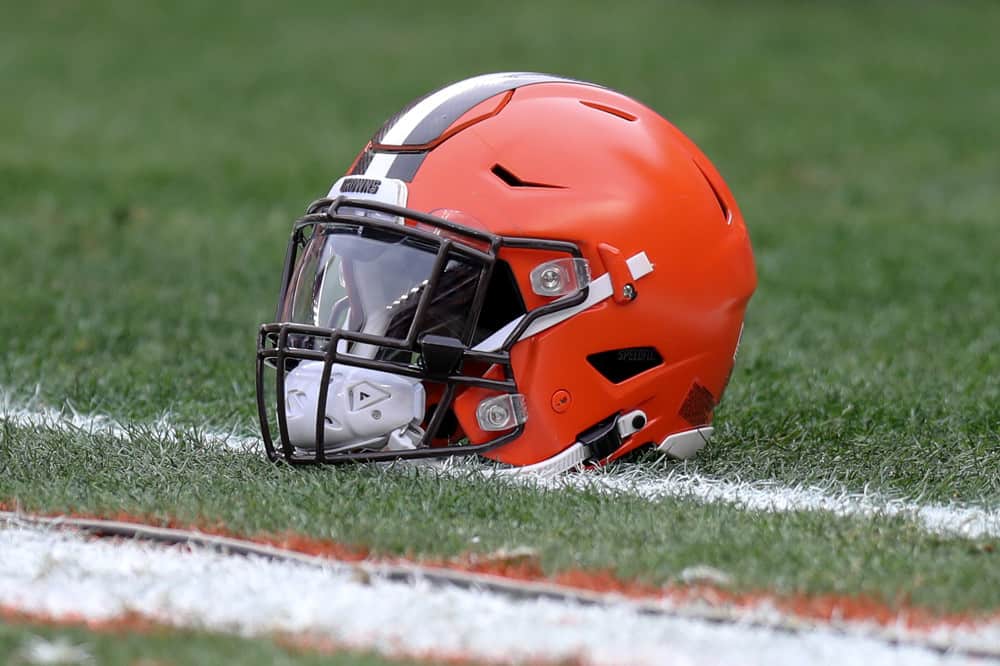 The Cleveland Browns continue to make decisions about their restricted free agents (RFAs) as we approach the official start of the 2021 league year on Wednesday, March 17.
Recall that the Browns had three RFAs going into this offseason.
CB Tavierre Thomas
LB Tae Davis
WR KhaDarel Hodge
The first shoe to drop happened last week with CB Tavierre Thomas.
With the salary cap set to drop, the #Browns don't plan to tender CB and special teams ace Tavierre Thomas, source said. Thomas would've been a restricted free agent. Instead, he'll hit the market. Look for similar moves elsewhere.

— Tom Pelissero (@TomPelissero) March 5, 2021
Now we have news regarding Tae Davis.
Tom Pelissero is reporting today that LB Tae Davis also will not receive a tendered offer from the Browns.
The #Browns aren't tendering LB/special teamer Tae Davis, source said. He'll be a free agent.

— Tom Pelissero (@TomPelissero) March 13, 2021
Tae Davis
Davis started his career with the New York Giants who signed him as UDFA in 2018.
The Browns claimed him off waivers in October 2019, and he has been with the team ever since.
Davis is 24 years old.
He played in 13 games during the 2020 season; the majority of his snaps were on special teams.
Davis recorded 7 special teams tackles in 2020.
He made $750,000 in 2020 with the Browns.
Had the Browns chosen to tender an offer, it would have been $2.13 million.
What About KhaDarel Hodge?
#Browns Wide Receiver, KhaDarel Hodge, will boost the offense in his return.

All 11 of Hodge's Receptions this year have gone for a First Down. ⚡️

6 of those 11 Receptions came on a 3rd or 4th Down. 🎸

He's 2nd on the @Browns in Yards Before the Catch/Reception (14.3).#NFL pic.twitter.com/aMDH6QrabF

— The Hottest Take Sports Podcast (@Hottest_TakePod) January 14, 2021
Hodge is the most intriguing RFA on the list.
His offensive stats were better in 2020, but his snap count on special teams went down drastically.
By comparison, he was in on 260 special teams snaps in 2019 and only 85 in 2020.
KhaDarel Hodge was among the Browns who contracted COVID-19 during the season and missed playing time as a result.
Hodge appeared in 9 games on offense, catching 11 passes for 180 yards.
KhaDarel Hodge made $697,000 in 2020 under contract with the Browns.
Tendering an offer to him for $2.13 million is a steep price hike given the salary cap crunch in the NFL this year.
Though the Browns' main issues are on defense, they do need to make decisions regarding wide receivers.
With OBJ coming back from a major injury, that leaves Landry as the only premier receiver in the lineup.
Depth is a concern.
Behind Landry is free agent Rashard Higgins who may or may not be back with the Browns in 2021, Hodge, and Donovan Peoples-Jones who is going into his second NFL season.
Another Option With RFAs
There is plenty going on behind the scenes that we aren't privy to yet.
Some of those pieces will be visible this week with the free agent signings.
By not issuing a tender, it is possible that the Browns could be trying to sign Davis, Thomas, and Hodge to multi-year deals for $1 million per year as free agents to avoid the RFA tender price.
Hodge seems like the most viable player to get a multi-year deal from the Browns.
Even that is not a given in this 2021 salary cap crunched climate.
Despite the fact that the Browns are on solid ground financially compared to other NFL teams, there are still a lot of money decisions that need to be made in the short term.
It will be interesting to see what happens in the upcoming week.