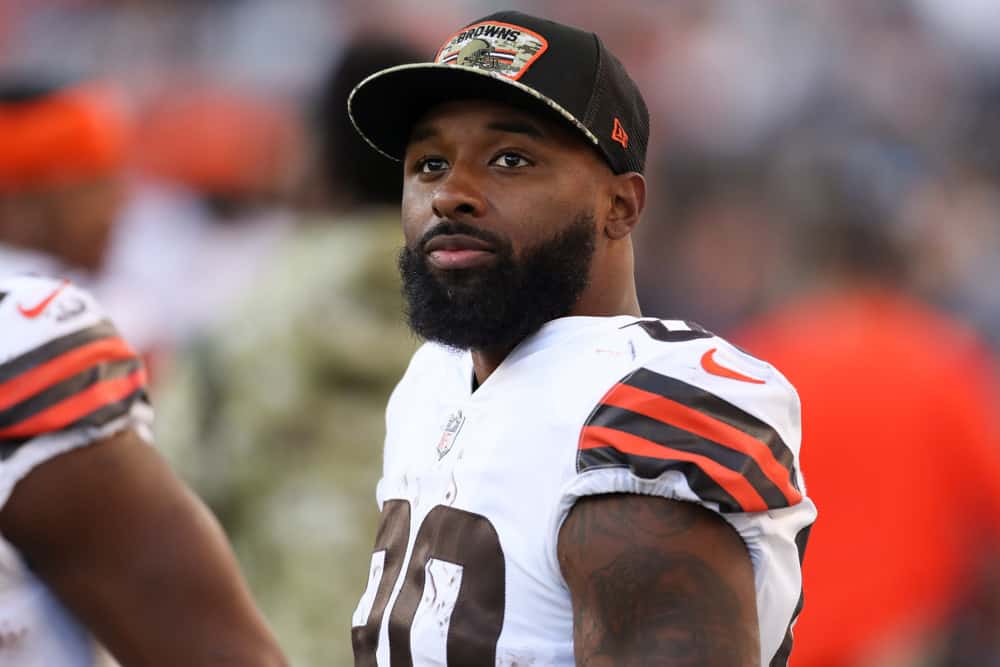 All indications are that Jarvis Landry has played his last game for the Cleveland Browns.
Andrew Berry twice offered gracious, but tepid comments when asked about Landry's future.
Landry said he put the ball in Cleveland's court by telling the team he would like to stay with the Browns.
3/3 I have put the ball in CLE court by telling them I would like to stay but if not then I'm confident enough in myself to be a better healthy me this year and moving forward to helping do my part in winning a championship elsewhere.

— Jarvis Juice Landry (@God_Son80) February 22, 2022
But truth is, the ball has always been in the Browns' court.
And it appears Berry is closing in on a decision about his high-priced wide receiver.
According to Doug Kyed of Pro Football Focus, Berry is investigating options as we speak.
The Browns are currently reviewing their options with WR Jarvis Landry, per source. Landry is entering the final year of his contract, and the Browns could free up $14.9M in cap space by cutting or trading him.

— Doug Kyed (@DougKyed) March 9, 2022
With free agency looming, Berry probably has some urgency to let Landry know what is going to happen.
To that end, he will call around the NFL looking for potential trade partners before considering an outright release.
Cleveland will save $14.9 million on the salary cap by trading or releasing Landry.
Why Trade or Release Landry? 
Landry will be listed among salary cap casualties in recognition of the money saved by his release.
But the fact is Cleveland doesn't want to pay a WR-1 salary for a non-featured wide receiver.
Landry's production fell off drastically last season, but he was no different than any other Browns receiver.
There was also some buzz that the Browns might release or try to renegotiate Landry this year before last season.
Based on current numbers and projections, the combination of Odell Beckham Jr. and Jarvis Landry will be responsible for 18 percent (or $30.6 million) of the Cleveland Browns' 2021 salary cap.

— Brent Sobleski (@brentsobleski) January 20, 2021
Some high-profile extensions are coming up and the team has to watch its budget.
Then there is the potential residual fallout from the Odell Beckham meltdown.
Fair or not, questions about the matter will follow Landry as long as he remains in Cleveland.
Finally, there is a large pool of young, talented, wide receivers ready to replace Landry at a discount.
What It Means To The Browns 
Landry took on a leadership role in the wide receiver room since his arrival in 2018.
But Cleveland finally found stability in their coaching ranks under Andrew Berry and Kevin Stefanski.
It might be time for a new direction and a new voice as the team turns over almost the entire room.
Berry has a wealth of free agents and a deep NFL Draft class to find the talent to replace Landry and Beckham.
Browns rookie wide receivers recreated Jarvis Landry's Hard Knocks speech 😂 (via @r0bato) pic.twitter.com/A7sNLSRZXm

— Athlete Swag (@AthleteSwag) August 29, 2018
That wealth of talent will complicate the effort to find a trade partner for a $15 million, 30-year-old slot guy.
Landry might be offered the chance to renegotiate, either in a sign-and-trade or to stick with Cleveland.
And maybe he can find someone willing to offset a pay cut with incentives like his friend Beckham did.
But odds are pretty good that team won't be the Cleveland Browns.