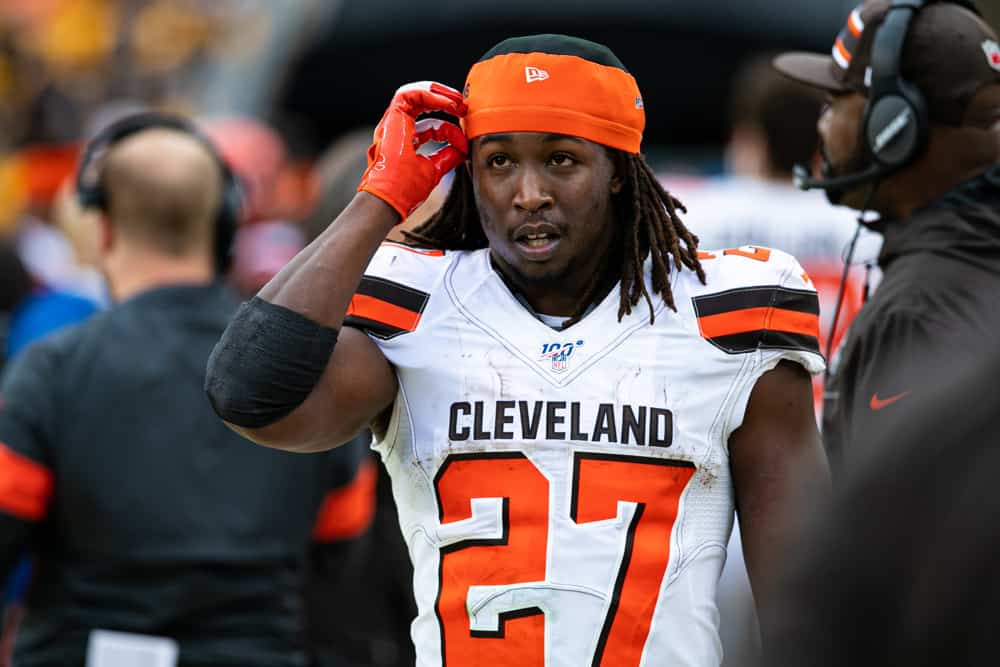 The Cleveland Browns considered trading running back Kareem Hunt earlier this offseason, according to Radio.com NFL Insider Michael Lombardi.
Lombardi discussed whether Hunt and wide receiver Odell Beckham Jr. are on the trading block during a Thursday appearance on 92.3 The Fan's "Baskin and Phelps" show.
"I think early on, from talking to people around the league, Hunt was definitely available," Lombardi said.
Last week, the Browns put a second-round tender on Hunt.
It means if a team wants to acquire Hunt from the Browns, that team would have to give up a second-round draft pick.
"For the right price, you can get Beckham," Lombardi said. "I think for the right price you can get Kareem Hunt as well.

"That doesn't mean they're going to trade them. That just means they're available like all players are available."
Lombardi does not think the Browns are actively shopping Hunt and Beckham at this point, but said both players are "available."
"I don't think they're shopping Beckham," Lombardi said. "I think people know well enough that if they want him to make a phone call. Look, I don't think Beckham is going to get traded because with the Stephon Diggs deal that came in, which was really a high-level price considering their quarterback.

"Think about this, they traded all those draft picks and their quarterback has completed seven passes out of 50 on throws over 30 yards, Josh Allen. Then, their quarterback has completed 21 out of 76 passes on throws between 20 yards. So they just traded for a down-the-field receiver, and their quarterback can't hit the broadside of a barn on down-the-field throws. If he doesn't improve that, they're not going to get better."
ESPN analyst and former NFL linebacker Bart Scott said earlier this week that Beckham is on the trading block.
Lombardi said the Browns would consider trading Beckham for the right offer, noting the receiver depth in the 2020 NFL Draft.
"I don't think there's anybody on their roster that they feel like they can't [trade], especially at the receiver position," Lombardi said.
Lombardi said many NFL teams want to trade their high-level receivers to draft younger players, who make less than veterans.
The Browns must also deal with Beckham and Hunt's off-the-field troubles this offseason.
In January, Beckham made headlines for handing LSU players cash in front of cameras after the College Football Playoff title game.
Beckham also slapped a security officer in the butt during the locker room celebration.
Police chose not to press charges against Beckham.
Beckham also had surgery to repair a core muscle injury.
Earlier this offseason, Rocky River police in Ohio opted not to press charges against Hunt after they pulled him over for speeding and found marijuana in his car.