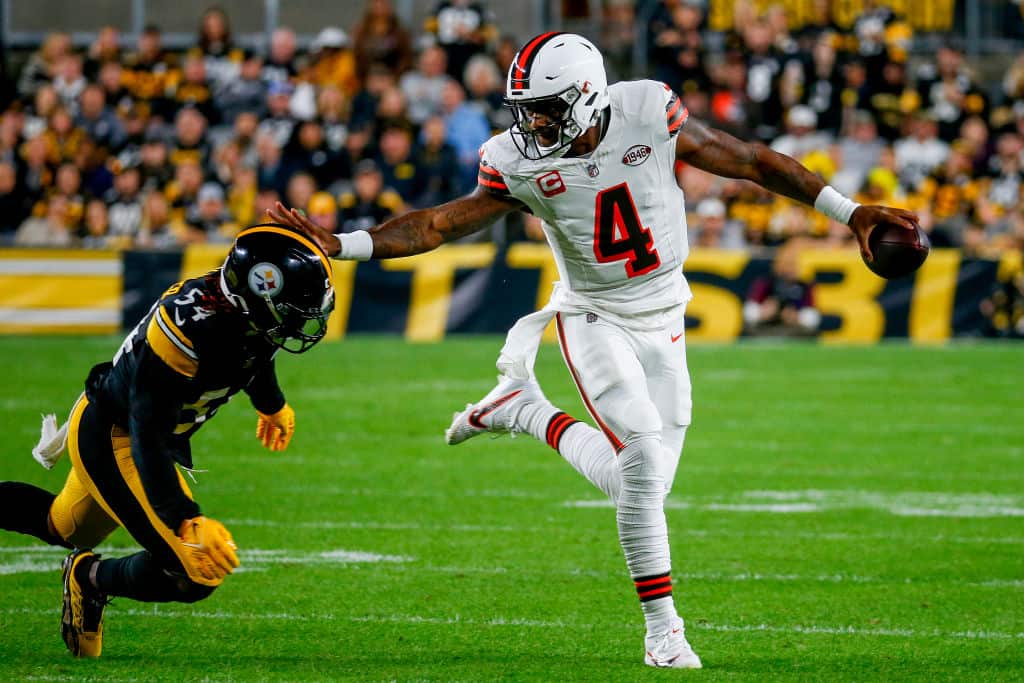 On Saturday, word spread around the sports world that Cleveland Browns quarterback Deshaun Watson received three fines from the NFL.
Two unnecessary roughness penalties and one unsportsmanlike conduct infraction were assessed to Watson from last Monday night's game against the Pittsburgh Steelers.
His $35,513 fine only exacerbated Watson's play during the Steelers game when he accounted for just one touchdown pass and an interception.
Here's the "violent gesture" that led to one of Deshaun Watson's three fines from Monday night.

Watson and David Njoku were each fined $13,659 for the gun-themed celebration after a #Browns TD. Watson was fined $35,513 total, including two fines for unnecessary roughness. pic.twitter.com/bYgU7D3kVY

— Tom Pelissero (@TomPelissero) September 23, 2023
Piggybacking on the fact that Watson has looked less than worthy of his mega-contract so far, NBC's Mike Florio recently suggested that Cleveland does have a way out of the quarterback's guaranteed contract.
As Florio pointed out on Sunday, Watson's contract has wording that can prevent all future guarantees if he is suspended by the NFL for on-field violations.
According to his contract, if Watson is suspended for two or more games for violating on-field rules, his future guarantees can be voided.
Also, if he gets suspended for one or more games for violating on-field rules that the Browns deem "egregious," then his future guarantees can also be voided.
Basically, if Watson continues to get assessed fines, he could be suspended by the league for a specific number of games.
That, in turn, could lead the Browns to invalidate future guarantees in his contract and give Cleveland an excuse to get rid of their highly-paid quarterback.
However, as Florio also noted, the chances of this occurring are slim to none.
First, the Browns would have to contend with the NFL Players Association, which would more than likely file a grievance against the team.
Second, NFL owners and the NFL itself may not honor any potential threats to Watson's future guarantees as a way of scolding Cleveland for giving the quarterback such a contract in the first place.
Of course, just hours after Florio's story broke, Watson redeemed himself (at least for a week).
During Sunday's game against the Tennessee Titans, Watson passed for 289 yards, two touchdowns, and zero interceptions in a 27-3 blowout.
Should he play well in upcoming games against Baltimore and San Francisco, and get Cleveland into the playoffs, the idea of voiding his future guarantees goes away.
If not, the organization just might keep the idea in its back pocket for later consideration.