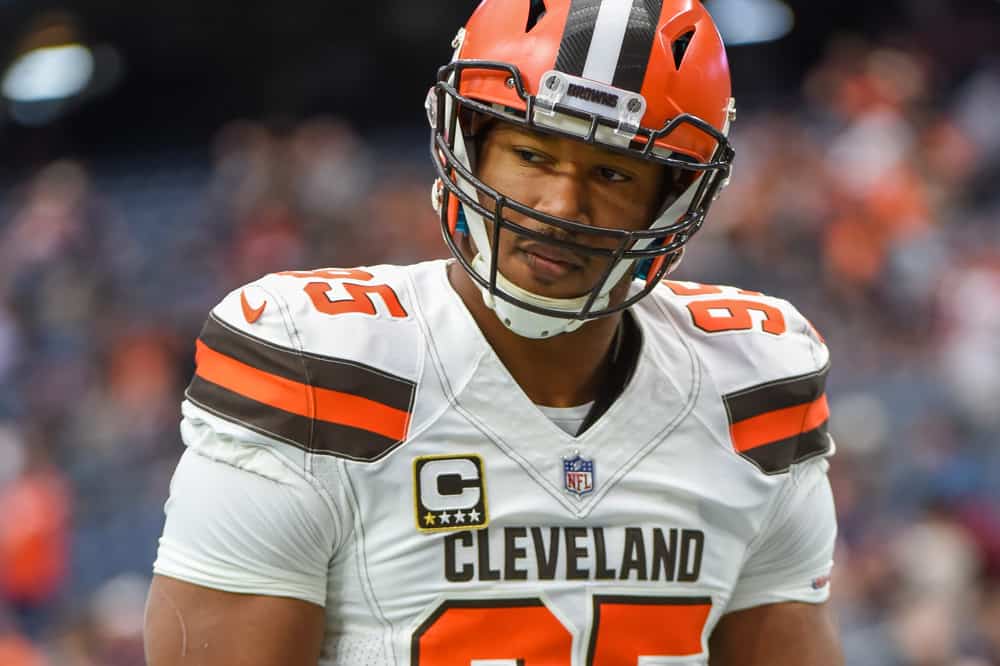 Sunday's matchup between the Cleveland Browns and Houston Texans is a showdown of two of the NFL's best defensive ends in Myles Garrett and J.J. Watt.
Texans interim coach Romeo Crennel told Browns reporters Wednesday morning that he expects Garrett and Watt to bring out the best in one another.
"Well sure, a player across the field playing your position and trying to do the same thing you do, there will be more juice," Crennel told Cleveland.com's Mary Kay Cabot. "And I think Myles will have more juice as a result of it because of what J.J. has been able to accomplish in his career."
Headed into Sunday's game, Garrett is tied with Los Angeles Rams defensive lineman Aaron Donald for first in the NFL with nine sacks.
Garrett, 24, leads the NFL with four strip-sacks.
"You have to know where he is," Crennel said of Garrett during a Wednesday news conference with Texans reporters.
As of Wednesday night, sports betting website Bovada lists Garrett (+500) as the third-favorite to win AP NFL Defensive Player of the Year behind Donald (+250) and Pittsburgh Steelers outside linebacker T.J. Watt (+350).
Crennel said the Texans would try to block Garrett using a variety of techniques, which includes sliding the offensive line towards him, chipping him or keeping a tight end at the line of scrimmage for pass protection.
"He's got great length first of all. He's good off the ball, he has body flexibility, so he can run under blocks, he can get around blocks," Crennel said. "And, he's got that drive that some of the great pass-rushers have. He's got that drive to get to the quarterback."
J.J. Watt, 31, is tied as the 13th favorite to win the award at +5000.
The elder Watt has won the NFL Defensive Player of the Year in 2012, 2014 and 2015.
On Sunday, he recorded his 100th career sack in his 120th game played during a win against the Jacksonville Jaguars.
Only three other NFL players — Bruce Smith, DeMarcus Ware and Reggie White — got to 100 sacks faster.
"J.J. is an ultimate professional in the classroom, on the practice field, on the game field," Crennel told Cabot. "I couldn't ask any more from a player. He wants to win, he works to win, he would like to have sacks. He's got 100 of them in his career now. Sometimes teams, they realize who he is also. So they try to do things to slow him down.

"Sometimes he has two on him, sometimes the slide goes to him, sometimes there are three on him, and he has to work through all of that. And sometimes quarterbacks get rid of the ball a little bit faster and don't hold it as long. So all of that comes into play. But I would venture to say if I could get him one-on-one more consistently, his sack total would go up."
The Browns (5-3) are considered 3-point favorites over the Texans (2-6) on Sunday.
Sunday marks the second time Crennel has been a head coach against the Browns, his former team.
Crennel led the Browns to a 24-40 record from 2005-2008.
The Texans lead the all-time series against the Browns, 7-3.