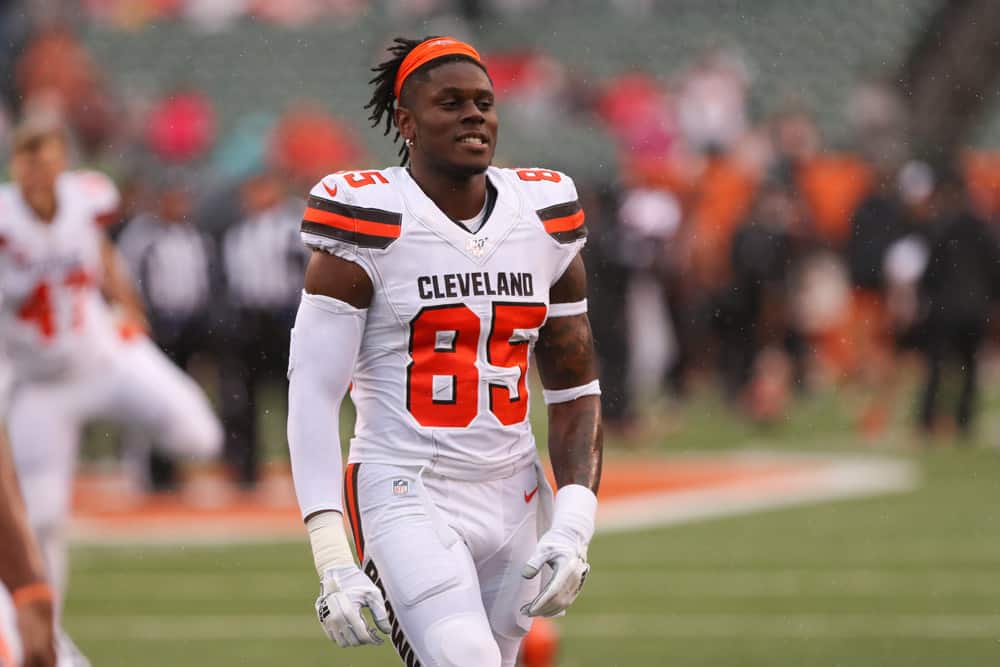 Cleveland Browns tight end David Njoku appeared to be on his way out of town at the end of the 2019 season.
He was not in the good graces of Freddie Kitchens and John Dorsey was notorious for trading away players who he did not draft himself.
Then came the regime change and Njoku's status was up in the air again.
According to ESPN's Jake Trotter, Njoku is one of the most talented tight ends in the NFL who has not reached his potential, and a departure from Cleveland may do him well.
He fell out of favor under the previous regime, as he was a regular healthy scratch down the stretch after returning from IR after a wrist injury. Had coach Freddie Kitchens and general manager John Dorsey been retained, Njoku almost certainly would have been out the door. Still, while Njoku would have a fresh start under a new coach and front office, it's clear he was also losing the trust of QB Baker Mayfield. That's why the 2017 first-round selection might be better off attempting to resuscitate his career elsewhere — especially if the Browns can get something that can help them in return.
The only unknown is whether the Browns will even consider trading someone who has yet to reach his full potential.
Why a Trade Could Happen
Njoku has all the tools to be a dominant tight end in the NFL.
The problem is he hasn't been able to put them together to do much of anything in his three seasons.
2018 was his best year when he finished with 639 yards and four touchdowns.
Yet that came in all 16 games and this was before Odell Beckham Jr. was a target for Baker Mayfield.
2019 was a wash with injuries.
However, Njoku returned in November and was benched by Kitchens.
#Browns 1st round TE David Njoku not sure he'll be back if Freddie Kitchens is: 'It's a tough pill to swallow' https://t.co/NckG9W32i9

— Mary Kay Cabot (@MaryKayCabot) December 28, 2019
If the front office deems this to be on Njoku and not on the former head coach, the team just may want to move on and remove the bad culture from the locker room.
His value should be high given his attributes and teams likely believe a change of scenery can do wonders.
That has been true for plenty of Browns players once they left town.
Why Njoku Deserves Another Chance
The front office has to make a decision on Njoku's fifth-year option this offseason.
That option being available increases his trade value as well.
But far too often the Browns have given up on players upon a regime change.
Dorsey did it and Sashi Brown did the same before him.
Berry being in charge means players he selected, like Njoku, are still on the roster this offseason.
Kevin Stefanski is already Njoku's third head coach, or fourth if you count Gregg Williams.
That is too much turnover to deal with and Njoku deserves a fair shot to prove himself.
A wise strategy would be to decline his option and let 2020 be a contract year for the tight end.
Let's see what he can do when the pressure is on and with proper coaching that isn't attacking his character on a weekly basis.
The Consensus
As much as Browns fans want to believe otherwise, this team is still somewhat rebuilding and seeking an identity.
Njoku clearly has the raw talent to succeed and he is only a $3 million cap hit in 2020.
His presence is not eating up salary and he is still only 23 years old.
The Browns can for once act like a normal organization and not completely start over yet again.
That means giving Njoku one more chance to show his abilities.
If he is traded, that is yet another first-round pick out the door before he can sign a second contract with the Browns.
All that does is continue the toxic cycle that has been plaguing this organization for 20 years.