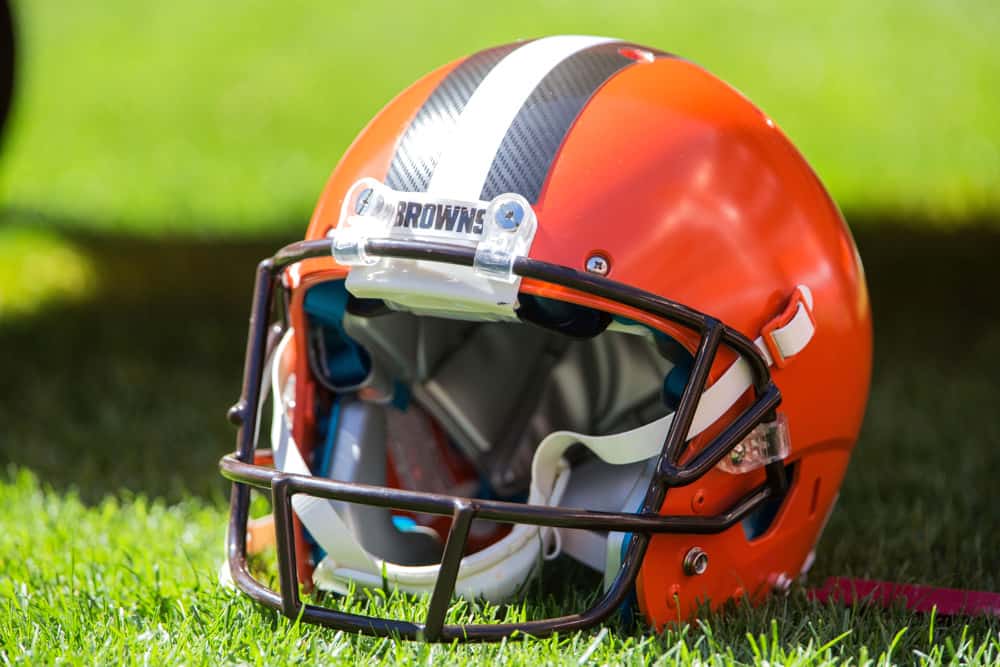 The month of March has been a nightmare for Cleveland Browns wide receiver Ryan Switzer.
Recall that Christian Switzer, the nine-month-old son of Ryan and Gabie Switzer, was hospitalized multiple times this month with bleeding and also was diagnosed with COVID-19.
Finally, as the month nears its end, we hear the best possible news from Ryan Switzer, via social media, regarding Christian's health.
Our sweet baby boy is stable and out of surgery. This nightmare is over with. These wonderful people in Boston fixed our son. He's going to make a full recovery. Praise God. pic.twitter.com/2utFW578QD

— Ryan Switzer (@Switz) March 29, 2021
The issue that plagued Christian is described by doctors as a "vascular anomaly" in his gastrointestinal tract.
How It Began
On March 6, Switzer took to social media asking for prayers for Christian who woke up in a pool of blood and was rushed to the hospital.
In the process of controlling the bleeding, doctors learned that Christian was also COVID-19 positive.
I'm asking everyone that this tweet comes across to please just take a second and say a prayer for our son Christian. He's 9 months and currently in the hospital after he woke up in his blood. He's Covid positive.

— Ryan Switzer (@Switz) March 6, 2021
After he was stabilized, doctors performed surgery to stop the bleeding.
Christian is finally out of surgery. The GI specialist found several sites of bleeding. He took samples that were sent off to biopsy to see what could be causing it, I guess. He's stable right now and resting. pic.twitter.com/56vMmRkJVS

— Ryan Switzer (@Switz) March 7, 2021
Christian went home after the surgery and seemed to be doing well, playing and behaving like a typical infant.
Mr. man was discharged from the hospital yesterday evening. We didn't get any clear answers on why what happened, happened but, to see him sleep through the night with no bleeding and wake up in a playful mood this morning means our prayers are being answered. Thank you all. 💙🙏 pic.twitter.com/ycLPwCiLeS

— Ryan Switzer (@Switz) March 10, 2021
Ten days later, the Switzer family brought Christian to the hospital again.
We are back at the hospital after Christian had more significant bleeding this morning. We're frustrated but more so just exhausted seeing our son suffer. We're asking for prayers for the doctors as they work to find a diagnosis & strength for Christian as he battles.

— Ryan Switzer (@Switz) March 20, 2021
During this time, there were blood transfusions, scans, and additional tests to figure out the cause of Christian's bleeding.
Within the past week, the Switzer family, in consultation with Christian's doctors, traveled to Boston for Christian's treatment.
Through this horrific experience, the Switzers went from jubilant parents of a beautiful infant son to those patiently staying the course to find Christian the best treatment possible.
I wish he knew that I would trade places with him with zero hesitation. Helpless feeling knowing I can't. pic.twitter.com/RCLjcU9001

— Ryan Switzer (@Switz) March 28, 2021
Thankfully, it appears that has finally occurred.
The Switzers used social media to let fans and prayer warriors into their struggle and have never hesitated to thank all the well-wishers along the way.
Everyone who has been following this story is so happy that Christian Switzer is finally on the road to recovery and look forward to seeing social media posts soon of him playing and laughing with his parents.