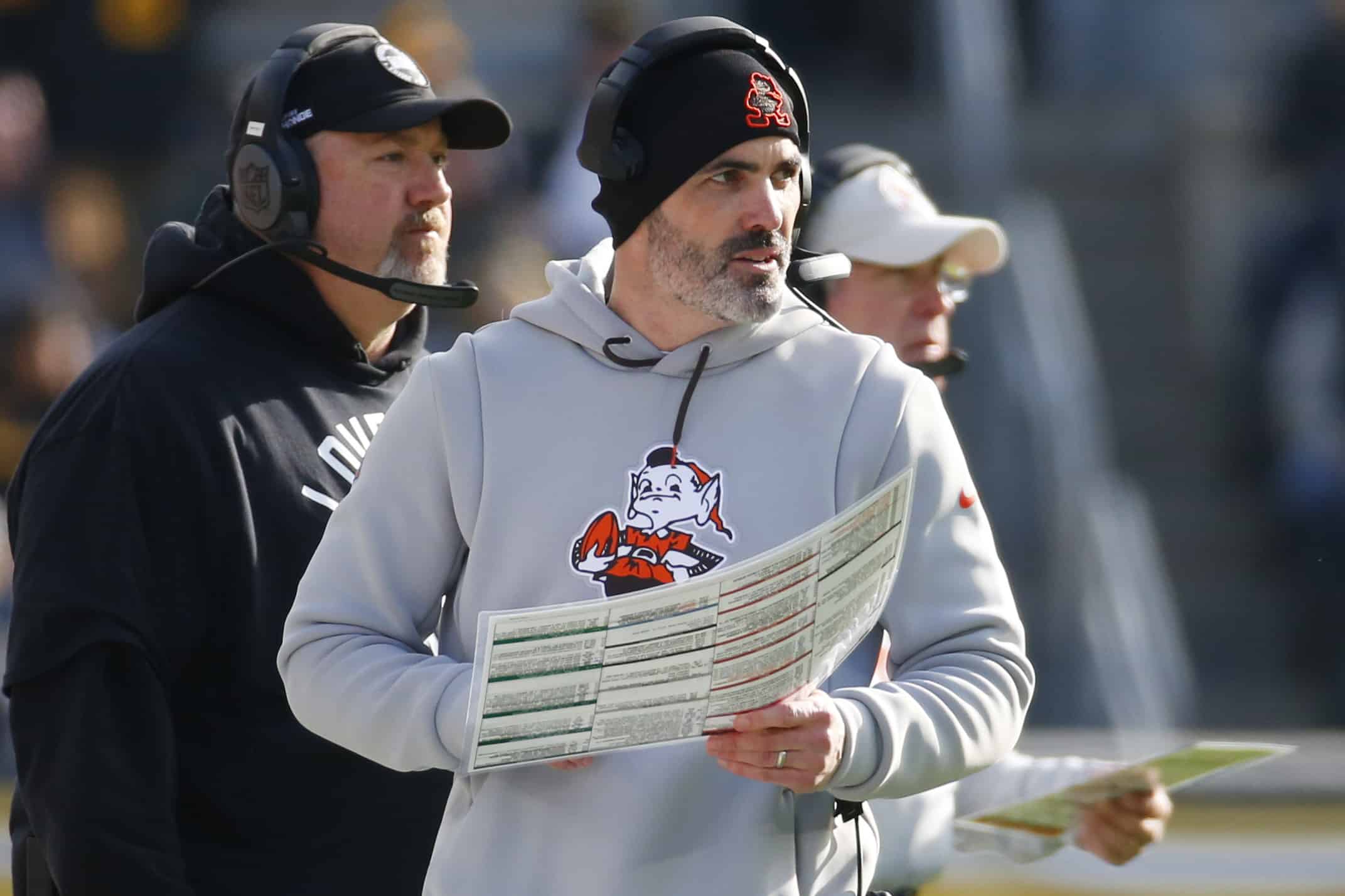 Kevin Stefanski boasts a 26-24 record over 3 seasons as the Cleveland Browns' head coach.
That actually compares favorably to how a lot of Hall of Fame-caliber coaches started their NFL careers.
But Stefanski is trending in reverse, starting out with an 11-5 campaign and coming off a 7-10 effort in 2022.
And that has more than a few folks wondering if Stefanski should be on the hot seat in 2023.
Facts. Winning cures all. If the Browns win in 2023, then all the complaints about Stefanski, Watson, the defense, etc., will all go away.

— Roberto Shenanigans (@Rob_Shenanigans) January 18, 2023
Joe Woods paid the price for an inconsistent defense over the years in a move popular with many fans.
But the head coach's role as offensive coordinator leaves Stefanski open to criticism, too.
This is despite some solid offensive rankings that don't placate fans who question his play-calling and player usage.
And hiring a defensive coordinator with head coaching experience isn't going to lessen any pressure Stefanski feels.
It's All About The Quarterback 
During the Christmas weekend broadcasts, NBC ran a graphic of great coaches' records without their most famous quarterback.
Bill Belichick, for example, has a losing record without Tom Brady.
And that trend was followed by more Hall of Fame coaches than not across recent history.
Baker Mayfield and Jacoby Brissett are not in the same class as Deshaun Watson at his best.
Is Bill Belichick an "average" coach without Brady?

"Yes, but that's not an indictment on Belichick. What great NFL coach has won over a period of 10 years without a great QB?" — @JoyTaylorTalks pic.twitter.com/7bb9rsPFlZ

— Speak (@SpeakOnFS1) October 26, 2022
As underwhelming as Watson was in December, Stefanski deserves a normal season with Cleveland's franchise quarterback.
Anyone who can win playoff games with an inconsistent Mayfield and turn Brissett into a top-10-rated passer does.
Of course, failing with Watson at the helm will only accelerate Stefanski's departure from the Browns.
It might even spell the end of the untouchable Paul DePodesta and his stability-wins-championships mantra.
Fans' Angst Proves Things Are Better With Stefanski
Brissett's statistically-impressive performance in 2022 might earn him a starting job somewhere else next season.
But Browns fans saw why Brissett only boasts an 18-30 career won-lost record despite a positive touchdown-interception ratio.
He is not a winner, with too many mistakes in crunch time that subsequently led to the defensive lapses that got Woods fired.
If Brissett pulled out just 2 of Cleveland's 5 one-score games, Stefanski is coming off another wildcard game.
presenting our opponents for 2023 pic.twitter.com/GWX2wb4QJ3

— Cleveland Browns (@Browns) January 10, 2023
But one most notable observation is the fans' reaction to a 7-10 record without their starting quarterback for 12 games.
Not to mention how fans reacted to 8-9 the season before, calling for massive changes after just missing a .500 record.
The fact is, expectations are higher since Stefanski took over, especially after an awesome 2020 playoff victory.
And yes, playoffs or a new coach after 2023 is a legitimate expectation and maybe even a worthy prediction at this point.