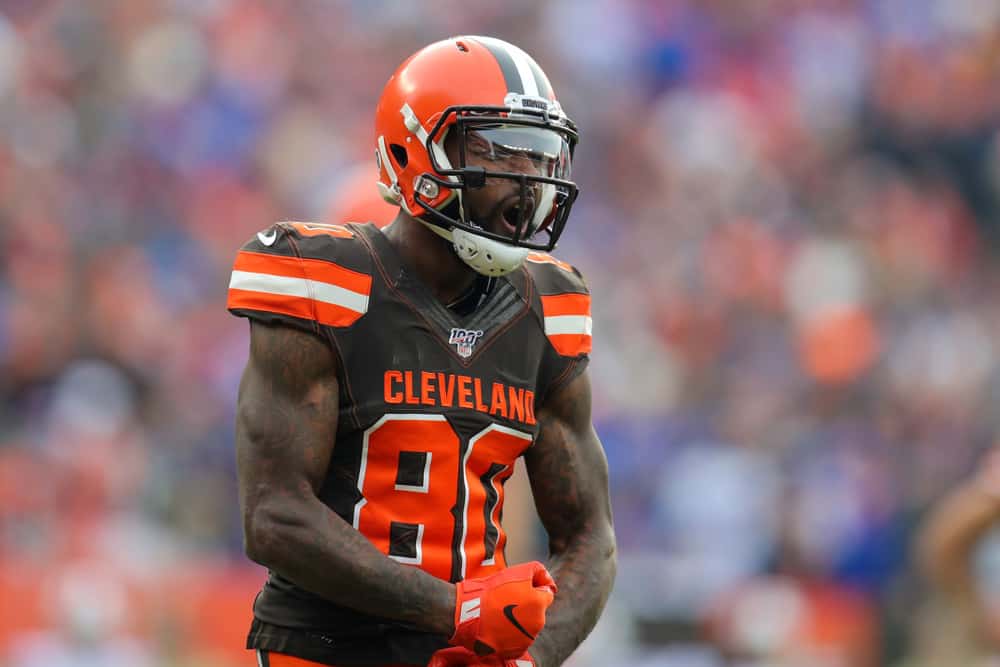 It's a dream come true for any NFL fan to see a Super Bowl live.
With ticket prices to see the big game costing thousands of dollars, however, it can be extremely difficult for people to accomplish this.
Thanks to Browns wide receiver Jarvis Landry, one lucky person will be in Miami to see the Chiefs and 49ers square off.
Per his Twitter on Thursday morning, Landry announced a partnership with USAA and Together We Served (TWS) to send Marine Corps Veteran George Reilly down to Florida for the game.
Honored and humbled to be able to provide a pair of tix to #SBLIV to Marine Corps vet George Reilly from @USAA & @TWSMilitary. Service runs deep in the Reilly family and I can't say thank you enough. Enjoy the game! pic.twitter.com/hnxGNpz7ju

— Jarvis Juice Landry (@God_Son80) January 23, 2020
Per WKYC, Reilly served in the Marine Corps from 1960-1964 in the Vietnam War as a Radio Operator in addition to working with a number of helicopter squadrons.
Reilly will be taking his son and fellow Marine Corps vet, George Reilly Jr., with him.
Landry is excited for this opportunity to partner with the military, offering this statement per WKYC.
"With the help of USAA and Together We Served, it's an honor to award a trip to the Super Bowl to Corporal Reilly and his son, Sergeant Reilly," Landry said. "As a country, we are grateful to military veterans like the Reilly's, who I am very much looking forward to meeting in Miami at the Super Bowl."
Landry continues to not only be a great receiver with the Browns, but an even better person.
He was the Browns nominee for Walter Payton Man of the Year honors in 2019.
The winner of the award will be announced a day before the Super Bowl, February 1st at 8 PM on Fox.
Winning the award is certainly an honor, however, just being named your team's nominee is a clear indicator that you are making a difference in the community and around the world.
The Browns are no strangers to military involvement. Just last season, former left tackle Joe Thomas did something similar to Jarvis, sending Coast Guard veteran Jay McKenzie to the big game.
Like me, Coast Guard CWO (ret) Jay McKenzie is retired & always wanted to go to the Super Bowl. Working with @USAA & @USONorthenOhio we made Jay's dream come true with 2 tix to #SBLIII. #SaluteToService pic.twitter.com/9Il8KBbQ7n

— Joe Thomas (@joethomas73) January 28, 2019
Joe made a trip out to the Middle East with American troops during the 2010 offseason and remains supportive of the military to this day.
The military and the NFL have worked closely together over the years, and Landry is looking to continue that tradition.
According to NFL.com, the league has donated over $34,000,000 to its non-profit military partners.
This includes a number of organizations, such as the Pat Tillman Foundation and the Wounded Warrior Project.
The league also does a Salute to Service month each year where coaches and players will wear military-inspired uniforms and attire on gamedays.
Each team also has one member within the organization who wins a Salute to Service award for their involvement with the military community.
This past year, the Cleveland Browns recipient was now-former general manager John Dorsey.
John attended Fork Union Military Academy back in 1980 before his days in the NFL.
Dorsey also invited around 175 active military members and family to Berea each season while in Cleveland.
"I like to wake up every morning and see if I can make a contribution," Dorsey said per NFL.com.
Dorsey has certainly made his contributions over the years, now Landry has too.