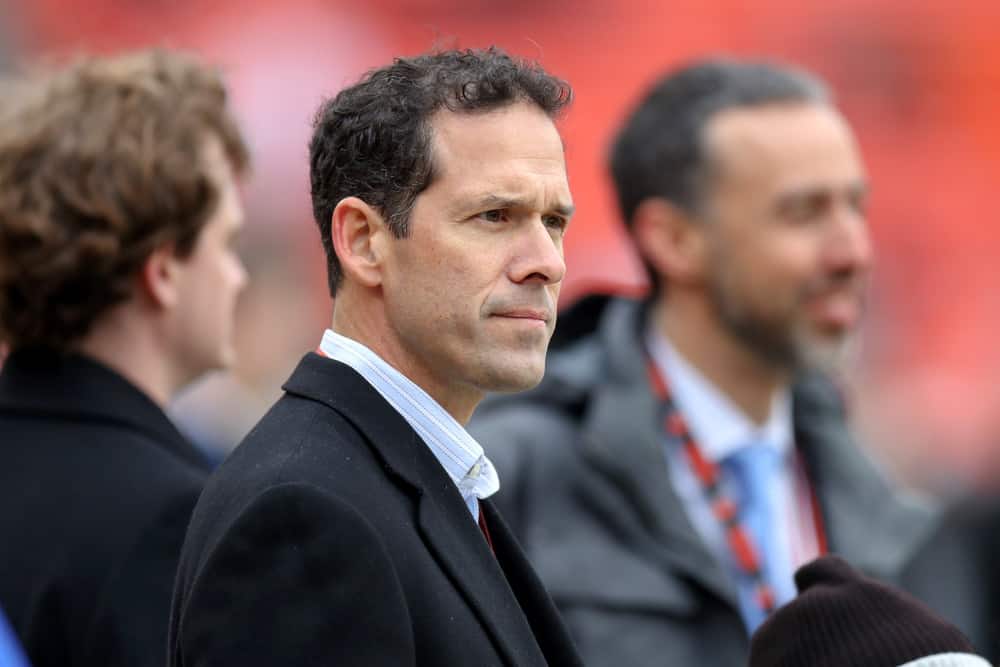 Paul DePodesta continues to lead the Cleveland Browns general manager search with one week until the Super Bowl.
The team went without a GM at the Senior Bowl and the urgency to get someone in the building is growing with each passing day.
A Browns contingent that includes assistant GM Eliot Wolf, personnel VP Alonzo Highsmith, college scouting director Steve Malin, pro scouting director Dan Saganey and several scouts has arrived in Mobile for Senior Bowl week.

— Zac Jackson (@AkronJackson) January 21, 2020
Though it may not be as easy for the Browns to hire a GM as it is for other teams.
That is because DePodesta appears to hold so much power.
That power may have caused George Paton to pull his name from consideration for the job.
One potential reason why it has been hard for the Browns to find a GM could be that DePodesta will have a say in roster moves and specifically draft picks.
Paul DePodesta explains what he does as #Browns Chief Strategy Officer. pic.twitter.com/nzyWXgAzNx

— Jeff Schudel (@jsproinsider) January 14, 2020
DePodesta did not come out and say he is going to pick the players, but did make it clear he will have a say in getting guys who fit into the new organizational philosophy.
This situation could also be why Andrew Berry is the top and only remaining candidate for the job.
He has experience working with DePodesta and may accept such an arrangement.
So let's say DePodesta does plan to have a say in who the Browns sign and select in the draft.
Here is why that could work and why it could not.
Why DePodesta Should be Involved in Draft Decisions
The whole goal of this new group is for unquestioned unity.
DePodesta is supposed to work with Kevin Stefanski and both are supposed to agree on a GM to create a trio that works together and trusts each other.
If DePodesta is only suggesting and agreeing to take players who fit with the new structure, that should not be an issue.
Stefanski and the GM should have already found such players if everyone is indeed on the same page.
In fact, this whole situation becomes a non-issue as long as Stefanski and the eventual new GM don't drastically change their ways of thinking.
Why DePodesta Should Not be Involved in Draft Decisions
DePodesta claims he won't go as far to actually pick the players.
But if he is offering suggestions, he may also have the power to say no to a pick.
That could create issues within the organization before a game is even played under the new coach and GM.
Right now we are still in the honeymoon stage of the new group in charge.
And there isn't even a GM in place yet!
Everything could indeed work out, but it never makes sense why the Browns seem to have to do everything differently than the other teams in the NFL.
DePodesta having too much say in roster decisions could lead to Stefanski and the GM teaming up together and ruining the arrangement and supposed unity.
If Berry ends up as the GM then there should not be an issue with DePodesta offering up his opinions on personnel.
But if Berry turns down the job and the search continues, problems could arise with a new GM having to listen to someone else when making roster decisions.