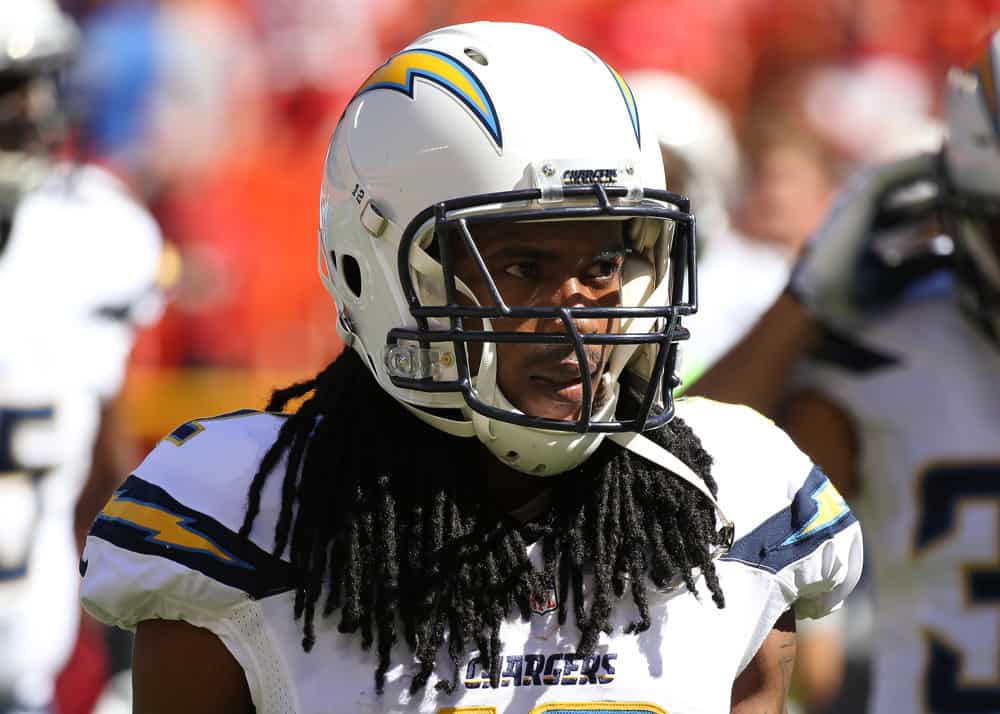 Fans tend to have split feelings on bringing back players that used to play for their favorite team.
Obviously, those feelings can sway one direction or another based on that player's previous performance.
But, for those "good but not great" players, there's always mixed feelings.
The Browns now have a chance to bring back one of those kinds of players in the form of Travis Benjamin.
The #Chargers and WR Travis Benjamin are mutually parting ways after the team and agent Ron Butler met at the Combine, source said. Benjamin, who has been with the team since 2016, will be a free agent when the league year begins.

— Ian Rapoport (@RapSheet) March 3, 2020
Cleveland took Benjamin, who played college ball at Miami University in Florida, in the fourth round of the 2012 NFL Draft.
He played four seasons with the Browns from 2012-2015 and was a part of a lot of losing in the process.
Benjamin played for three different head coaches (Shurmur, Chudzinski, and Pettine) who amassed a total record of 19-45 over those four years.
Additionally, nine different starting quarterbacks were used by the Browns during that stretch.
That kind of change is going to make it tough for any young receiver to get themselves established in the NFL.
But Benjamin did put himself on the map in his fourth and final season in Cleveland.
In the 2015 campaign, Benjamin set multiple career highs with 68 catches, 966 receiving yards, and 5 touchdowns.
That season was great, but perhaps too great, as the Chargers snagged Benjamin in free agency from Cleveland the following offseason.
The deal was for four years and $24 million total.
Reading through the replies on the tweet above, it's clear that Chargers fans were not too thrilled with Benjamin's production with them.
His receptions and receiving yards regressed every year since signing with the Chargers, and he also had three drops in each of the last two seasons.
Benjamin also played just five games this last season while dealing with a quadriceps injury.
Just last season, the Chargers revised his deal and offered him a two-year, $8.5 million extension.
Per Spotrac, voiding his final year will take about $1.5 million from LA's pockets.
Plays like this also won't help Benjamin when it comes to his legacy with the Bolts.
BAHAHAHA I have absolutely no idea what Travis Benjamin was trying to do. 2 easy points with the safety🙏🏻 #Patriots pic.twitter.com/ebAQg9oefR

— Casey Baker (@CaseyBake16) October 29, 2017
So, from a Browns perspective, is Benjamin a guy you would want Andrew Berry to bring back?
He had absolutely nothing to do with drafting Travis back in 2012, nor did he even see him here in Cleveland since Berry was with the Colts that entire time.
A lot of this potential decision depends on what is done with Rashard Higgins.
Mary Kay Cabot from Cleveland.com reported the other day that Higgins is expected to test free agency.
#Browns WR Rashard Higgins expects to test the free agent market, but the Browns want him back at the right price, source says https://t.co/OCfEuynP6T

— Mary Kay Cabot (@MaryKayCabot) March 1, 2020
Following the drama that surrounded him and Freddie Kitchens last season, that's not too much of a surprise.
But Berry was part of the front office that drafted Higgins in 2016.
Plus, Higgins was great next to Baker Mayfield during the quarterback's rookie season.
If Berry feels that Higgins can be that guy again and be a solid third option in the receiving core for 2020, it's safe to assume they bring him back.
Well, for the right price anyways.
If Higgins wants too much money, or if Berry simply doesn't believe he can be a key part of this offense next season, they'll let "Hollywood" walk.
With Benjamin's value presumably at an all-time low, he could be a nice consolation prize to Higgins.