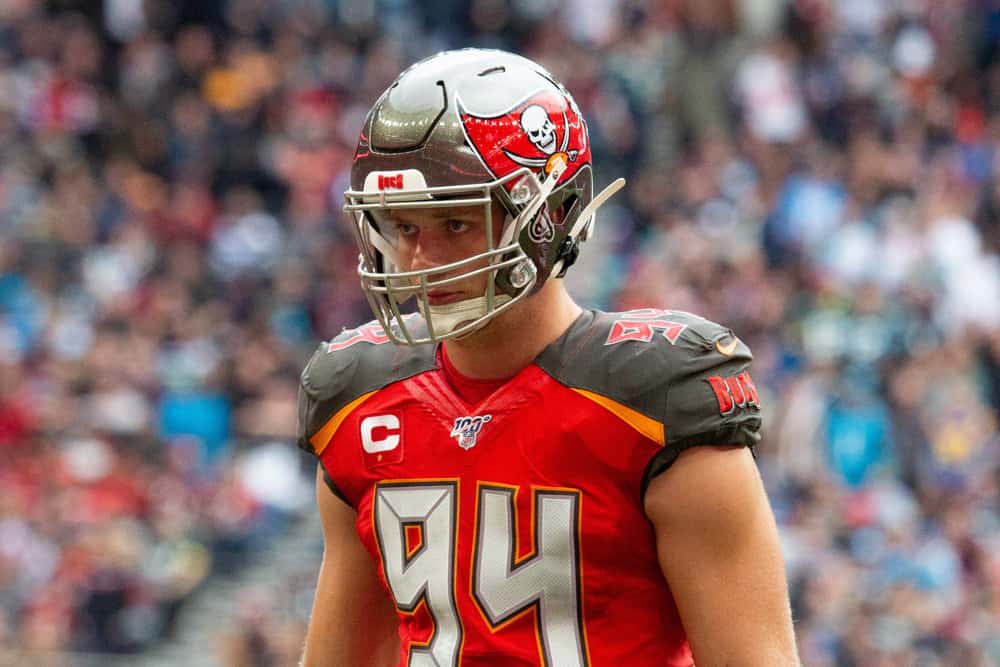 Andrew Berry and the Cleveland Browns have some big decisions to make.
For starters, the team has to decide what to do with their 20 pending free agents.
The rest of the roster has to be evaluated for holes and moves that could increase cap space.
What they do with their seven draft picks will determine where or if they invest in new free agents.
Expectations are the Browns will bolster their offensive line and look for safeties in the draft.
More #MockDraft #Browns #PreCombine pic.twitter.com/xZBywfiZVr

— BrownsMockDraft2020 (@BDraft2020) February 16, 2020
They might not find an impact edge rusher in the later rounds.
Injury-plagued Olivier Vernon is no sure thing to return in 2020.
Myles Garrett is a force, but without another strong outside rusher, his effectiveness is at risk.
Chad Thomas and Byron Cox provide little more than depth at this point.
Although Thomas' second-year numbers are remarkably similar to Nassib's.
Adding an effective edge rusher through free agency is a reasonable idea.
So why not bring back a familiar face?
Why not bring back Carl Nassib?
Browns' Prodigal Third Round Pick
Berry and Paul DePodesta were part of the Browns group that drafted Nassib in 2016.
.@Browns select Penn St. DE Carl Nassib | Draft coverage: https://t.co/LnXzbPSSE7 #NFLDraft pic.twitter.com/ArkhVY585S

— 10TV.com (@10TV) April 30, 2016
Most regarded Nassib as a rising star entering his third season.
But John Dorsey's purge assured Nassib would play that season elsewhere.
Tampa Bay quickly added the waived Brown to their defensive line rotation.
In two seasons, Nassib racked up 13.5 sacks, 20 tackles for a loss, and 25 quarterback hits.
Return on investment: DE Carl Nassib paying off for Buccaneers

After getting waived by the Browns, the third-year pass rusher has been an absolute steal since getting picked up by Tampa Bay, writes @gregauman: https://t.co/RMeKtKzzHl pic.twitter.com/YWOyaqGcjL

— The Athletic Tampa Bay (@TheAthleticTB) December 14, 2018
That doesn't sound like NFL star material until you realize Nassib only played 50-percent of the snaps.
The Buccaneers named Nassib a defensive captain in 2019.
Besides his natural defensive end position, Tampa Bay used Nassib at outside linebacker.
Todd Bowles' coaching crew helped Nassib improve his run-stopping skills.
There is little doubt Nassib will find many suitors for his services.
Where Does Nassib Fit Into the Browns Defense?
Olivier Vernon's salary and injury history make him an easy target for release.
Nassib would step right into Vernon's starting role ahead of the Browns' younger options.
If the team holds onto Vernon or signs another starter, Nassib provides a solid insurance policy.
This is a nasty long arm move from #Bucs DE Carl Nassib. pic.twitter.com/FopXE44yup

— Jordan Reid (@JReidNFL) September 24, 2019
There are some big pass-rushing names available in free agency.
Between the glut of options and his part-time role in Tampa, Berry might find a bargain in Nassib.
If players like Jason Pierre-Paul, Shaq Barrett, and Dante Fowler sign with their current teams, things could change.
But right now, Nassib is expected to look for a two- to a three-year deal paying $7.5 million per season.
If Nassib's production increases proportionately to increased playing time, that would be a steal.
Carl Nassib uses a bull pull here with a rip move to disengage from the block to get the sack on this play#PassRush #BDPR #GoBucs pic.twitter.com/fP2OmhOyaM

— Big Dog Pass Rush (@bigdogpassrush) December 31, 2019
Carl Nassib was raised in Pennsylvania and graduated from Penn State.
He is a northerner at heart, which could narrow competition for the Browns.
Why Won't Tampa Bay Re-Sign Nassib?
By all accounts, the Buccaneers would love to bring Nassib back in 2020.
Todd Bowles' defense is complicated and difficult to pick up.
Tampa Bay started off quite slow before finishing as the fifth-ranked defense.
Holding onto players familiar with Bowles' system would help immeasurably.
There are 12 defensive players among the Bucc's 19 free agents.
Five of them, including Nassib, started at least 8 games.
Bucs Nation- if this hard decision came down to it, who would you rather re-sign: Carl Nassib or JPP?

— The Pewter Pirates (@GoBuccaneersGo) January 4, 2020
But Bruce Arians will prioritize re-signing Shaq Barrett, Jason Pierre-Paul, or both.
They also have to sign a quarterback, which might require another chunk of cap space.
The Buccaneers have a couple of promising youngsters in their line rotation, too.
Cap space might warrant rolling the dice with the cheaper options.
Unless Arians decides to sign Nassib over one of his starters.
What Are the Odds of Nassib Lining Up for the Browns again?
Nassib should be a popular target for defensive-needy teams.
Berry and DePodesta are likely to test the waters on their former draft pick.
Re-signing Joe Schobert might help to convince Nassib to come back to Cleveland.
And the Browns should have enough cap space to sweeten the pot a little bit.
But there is no guarantee Nassib wants to return to Cleveland.
Players want to win Super Bowls and there are several upper-tier teams looking for edge rushers.
Nassib might want to go home, and the Eagles are in the market for an edge rusher.
He played for Penn State, but Nassib's childhood home of West Chester is much closer to Philadelphia.
Or, Nassib might lean toward familiarity.
His former Penn State coach is looking for an edge rusher to help the New York Giants.
New #NYG defensive line coach Sean Spencer led his "Wild Dogs" — as he called his d-line — at Penn State to 40+ sacks in each of last 5 seasons.
Among those he coached: Austin Johnson, Carl Nassib, Anthony Zettel, Shareef Miller, Kevin Givens. Yetur Gross-Matos is in 2020 draft.

— Kimberly Jones (@KimJonesSports) January 31, 2020
Berry should go after Nassib if he is not going to pay a top-tier free agent pass rusher.
But fans shouldn't count on a deal being made.