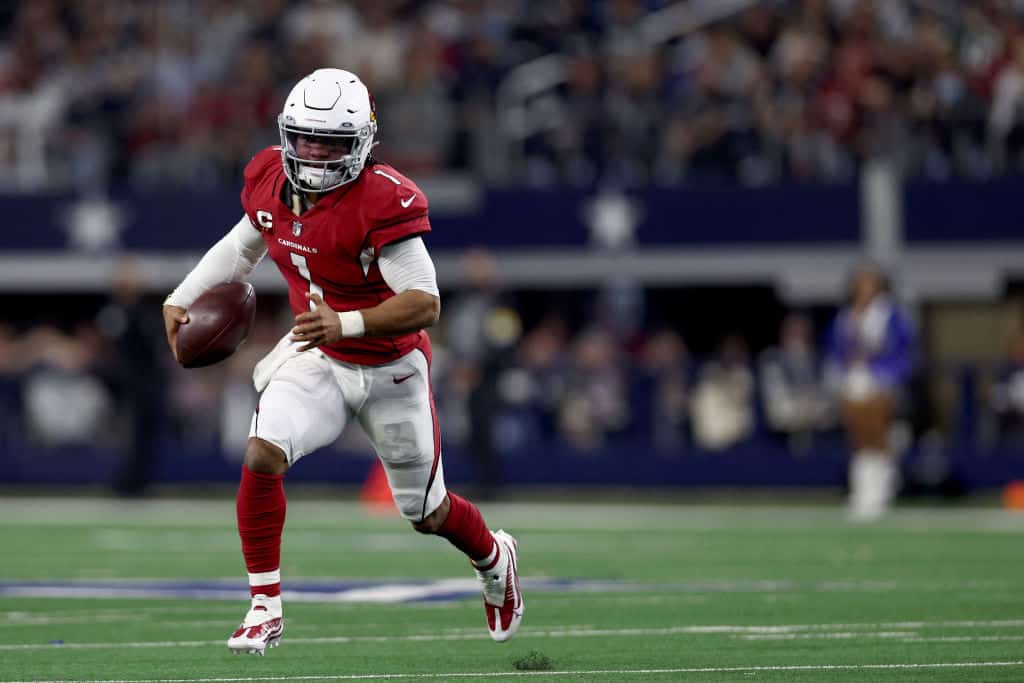 Arizona Cardinals quarterback Kyler Murray appears to be distancing himself from his current team.
His social media platforms are suspiciously clean of any Cardinals references.
Murray led the Cardinals on a 7-0 run at the beginning of 2021.
Injuries and problems emerged after that point, but he does have successful recent history with his team.
The root cause of Murray's issues is unknown.
However, a valid question emerges from the discussion.
Should the Cleveland Browns pick up the phone and call about Murray's status?
The answer is no, and here are two reasons why.
1. Murray Is Under Contract With Cardinals
Last time we checked, Murray is entering the fourth year of his rookie contract.
The Cardinals have until May 5 to make a decision about the fifth-year option.
After making the Pro Bowl for a second time, Kyler Murray's fifth-year option will now cost the equivalent of a QB franchise tag.

2022 cap hit: $11.4M
2023 projected: $29.7M

— Kyle Odegard (@Kyle_Odegard) December 23, 2021
Baker Mayfield is entering the 2022 season under his fifth-year option which is valued at $18.86 million.
Theoretically, the Browns would "save" money in 2022 assuming they acquired Murray and traded Mayfield, but Murray's fifth-year contract dollars in 2023 are in the same ballpark as veteran quarterbacks Matt Ryan and Kirk Cousins.
It is also not clear if Murray has cemented his status as a franchise quarterback.
The team would be paying on the low end of the franchise quarterback pay scale just to have Murray play out the fifth year of his rookie deal.
If the Browns want to move on from Mayfield, Murray does not make financial sense.
2. Murray Is Not A Step Up From Mayfield
On top of the financial ramifications of getting a young and not yet fully proven quarterback like Murray, there is the inevitable comparison to Baker Mayfield.
Should the Browns decide to move on from Mayfield, it seems like Murray would not be the obvious choice.
New stat using our off-ball coverage data.

Highest @PFF passing grade when only 0 or 1 receiver is "open," last two years

Tom Brady 71.1
Patrick Mahomes 70.5
Aaron Rodgers 67.8
Kyler Murray 66.8
Baker Mayfield 66.3

— Steve Palazzolo (@PFF_Steve) December 16, 2021
Murray is a more mobile quarterback; however, his other statistics are very similar to Mayfield's in the passing game.
His win and loss record is 22-23-1; Mayfield's is 29-30.
Murray has thrown for 11,480 yards in three seasons.
Mayfield has thrown for 14,125 yards in four seasons.
As for Murray's mobility, it was curtailed in an injury-shortened 2021 season, and he had only 5 rushing touchdowns compared to Mayfield's 1 rushing touchdown.
Murray possesses individual accolades in his brief career; he is a two-time Pro Bowler and was the Offensive Rookie of the Year in 2019.
Mayfield won a playoff game in 2020.
Conclusion
It remains to be seen if the Browns will pursue other options in 2022 besides Mayfield.
The narrative has been consistent since the season ended.
The plan is to allow Mayfield time to recover from an injury-plagued season that started in Week 2 (and subsequent off-season surgery) and come out strong for his fifth season.
If the Browns made a move, it seems as though they would opt to add one of two types of quarterbacks.
The first is an established veteran that could win in the short term.
Kenny Pickett says #Browns are one of the first teams he talked to this week. pic.twitter.com/2ptGrWz9ak

— Brad Stainbrook (@BrownsByBrad) February 2, 2022
The other is a young quarterback who the team drafts and could work side-by-side with Mayfield in 2022.
Speculation about the Browns and Mayfield will continue in the coming months until we can see or hear how his recovery from surgery is progressing.