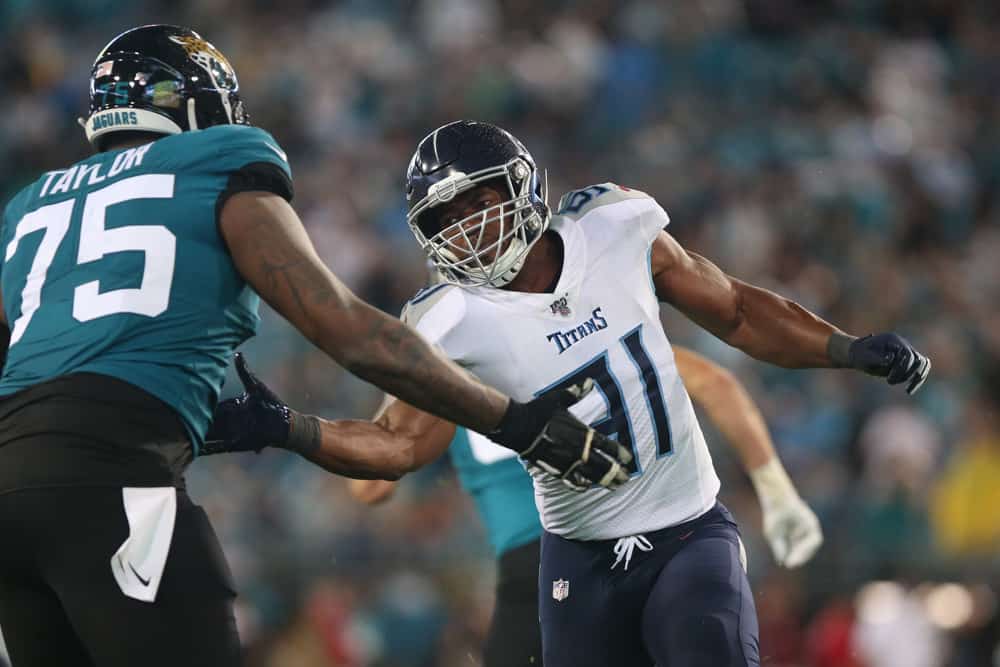 When the Tennessee Titans moved on from Cameron Wake, it was an early indicator for the future.
Wake's NFL career is probably over.
Cameron Wake 2015-2019:

91.8 PFF pass-rush grade

3rd among edge defenders pic.twitter.com/EUoctwijxD

— PFF (@PFF) March 12, 2020
The Cleveland Browns need a quality pass rusher, but signing Wake would not be the best use of the team's money.
An Elite Stretch
Wake spent 10-years with the Miami Dolphins (2009-2018) but was released in the early parts of 2019.
Several of the team's beloved players were let go during that stretch; however, Wake was the most beloved.
During those 10 seasons, Wake racked up 98 career sacks, including double-digit sacks in 2010, 2012, 2016, and 2017.
Wake signed a one-year deal with the Tennessee Titans last season and logged 2.5 sacks in a Week 1 win over the Browns.
The game set Wake over 100 for his career, but he did not pick up another sack for the rest of the season.
Cameron Wake 2015-2019:

91.8 PFF pass-rush grade

3rd among edge defenders pic.twitter.com/EUoctwijxD

— PFF (@PFF) March 12, 2020
When it comes to attacking the quarterback, Wake has been one of the best since 2016.
Even on the bad half of his 30s, Wake has established himself as a fierce pass rusher.
Most QB Hits Since 2016

Aaron Donald – 99
Michael Bennett – 73
Calais Campbell – 73
Cameron Jordan – 73
Von Miller – 73
Chandler Jones – 72
Yannick Ngakoue – 70
Carlos Dunlap – 68
Cameron Wake – 68
Frank Clark – 66
Khalil Mack – 66
Geno Atkins – 65
Fletcher Cox – 65

— NFL Stats (@NFL_Stats) June 20, 2019
A Declining Stretch
It's unknown if Wake is going to plan on playing next season.
At 38-years old, Wake has been declining the last couple of seasons.
In 2017, Wake had an outstanding season that featured 10.5 sacks and 12 tackles for loss.
However, that was the highest recorded tackles for loss since 2012.
Last season was an indicator that either last season or 2020 is likely his last.
After his dominating performance over the Browns on Week 1, he never looked the same.
Wake played in just nine games and didn't record a sack since opening week.
We knew this day would happen as Wake is one of many notable NFL players that could retire soon.
When You Realize…

Larry Fitzgerald
Drew Brees
Tom Brady
Frank Gore
Marshawn Lynch
Andrew Whitworth
Terrell Suggs
Cameron Wake
Jason Peters
Thomas Davis
Ryan Fitzpatrick
Jason Witten

Are all going too retire soon😢 pic.twitter.com/mVhSSETkXr

— ℍ𝕦𝕟𝕥𝕖𝕣 ☄️ (@PrimeBlair) March 10, 2020
Past His Prime
Wake had one good game last season and the game tape will own it.
Cameron Wake wreaking havoc for the safety 🙏🙏 @Kold91 pic.twitter.com/m0x3fFGR5N

— The Checkdown (@thecheckdown) September 8, 2019
Again, it just does not make sense for the Browns to offer a 38-year old a contract when there are better options out there.
When Ray Lewis was 37 and played his final season, Lewis recorded just one tackle for loss and two quarterback hits.
Some believe that Wake could have a Jason Taylor-like season in 2020.
When Taylor was 37 and played his final season in 2011, Taylor registered 16 quarterback hits, five tackles for loss, and five sacks.
Both of those players were Hall of Fame football players, while Wake was just "really good."
Final Thoughts
Save your money and move on.
The Browns can find options through the draft or in free agency if the Browns are desperate for a pass-rusher.
Wake was a very, very good football player.
The keyword is "was."