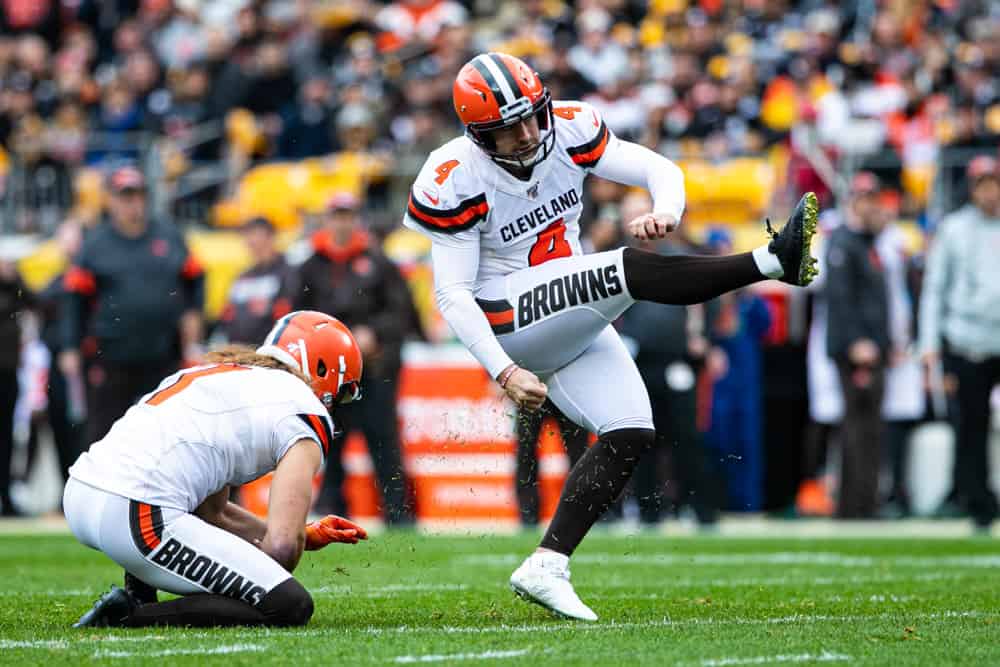 When teams are questioning the performance of their kicker, what do they normally do?
Sign another kicker.
Cleveland Browns kicker Austin Seibert had a solid 2019 campaign, but should the Browns consider signing another kicker?
Seibert By The Numbers
First, let's look at Seibert's performance.
Seibert was taken in the fifth round of the 2019 NFL Draft out of Oklahoma (170th overall).
"With the 170th pick in the 2019 Draft, the Cleveland Browns select Austin Seibert, K, Oklahoma."

📺: NFLN/ESPN/ABC pic.twitter.com/9Lrxnlg9bB

— Cleveland Browns (@Browns) April 27, 2019
He made his NFL debut in the regular-season opener against the Tennessee Titans and belted his first career field goal during a Week 2 win over the New York Jets.
For the season, Seibert was 25 for 29 on kicks, which totals an 86% accuracy rate.
It was good enough for Seibert to make the PFWA All-Rookie Team.
Seibert is on track to become one of the best kickers in the league and he is just 23 years old.
Seibert finished tied for 7th with Chris Boswell and Stephen Hauschka with nine field goals between 40 to 49 yards with nine.
For field goals between 30 to 39 yards, Seibert tied with five other kickers with nine.
Option A: Dan Bailey
Given that Seibert is just 23 and had a solid campaign, bringing in another mid-20-year-old doesn't make sense.
Greg "The Leg" Zuerlein and Zane Gonzalez are both available, but are both 24 and 25 years of age respectively.
If the Browns sign either Zuerlein or Gonzalez, they are going to be the guaranteed starter.
If the Browns wanted to push Seibert, it surely would be with a veteran.
Dan Bailey, 32, is coming off a season with the Minnesota Vikings in which he booted 27 field goals for a completion rate of 93.1%.
Dan Bailey:
PFF:
Kickoff – 90.1 3rd (min 53 att)
FG Grade – 63.7 13th (min 19 att)

Stats:
XP% – 90.9% 22nd
FG% – 93.1% 4th

The bet, as I recall, was all things kicking, as I am certain I included XPs.

He wasn't a top 5 overall kicker when you include XPs. https://t.co/ecmRoYPHsk

— Edwin von Brodmarkle (@Nemock7) January 31, 2020
Before the Vikings, Bailey spent the rest of his career with the Dallas Cowboys before being cut in 2018.
Bailey was a cheap option at just $1 million in 2019.
A proven veteran, cheap to bring in, Bailey is the kicker that makes the most sense through free agency.
Option B: Tyler Bass (Georgia Southern)
Tyler Bass is going to likely be an undrafted free agent due to his senior season.
As a senior, Bass completed just 71.4% of his kicks, making 20 of 28 attempted kicks.
As a junior, Bass was one of the better kicking prospects.
In 2018, Bass connected on 19 of 21 kicks for 91%, including a long of 50 yards.
Has Georgia Southern R-JR kicker Tyler Bass been mentioned in draft circles anywhere? Nailed the game-winner as well as this 50-yard field goal in the rain with ease in the Camellia Bowl. 45/45 on PATs and 19/21 on FGs for the season. pic.twitter.com/azJSXrauKV

— Fed Scivittaro (@MeshPointScout) December 17, 2018
His senior season might have scared some teams away; however, he did have a fantastic Senior Bowl.
Bass' efforts even gained the attention of Detroit Lions coach Matt Patricia.
Another Georgia Southern Eagle Tyler Bass having an impressive impact at the senior bowl. Matt Patricia couldn't help but let him break it down! #SeniorBowl @GATALifestyle pic.twitter.com/mEUDScorOv

— Oliver Davis II (@I_Am_OD3) January 22, 2020
Final Thoughts
When 2020 comes along, expect the Browns to use Seibert in crucial moments to kick long field goals.
Seibert finished tied for 18th in the league for field goals made between 20 to 29 yards.
When you think about it, he was ranked near the bottom because the Browns were not moving the ball efficiently on offense.
The offense was often stopped in the middle of the field, which prompted the team to force Seibert to attempt long field goals.
Now, this is a nice problem to have given that Siebert was one of the most efficient kickers from long distances.
With new head coach Kevin Stefanski leading the way, we expect that the Browns will have a better offense, which means that Seibert is going to get more attempts at field goals.
It's as simple as this: the Browns don't need another kicker.