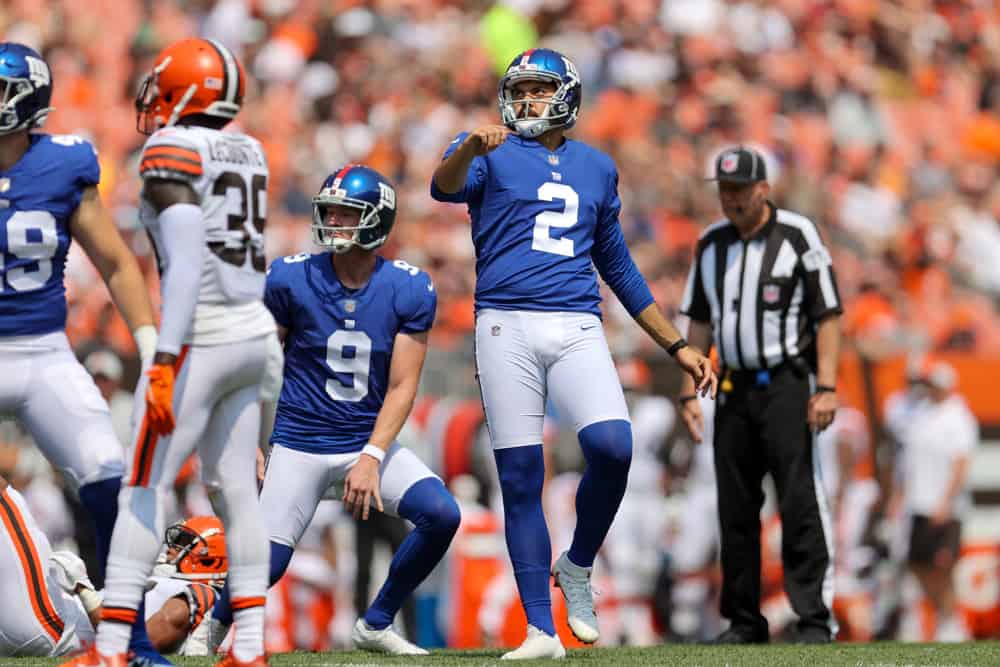 Andrew Berry spent considerable time beefing up the Cleveland Browns roster in the offseason.
He added faster and younger players to his defense and tweaked the offense with some interesting additions.
And he brought in Chase McLaughlin to challenge Cody Parkey for the place kicking job.
With spirited battles for roster positions going on all around Berea, not everybody pays attention to kickers.
Browns Ks Cody Parkey and Chase McLaughlin have been really good of late. Parkey made a 48-yarder last week and McLaughlin nails a 49-yarder into the Dawg Pound with plenty to spare.

— Andrew Gribble (@Andrew_Gribble) August 22, 2021
But anyone watching the Browns' second preseason game might have noted how the Giants' Ryan Santoso boomed 3 kicks through the end zone.
Chase McLaughlin kicked a 49-yard field goal later in the game that had plenty of extra distance.
But what if the Browns had a field goal kicker who connected from 65 yards out in practice this summer- several times?
One player already drawing significant trade interest from around the league: #Giants K Ryan Santoso. Teams have been calling and he could be dealt as the season gets closer. His path is blocked by Graham Gano in NYG, but he's shown himself to be starter caliber.

— Ian Rapoport (@RapSheet) August 22, 2021
That is what the Giants' Santoso has done this year, and his kickoffs Sunday showed the leg strength is no myth.
It's no wonder he has power; Santoso is built like a linebacker at 6'5″ and 258 pounds.
And he is available for trade since the Giants already have Graham Gano locked up on a 3-year contract.
Should The Browns Have Interest In Santoso? 
Cleveland placed Cody Parkey on injured reserve yesterday, leaving McLaughlin as the lone kicker on the roster.
McLaughlin has looked adequate during the preseason.
But one of the knocks against Parkey was that he didn't have enough leg to kick 50-yard field goals.
And McLaughlin has not shown he can solve that issue for the Browns.
In his career, McLaughlin has only tried 5 field goals from beyond 50 yards, making 4 of them.
In #Browns FG drill, Cody Parkey 5-for-5, Chase McLaughlin 4-for-5 with miss wide right from 51.

— Scott Petrak ct (@ScottPetrak) August 20, 2021
That is no better than Parkey's career mark of 8 out 10 long field goal tries.
Stefanski's confidence in Nick Chubb and Baker Mayfield to convert 4th downs from that range makes this a small issue.
But it is still notable that McLaughlin's 49-yard field goal Sunday probably would have been good from 55 yards.
Comparing the overall career stats of McLaughlin and Parkey, it appears McLaughlin is a downgrade.
Neither McLaughlin's field goal rate nor his touchback rate are better than the Browns' returning kicker.
The Argument For a Santoso Trade 
Santoso has been kicking around the league (pun intended) for a few years.
Detroit originally signed him as an undrafted free agent in 2019, but the Lions had Matt Prater entrenched as a starter.
The rookie landed on the Tennessee Titans practice squad and was activated for 3 games that season.
Santoso did not get a field goal try, but 9 of his 17 kickoffs were touchbacks.
He almost got another chance to play in a regular season game last year, activated by the Giants against Cincinnati.
Joe Judge brought up wanting to get Ryan Santoso reps without him being brought up. Openly saying he wants Santoso to get a shot as a starter somewhere.

"If we didn't have Graham (Gano) this guy would be our kicker … we have all the faith in the world in him." #Giants

— Zack Rosenblatt (@ZackBlatt) August 22, 2021
But Graham Gano got cleared from Covid protocols the morning of the game.
Gano missed one kick all season and earned a 3-year extension from the Giants.
But they re-signed Santoso with the promise of showcasing him and trying to find him a starting job in the NFL.
In Stefanski's spirit of positional flexibility, Santoso is also an accomplished punter.
And the Giants seem bent on trading him before the final roster cuts.
The Argument For McLaughlin 
Before Parkey's injury, there was speculation that McLaughlin could be included in this week's roster cuts.
Despite Parkey's superior statistics, many fans were in McLaughlin's corner.
Those fans remember Parkey's successful field goal in the first preseason game.
It doinked off the upright before clearing the crossbar, reminding fans of Parkey's infamous history of doinks.
Coupled with McLaughlin's strong kick against the Giants, the anti-Parkey crowd had momentum.
#Browns Kevin Stefanski won't declare Chase McLaughlin kicker for Week 1.

— Scott Petrak ct (@ScottPetrak) August 23, 2021
But now the Browns have to consider whether they trust McLaughlin enough to hand him the job.
With another preseason game on tap, there is time to bring in and sign a free agent.
As far as Santoso, is he worth the draft pick New York wants for him?
His 9 touchbacks as a Titan is comparable to McLaughlin's career mark.
And if Stefanski continues to eschew 50-yard field goals, does Santoso's longer range really matter?