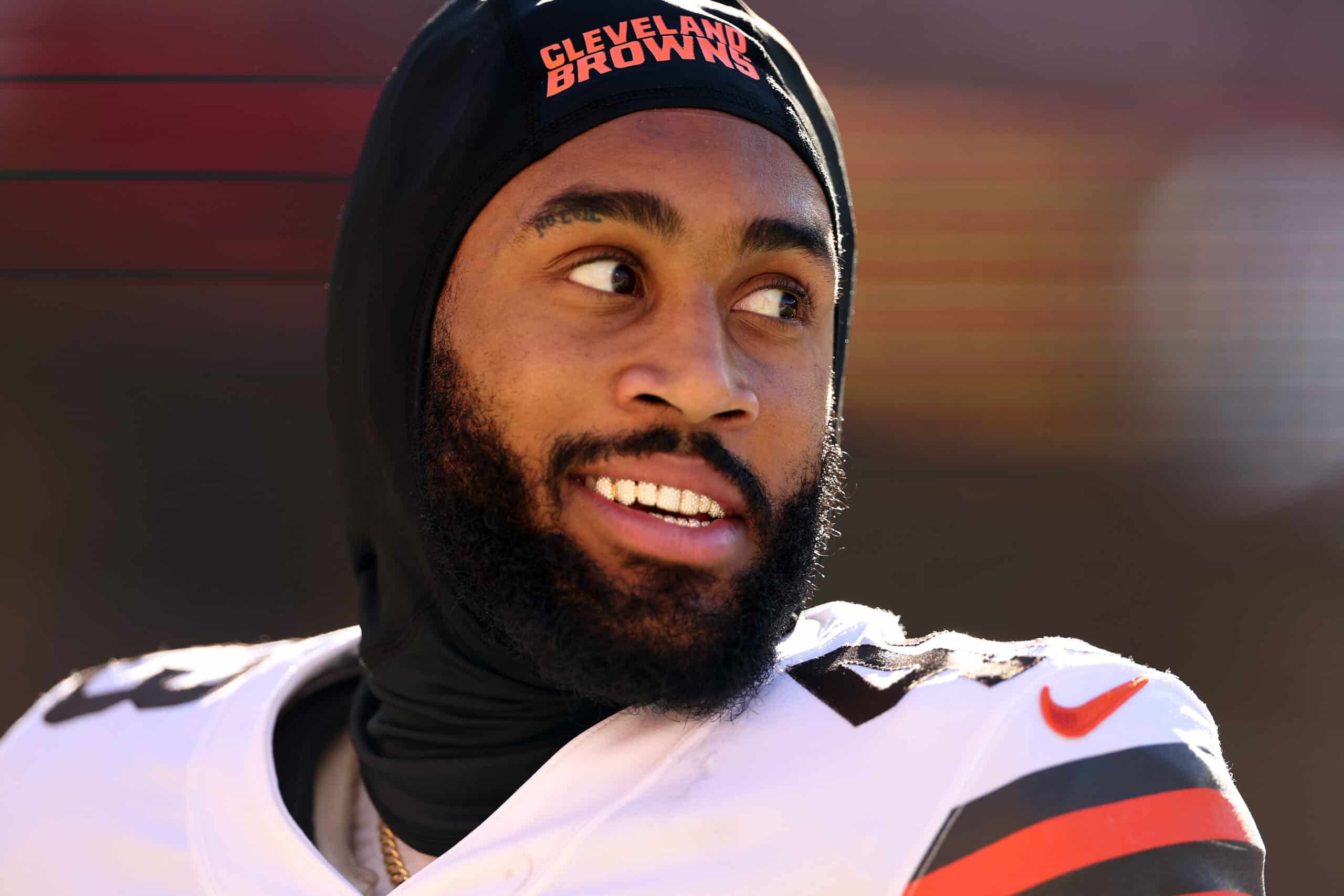 Not a whole lot went right for the Cleveland Browns in 2022.
While they may have their quarterback of the future, there are holes across the roster.
Defensively, there are concerns the team will look to address this offseason.
One area to look at is the safety position.
While Grant Delpit finally took serious strides forward, John Johnson III did not.
Some would even argue he's regressed.
His Pro Football Focus score went from a 68.7 after 2021 to a 62.8 after this past season.
His effort on the field, or apparent lack thereof, is what bothers fans.
JOHN JOHNSON, ARE YOU SERIOUS?? #Browns pic.twitter.com/d0ljHq5EU1

— Roberto Shenanigans (@Rob_Shenanigans) December 24, 2022
With his future in Cleveland questionable, should the Browns just move on from John Johnson?
Let's see something, #Browns Twitter.

John Johnson III.

— Nick Pedone (@NickPedone12) January 27, 2023
On-Field Regression
PFF scores are far from the only way to evaluate a player.
Folks who haven't been in a front office, which is basically all of us (me included), will never know "true" player evaluation.
However, it doesn't take an expert to identify Johnson's struggles on the field last season.
He did improve in some areas, however.
Per Pro Football Reference, Johnson did allow just a 55% completion rate when targeted in man coverage.
That's a step-up from a 58%-mark one year prior. He also tallied 50 more tackles than in 2021.
That's where the positive end though.
His interception numbers, or number as it was in 2022, dropped from three to one.
He also allowed one more yard per completion.
As mentioned, there were too many instances of him simply not being willing to make a tough play.
This touchdown run surrendered to Baltimore is fairly egregious.
#Browns safety John Johnson (43) didn't look like he wanted to pony up any Bus fare! pic.twitter.com/2QPhgMBTR0

— Tony Lombardi (@RSRLombardi) October 24, 2022
Since arriving in Cleveland, Johnson simply hasn't given the Browns the consistent play they've been looking for out of him.
Financially Speaking…
As always in the NFL, the financial aspect of keeping or shedding Johnson becomes integral to General Manager Andrew Berry's decision.
Cutting him now with a post-June 1st designation would save the team about $9.75 million in cap space.
S John Johnson lll is a strong candidate to be cut, traded or restructured as the new league year approaches. If the #Browns designate him a June 1st trade or cut, they'll save 9.75 million on the cap with a dead cap hit of only 3.75 million according to @MaryKayCabot. pic.twitter.com/Fvoc3gMuEx

— Faithful Dawgs Podcast (@FDPodcastCLE) January 27, 2023
With the Browns' current cap situation in a state of flux, those savings could be vital to patching up the roster.
#Browns Currently Cap Space, inc rollover ($14,445,606)

JJ3 June 1st Cut +$9,750,000

Restructures
Watson +$35,936,000
Garrett +$12,936,000
Teller +$9,136,000
Bitonio +$7,868,000

8 Draft Picks ($1,747,565)

Cap Space $60,430,394 💰https://t.co/mDrfBcI27S

— Jack Duffin (@JackDuffin) January 30, 2023
Sticking Around?
Mary Kay Cabot of Cleveland.com doesn't seem convinced Cleveland will move on from their starting safety.
In a recent article, she writes on Johnson "… I think the Browns will try to restructure his contract to lower that number, and if the two sides can't agree, they'll either trade or release him as a June 1 designation, in which case they'll save $9.75 million on the cap".
Perhaps the front office and coaching staff feel Johnson could find success in new defensive coordinator Jim Schwartz's scheme.
Joe Woods has received most of the blame for the defensive shortcomings in Cleveland last season.
If they feel Johnson will thrive under Schwartz, a contract restructure could very well be possible.
Should that happen though?
If the Price is Right
If the front office and Johnson come up with a reasonable contract restructure that gives Cleveland wiggle room still in free agency, I'm not opposed to bringing him back.
The effort was bad for just about everyone on Cleveland's defense in 2022.
With Schwartz now at the helm, the presumed hope is that changes.
As MKC said, however, if there's no agreement, Johnson's days in orange and brown are likely numbered.