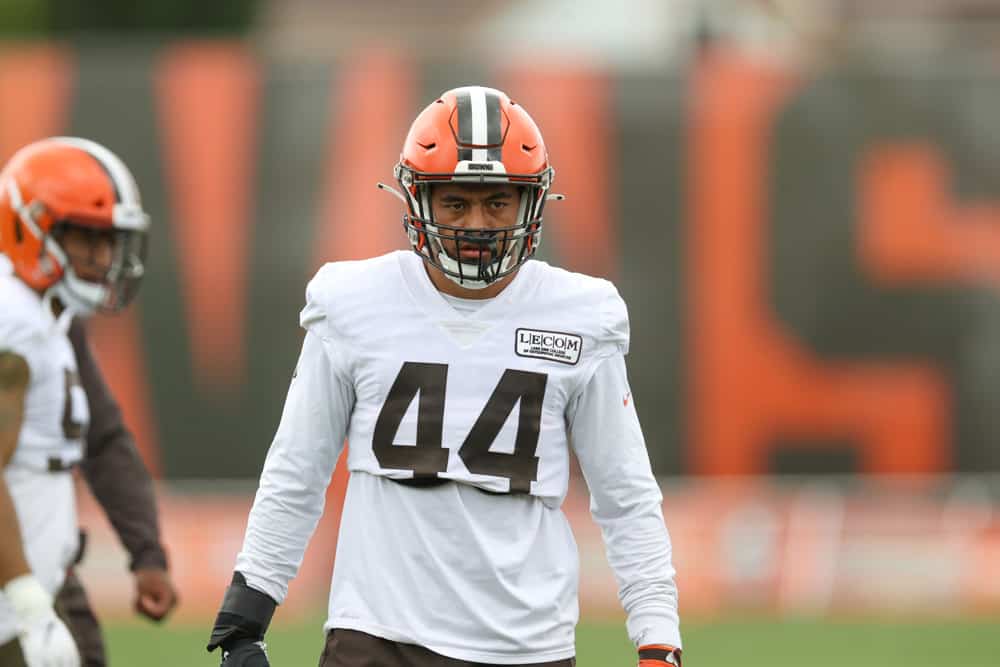 Jim Schwartz and the Cleveland Browns' defense have gotten much-deserved attention this NFL season.
Even after their 28-3 loss to the Ravens, Cleveland ranks #1 overall, allowing under 200 yards per game.
The defense plays fast and loose at all three levels.
But linebacker Sione Takitaki knows what part of this defense makes everything else work.
let the D-line do their thing@STakitaki | #DawgPound pic.twitter.com/vJeHzLBlW9

— Cleveland Browns (@Browns) October 9, 2023
Speaking to the Browns press, Takitaki said the defensive line makes everyone else's job easier.
His eyes light up when he describes playing behind the "big boys" up front.
"When those guys are firing, getting sacks, disrupting stuff… it makes my job easier. Lets me just come in and clean stuff up," explained the Browns veteran.
Despite the bye week, Cleveland leads the NFL in quarterback knockdowns and averages 3 sacks per game.
That's the league's second-highest sack rate to go along with their league-leading 6.8 TFL/game rate.
How Much Easier Is Takitaki's Job?
Playing roughly half the Browns' defensive snaps, Takitaki has 11 tackles and a sack so far this season.
He comes off his best game with 5 tackles, including one for a loss, against the Ravens.
Takitaki fits Schwartz's linebacker type, with speed and a willingness to engage.
His front four is the key, but the linebackers are often the statistical beneficiaries of their efforts.
#Browns DC Jim Schwartz: Sione Takitaki's sack came because Myles Garrett was over the center and #Steelers double-teamed him.

— Scott Petrak ct (@ScottPetrak) September 21, 2023
Myles Garrett is the clear leader in TFLs and sacks.
But Cleveland's leading tacklers are Anthony Walker, Jeremiah Owusu-Koramoah, and safety Grant Delpit.
Cleveland's cornerbacks don't have to hold coverage as long as they might have to without the pass rush.
And like Takitaki, they are quick to credit the front four for the overall success of this Browns defense.