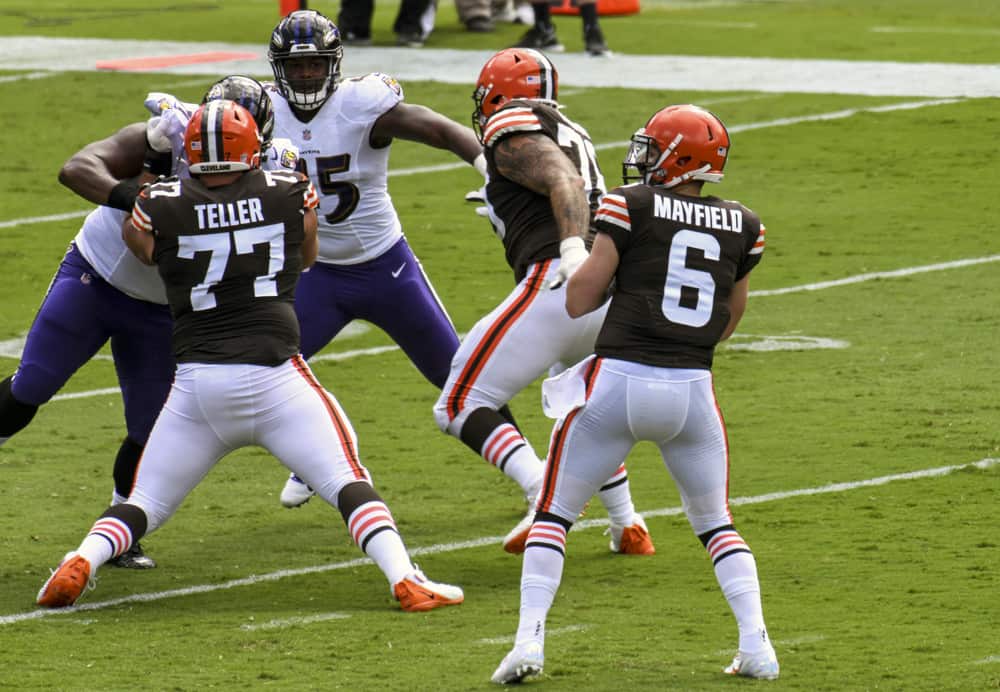 This one hurt.
In a nail biter on Monday night, the Baltimore Ravens beat the Cleveland Browns 47-42 in arguably the best game of the NFL season.
The game had everything.
Lead changes, big plays, high energy.
Even with the loss, they proved that this isn't the Browns team that went 1-31 over two seasons just a few years ago.
With that being said, let's take a look at some studs and duds from the game.
1. Stud(s): The Browns' Running Backs
Nick Chubb and Kareem Hunt left it out on the field.
Chubb didn't hit 100 yards rushing, but he finished the night with two TDs and 103 total yards.
Hunt finished the night with 77 yards receiving and 110 yards overall, to go along with two TDs.
Including this one that tied the game in the fourth quarter.
Kareem Hunt to tie the game ‼️

(via @NFL) pic.twitter.com/VnYFK84wh1

— SportsCenter (@SportsCenter) December 15, 2020
These two finished with over 40% of Cleveland's total offense.
There wasn't much more that they could do.
2. Dud: Cody Parkey
I know-some will say this is low hanging fruit.
But he missed an early field goal, and then shanked an extra point.
While the Browns would convert a two point conversion, the missed extra point forced Coach Kevin Stefanski to account for that missed point.
While the miscues accounted for 4 points, in a game this close, every point counted.
3. Stud: Lamar Jackson
This is a no-brainer.
He didn't have the same game he had statistically as Week 1, but Jackson did whatever he wanted on the field, especially on the ground.
Why is this RB playing QB?#RavensFlock #BALvsCLE #LamarJackson pic.twitter.com/Hs5SX71aYL

— radiohaven.com 🎧 (@realradiohaven) December 15, 2020
Jackson broke multiple huge runs over the course of the game, finishing with 124 yards and 2 TDs.
He did some damage through the air, especially after returning to the game to replace Trace McSorley, who left with a knee injury.
Jackson had left earlier because of cramping issues.
Jackson finished 11-17 passing, for 163 yards and a TD, with that TD being a dart to Hollywood Brown on fourth down with 2 minutes remaining.
He is a player that has to be accounted for at all times, and the Browns weren't able to do that tonight.
4. Dud(s): The Browns Defense
Yes, they finished with four sacks in the game.
But that was about as good as it was for the Browns defense.
The front seven could not find a way to stop Lamar Jackson on the ground, and were routinely out of position when trying to stop him.
When they needed to get stops, they weren't able to in the closing minutes, and Jackson linked up with TE Mark Andrews 5 times for 78 yards.
The linebackers failed to stop the run, and the Ravens RBs took advantage of it.
Gus Edwards to the house 28-14 #RavensFlock pic.twitter.com/NaQGk1rPDW

— Hammer DAHN (@HammerDAHN) December 15, 2020
Gus Edwards ran right through Mack Wilson on this play, which should've been a run for a yard or two.
Baltimore would finish the night with 231 yards on the ground, a week after the Browns held Derrick Henry to 60 yards against the Titans.
The defensive backfield?
I'm not going to rehash their performance, which has been "eh" at best during the season.
While the Browns are shorthanded at defensive back, this is the weakness of the team that hasn't really shown any growth over the season.
5. Stud: Baker Mayfield
A lot of people expected him to come back to earth after last week's performance.
But he stepped up again.
Even committing a turnover for the first time in five weeks, Baker Mayfield stepped up and tried to will this team to a win.
He would finish the night with 366 total yards (with 343 passing), a completion percentage of 59.5, and three total TDs, including this one to tie the game in the fourth.
.@bakermayfield will take it in HIMSELF

📺: https://t.co/auJgZw1LIo pic.twitter.com/OXM592sUxp

— Cleveland Browns (@Browns) December 15, 2020
Stefanski and the offensive staff had a great game plan, and put Mayfield into the best positions to succeed.
He did miss a few passes, and forced a few.
But he led an offense that wasn't willing to give up and kept his team in the game.
While they came up just short, this showed that the Browns are a force in the AFC, and have to be accounted for in the playoffs.