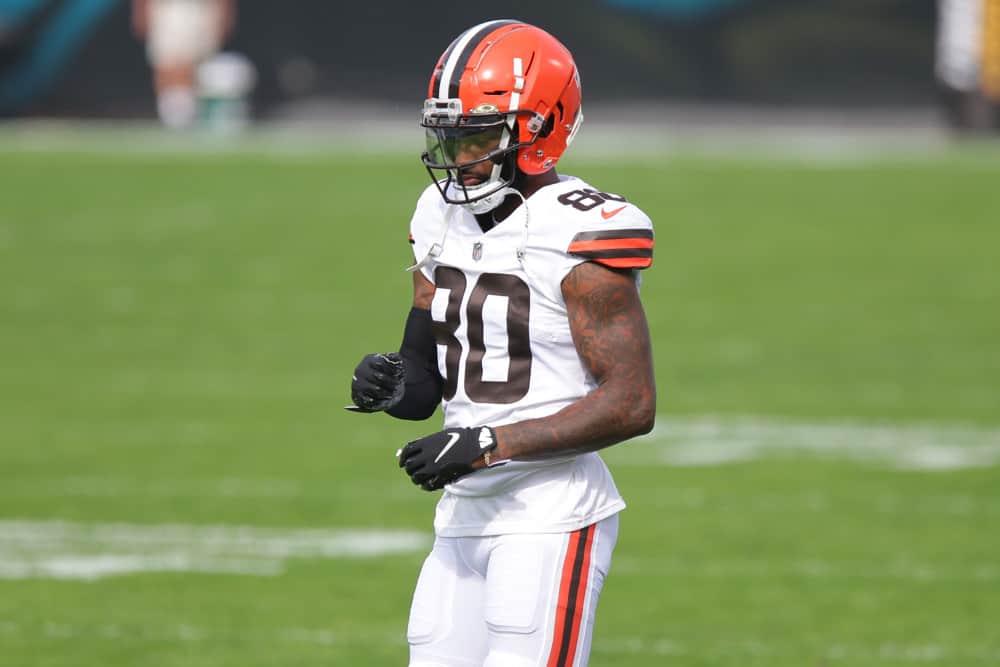 The Cleveland Browns are 10-4.
This is the first time they have won double digit games since 2007.
And getting there was a team effort on Sunday Night Football against the Giants.
The Browns won a decisive and one-sided game by the score of 20-6.
Here are the studs and duds from the game.
Stud – Baker Mayfield
Baker Mayfield just broke a #Browns record for completion percentage in a game. Mayfield went 27 of 32 tonight (84.3%) besting besting the previous Cleveland record of 82.9% set by Kelly Holcomb in 2003. @ESPNStatsInfo

— Jake Trotter (@Jake_Trotter) December 21, 2020
Since the Tennessee Titans game in Week 13, Baker has elevated his level of play.
Against the Giants, he was 27-32 for 297 yards and 2 TDs.
He was sacked one time.
Mayfield was in total control of the game from start-to-finish.
Dud – Cody Parkey
In a carryover from Parkey's disappointing showing against the Ravens that potentially cost the Browns last week's game, Parkey missed an extra point against the Giants.
It was a 48 yard extra point because of Jarvis Landry's taunting penalty on the TD.
And we have a Cody Parkey doink on NBC. #Bears fans look away.

— NFL Update (@MySportsUpdate) December 21, 2020
He has been solid up until last week, but now is not the time for Parkey to falter.
The Browns will need him to be a sure bet if they want to make a playoff run.
He has faltered in key situations in the past, namely the double doink that cost the Bears a playoff win and lifted the Eagles to victory in the 2018 wild card game.
Stud – Nick Harris
Nick Harris is a backup center, but he found himself filling in for right guard.
Wyatt Teller's ankle injury kept him out of this game.
Chris Hubbard was playing in Teller's place when he suffered a knee injury on the second play of the game.
He did not return, and Nick Harris impressively handled the situation.
DAWG OF THE GAME:
Nick Harris | @BRICKHARRIS56

Without missing a beat, Nick Harris jumped into a new role at RG when Hubbard went down and succeeded without any in-game experience at the position

Oh, and he's a rookie.#Browns | #DawgPound pic.twitter.com/oQswM6RSPv

— CLE Dawg Pound (@BrownsEyeTest) December 21, 2020
Dud – Shawn Hochuli – Referee
Jarvis Landry got the touchdown pass and within seconds was penalized for taunting.
That 15-yard penalty seemed unnecessary, and it was assessed on the extra point that Cody Parkey subsequently missed.
SO LEMME GET THIS STRAIGHT

JARVIS LANDRY CELEBRATES INTO THE CAMERA
A GIANTS D-BACK GETS IN HIS FACE
AND JARVIS TELLS HIM TO GET BACK

AND JARVIS GET THE PENALTY?? FOR TAUNTING????

— The Auntie Christ (@BomberTrans) December 21, 2020
Studs:  Browns Offensive and Defensive Lines
The offensive line gave Baker Mayfield all the time he needed to throw.
Only one time could the Giants get to Baker and sack him.
The defensive line may have heard criticism after their Ravens performance.
But they held tight as Joe Judge opted to go for two key 4th down plays in the red zone.
In both cases, the Browns defense did not give up the 1st down or any points.
Summary
Thankfully this game did not have Browns' fans shaking in their seats wondering how it would end.
The Browns stayed firmly in control.
None of the storylines proved to be distracting for Cleveland.
Freddie Kitchens' play calling in the absence of offensive coordinator Jason Garrett did not trip up the Browns.
This game may have looked decidedly different if Odell Beckham Jr. had played.
Pitting his old team against his new team did not create the drama it may have if he played.
Next Week
The Browns come back to East Rutherford, New Jersey next week to take on the New York Jets.
While the Jets pulled off a big upset Sunday against the Los Angeles Rams to secure their first win of the season, if the Browns play hard and clean, they should win.