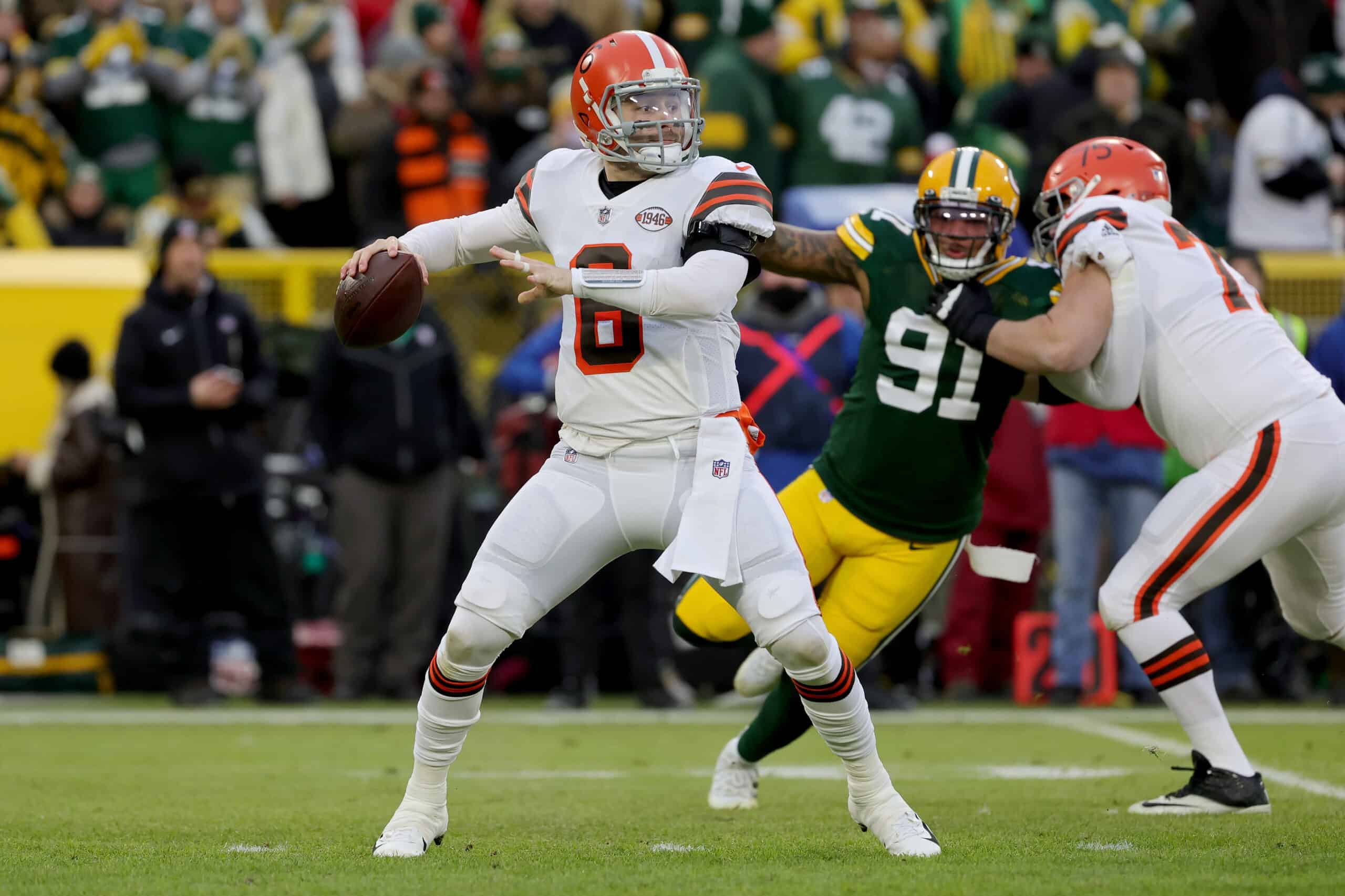 The Cleveland Browns lost their 8th game of the season in Week 16 to the Green Bay Packers.
This is the 6th loss for the 7-8 Browns with a point differential of 6 or less.
Here are the Christmas Day studs and duds.
Stud: Nick Chubb
Nick Chubb refusing to go down pic.twitter.com/qIJHb9hETn

— Barstool Sports (@barstoolsports) December 25, 2021
Chubb had an outstanding game.
He had 17 carries for 126 yards and a touchdown.
Chubb also had 3 catches for 58 yards.
Both Chubb and Rashard Higgins were the leading receivers on the day with 58 yards.
Dud: Baker Mayfield
Four interceptions most definitely are going to end up in a losing effort.
Aaron Rodgers is not going to throw picks so there is no way the Browns can capitalize on his mistakes.
The Packers converted 3 interceptions into 21 points, and the 4th one at the end of the game sealed the Browns' fate.
Mayfield made poor decisions on those passes and quite honestly was lucky to not be intercepted more.
While he had legitimate complaints about the lack of penalties called on some of those plays, productive offenses make those plays whether they get the penalty called or not.
His shortcomings were really on display in comparison to the razor sharp accuracy and precision of Aaron Rodgers.
I have pounded the table for Baker Mayfield from day 1. But, the Browns will have a major evaluation on that position this off season.

— Sean Salisbury (@SeanUnfiltered) December 25, 2021
Stud: Kevin Stefanski
For all of the talk about play calling, this was one of Stefanski's best games as a play caller.
He mixed in the run and pass plays and threw in some Anthony Schwartz trickery.
There were times when the Packers defense genuinely looked confused.
Even Rashard Higgins was involved in this game; he has been MIA for 2021 without any real reason provided as to why that is the case.
Kevin Stefanski called a great game today. Period
When Chubb came out he asked out and when DJ was in he balled out.

— Champ (@Champ_Dawg9) December 26, 2021
Dud: Chris Naggar
Will there ever be a day when the Browns have a reliable kicker?
They got the ball first in this game and marched down the field and scored a touchdown.
Naggar missed the extra point.
Why does it always feel like the kicking game is a gamble?
That forced the Browns into a two-point conversion situation later, and field goal range was always in question after Naggar started the game on the wrong foot (pun intended).
To his credit, he made a 37-yard field goal later on, but the Browns need to find their Justin Tucker sooner rather than later.
Granted it was his first NFL start, and Lambeau is tough to kick at, but extra points, no matter what the circumstance, have to be converted.
Chris Naggar extra point no good wide right#Browns 6 #Packers 0 Q1 pic.twitter.com/r0OPPT2Vea

— Sports 24/7 (@Sports24x7_) December 25, 2021
Stud: D'Ernest Johnson
Johnson had 4 rushes for 58 yards for an average of 14.5 yards per carry.
He did a good job extending the running game past Nick Chubb.
D'Ernest Johnson got SHIFTY 🤧 pic.twitter.com/VShvTh6pjf

— PFF CLE Browns (@PFF_Browns) December 26, 2021
Conclusion
No one with a rational thought pattern expected the Browns to win this game.
The Browns defense could all be considered studs for the effort they put in to keep this game close.
And the Browns did everyone a bigger favor in the NFL by showing how vulnerable the Packers are against the run.
In true Browns fashion, they broke fans' hearts by losing a very winnable game in the end.
That has been the tale of 2021.