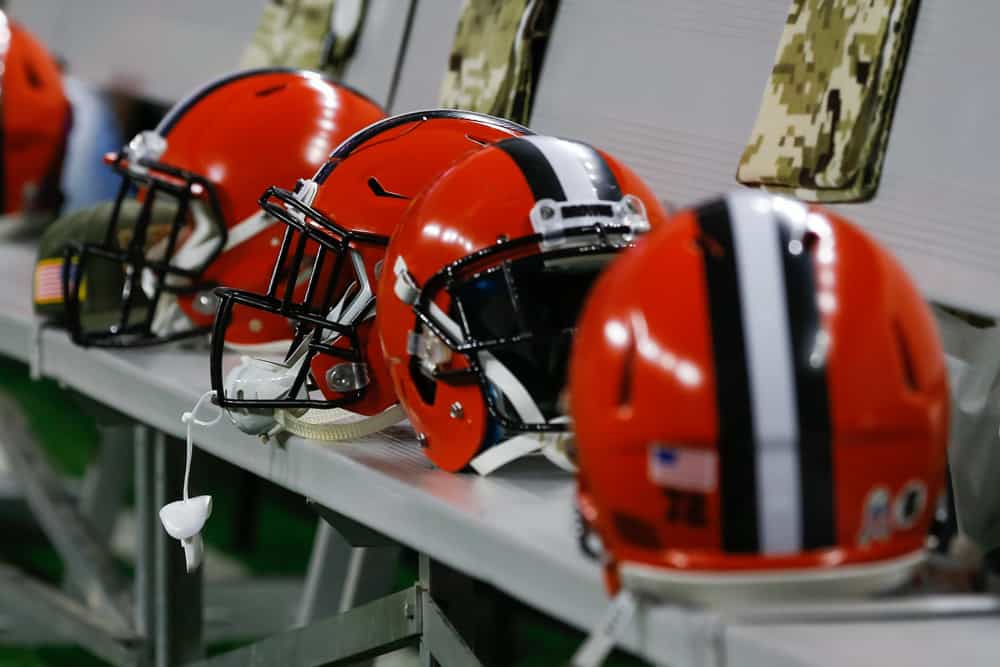 Every organization has some fantastic signings and some regrettable deals each season.
The Cleveland Browns are no exception as they have a few deals on their books for next season that aren't too favorable.
Sometimes organizations have no choice when they make a trade and are stuck taking a bad deal in order to make the transaction happen.
There's a handful of players on the 2020 Browns roster that the fans and organization may wish weren't there for the upcoming season.
Here's the 4 worst contracts currently on the browns payroll.
1. Olivier Vernon
The Browns acquired Olivier Vernon in the trade that sent guard Kevin Zeitler to the New York Giants in 2019.
Vernon is owed $15.2 million for the upcoming 2020 season.
He was limited to 10 games last season due to injuries.
Vernon finished the season with 3.5 sacks, which is the lowest since his rookie season.
To be fair, Vernon was limited to 10 games which was the least amount of games he's played in during a single season in his career.
Browns likely to release DE Olivier Vernon https://t.co/xpdFUHMymk

— Rotoworld Football (@Rotoworld_FB) February 24, 2020
The good news for the Browns is that they could potentially release Vernon.
It wouldn't cost the organization any dead cap space in order to release Vernon from his contract.
That means Vernon's contract wouldn't go against the current cap space for 2020.
Vernon does have talent, but the organization could find a reliable pass rusher for much less than $15 million per season.
2. Chris Hubbard
The Browns are expected to bring in some new faces on the offensive line with Greg Robinson most likely headed to prison.
Cleveland may decide to move on from tackle Chris Hubbard this off-season after giving him a five-year extension in 2018.
The Browns could be a bit reluctant to move on from Hubbard with depth concerns on the offensive line.
However, Hubbard's cap hit is $7.2 million for the upcoming season and that's a bit too much for a player that struggled last season.
He gave up 12 sacks last season and allowed 80 quarterback pressures.
The Browns would save almost $5 million in cap space if they decide to move on from Hubbard.
3. Terrance Mitchell
The arrival of Greedy Williams pushed Terrance Mitchell to the bench during the 2019 season.
Mitchell only started four games for the Browns last season, but played in 15 games.
His statistics went down due to the lack of playing time.
If the Browns cut Chris Hubbard and Terrance Mitchell they would be at $58,946,515 in cap which would be used to upgrade some pieces in the offseason and complete my free agent wish list.

— OSU Basketball 21-10 (@BrownsOSUReds) February 4, 2020
Mitchell is set to make $3.6 million for the upcoming 2020 season.
He is currently listed as third on the depth chart behind Williams and Denzel Ward.
The Browns could bring in another player for cheaper and it would only cost them $666,000 in dead cap space for cutting Mitchell.
4. Morgan Burnett
The Browns brought in Morgan Burnett to help at the safety position, but unfortunately, that didn't go as planned.
He was placed on the injured reserve after playing eight games with the Browns last season.
The 31-year-old was playing well before the injury, but Burnett is not exactly getting younger and is coming off a torn Achilles.
If the #Browns cut Chris Hubbard and Morgan Burnett, they'll have just under $76 million in cap space heading into free agency. Not a bad number.

— Sam Penix (@SamPenixCP) March 14, 2020
The Browns have depth at the safety position, so losing Burnett won't destroy them.
Burnett's $4.7 million salary could be spent elsewhere, especially with Cleveland having some options behind him.
There would be a $1.3 million dead cap hit if the Browns were to release Burnett, but it would still save some money.
He is coming off a serious Achilles injury, so it's unclear how he'll perform in 2020.