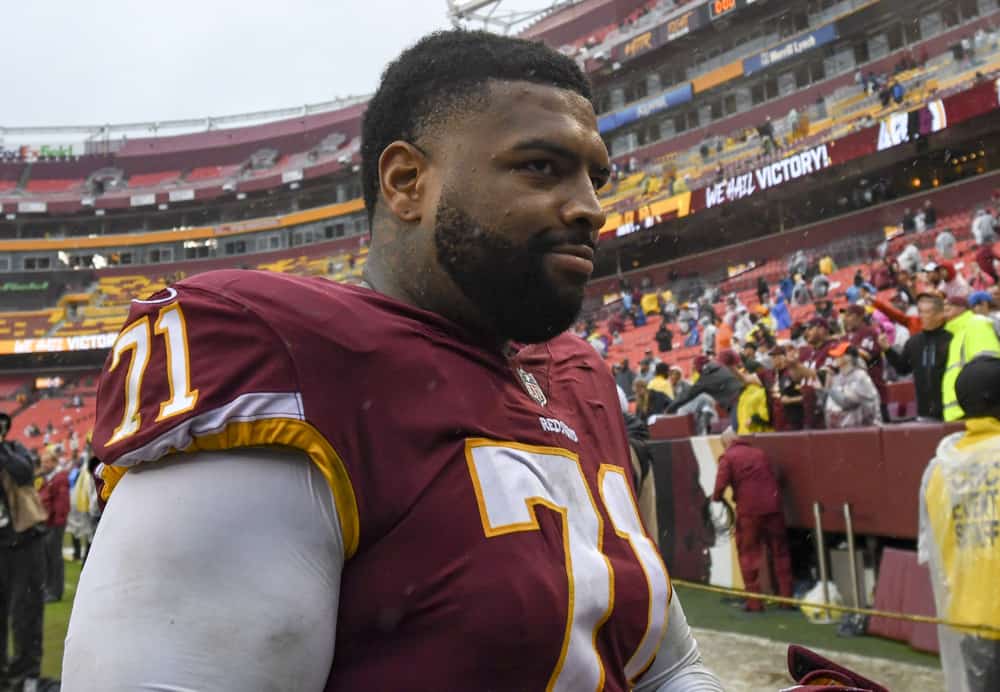 I'd be lying if I told you I haven't spent the past year reminding myself Trent Williams isn't actually a member of the Cleveland Browns. His name has been linked to the team so frequently in that time-frame I'm forced to confirm he's still a Washington Redskin on a weekly basis.
With that in mind, it's hardly surprising to hear the tackle is once again being discussed as a potential trade target for Cleveland.
The Browns are under 48 hours away from the draft, and still have a hole on the left side of their offensive line. Resolving this by swinging a deal for Williams is an option which is reportedly "still on the table."
Yet, despite the fact Williams has been linked to the Browns so frequently you're forced to believe he's already bought a home in northeast Ohio, I still struggle to see this deal coming to fruition.
Cleveland could certainly prove me wrong and finally acquire the tackle it's been flirting with for over a year. However, there are still some hurdles which have me thinking the team will pursue another route.
Let's start with the obvious concerns.
By now, everyone knows of Williams' struggles to stay on the field. He hasn't logged a full season since 2013, dealing with various injuries over the past seven years.
Likewise, there remains a lack of clarity on what it would cost to trade for him. Recent reports indicate Washington could settle for a second-round draft pick, but there are also hints the team may still be seeking a first-rounder.
#Redskins asking price for Williams was a first-round pick. Not sure if that has changed.

— Tom Withers (@twithersAP) April 22, 2020
One would hope the Browns aren't considering the idea of giving up the tenth overall pick for a tackle who turns 32 in three months.
Toss in the fact Williams is entering the final year of his contract, and you get the surface-level reasons why Cleveland may be hesitant to pull the trigger.
Theoretically, the Browns could trade for Williams, have him hold down the fort this season as he plays out the last year of his deal and draft a tackle in the later rounds who can eventually take the reins in 2021.
Unfortunately, this scenario is unlikely.
Outside of the high price they'd pay for one season of work, Williams also wants a new contract.
Per Albert Breer, Williams reportedly wants to be the highest-paid tackle in the NFL. If the Browns were to acquire him, the said move would have to be paired with a new deal.
This is where the idea of Cleveland trading for Williams loses significant steam.
No, the Browns aren't hesitating when it comes to spending this offseason. That said, there's been a specific rhyme and reason to it.
Their biggest signings last month — Austin Hooper, Jack Conklin — were given front-loaded offers. Both players signed deals with plenty of guaranteed money included, all of which was allocated to the first couple years of their respective contracts. This allowed flexibility the Browns will need when it comes time to talk extensions to their star players.
So, while they're certainly not in the business of preserving cap space, they aren't just flippantly throwing money around for the sake of doing it.
Sure, the Browns could acquire Williams and let him prove he can stay healthy before discussing a lucrative deal. However, considering how badly he wants a new contract, it's difficult to believe he'd agree to this approach.
Which ultimately makes the idea of Cleveland trading for Williams tough to buy into. It's just hard to see this regime offering a pricey extension to a player who hasn't played a full season in seven years and likely wouldn't be open to the idea of proving he can buck that trend before putting pen to paper.
This isn't meant to knock Williams. When healthy, the seven-time Pro Bowler is one of the best tackles in the league, and rightfully wants to be paid as such.
The "when healthy" caveat complicates things, though, especially from an investment standpoint. Are the Browns willing to give Williams the contract he feels he deserves without knowing he'll be on the field long enough to earn it?
They certainly could lean that way. That said, the lack of clarity they'd have in making such a big decision has me thinking the Browns will take another route to fix their issue at left tackle.