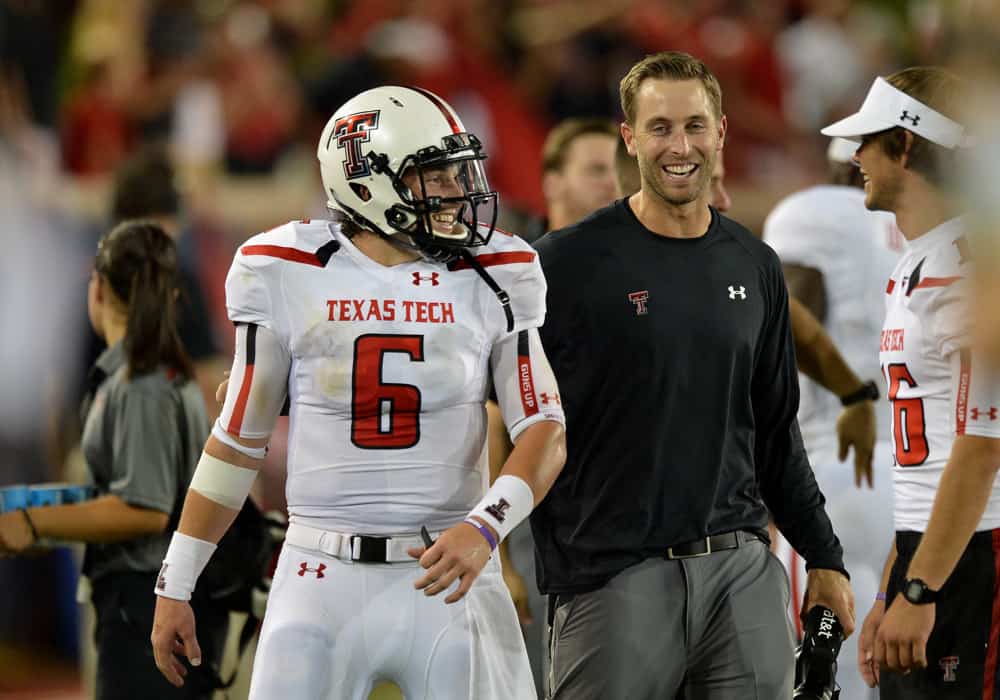 Baker Mayfield is known to use slights and insults as game day motivation.
Sometimes, those slights seem a little loose on specifics or reality.
Cleveland fans saw Mayfield use this technique against the Bengals last season.
Mayfield brushed off an attempted post-game hug from former Browns coach Hue Jackson after the first game.
Then he stared Jackson down after a big play in the second Bengals game.
No one seems aware of any particular incident between the two.
It is easy to imagine Mayfield thought Jackson impeded his rookie development as Cleveland's head coach.
Or maybe Jackson taking a job with a rival team was enough to make Mayfield angry.
Whatever the reason, fans knew Mayfield really wanted to win those games.
Who Else is Mayfield Fighting With?
Over the years, Mayfield has had issues with coaches and players from TCU, Kansas, Ohio State, Texas, and even rivals of his high school team.
Some bad feelings carried into his professional career, most notably the flag-planting battle with Nick Bosa, formerly of Ohio State.
Mayfield, motivated by some pregame back-and-forth player comments, planted the Oklahoma flag on Ohio State's field after a 31-3 victory.
Bosa subsequently "planted a flag" near Mayfield as his sack celebration in a Monday Night football game earlier this season.
But the biggest perceived slight of Mayfield's career is with Texas Tech and its former coach, Kliff Kingsbury.
That would be the same Kliff Kingsbury who will coach the Arizona Cardinals against the Browns this weekend.
Despite both parties claiming their relationship is better now, their history will be a popular talking point.
Walking on at TexasTech
Baker Mayfield says TCU led him to believe he was going to receive a football scholarship.
Under that impression, Mayfield discouraged other college recruiters from chasing him.
When TCU gave the scholarship to Zach Allen, Mayfield opted to walk-on at Texas Tech.
Kliff Kingsbury named Mayfield the starting quarterback over Davis Webb, Kingsbury's prize recruit.
Mayfield started the season 5-0 before a leg injury caused him to miss some time.
Kingsbury fell in love with Webb all over again.
Webb threw at least 50 passes per game, topping out at 71 passes one week.
When Mayfield was healthy again, he was not immediately reinstated as the starter.
Mayfield started the final regular-season game, but Kingsbury made him compete with Webb to start in the Holiday Bowl.
Mayfield also says the Athletic department advised him he would not get a scholarship for the next semester.
Kingsbury denies the scholarship story but admits he wish he handled Mayfield differently.
Mayfield left after the season and again won a starting quarterback role as a walk-on at Oklahoma.
Vengeance is Spelled With TDs
Mayfield got to face Texas Tech three times during his tenure at Oklahoma.
He won all three games.
In Mayfield's first appearance in Lubbock, students wore tee-shirts that said, "Traitor."
Webb was no longer the quarterback for Texas Tech.
Kingsbury had found his next future NFL draftee in Patrick Mahomes.
Mahomes and Mayfield lit up the scoreboard in Oklahoma's classic 66-59 victory.
The following season, Mayfield returned to Lubbock sporting his own "Traitor" tee-shirt.
During his rookie NFL season, Mayfield still harbored resentment toward Kingsbury.
In a 2018 Fox Sports interview, he lamented, "When I got hurt… all of a sudden, it was as if I'd never played for him; never done anything for him."
"…and now you're telling me you don't have a scholarship for me? That was the final straw."
Kingsbury's Take
Kliff Kingsbury has some regrets over Mayfield's experience, but he points out the pair never had any negative face-to-face confrontations.
"(Mayfield's) really competitive and he's been pretty much doubted his entire life," says Kingsbury.
"He's used that as motivation and used it successfully. I don't know why he would change."
The Arizona coach praised Mayfield as a quarterback who could run any offensive play at a high level the first time he saw it.
"He refuses to be denied," added Kingsbury.
Asked if he thought Mayfield would use their past differences as motivation Sunday, Kingsbury didn't think so.
"We're in a good place now."
Mayfield's take
Baker Mayfield offered praise for his former coach, too.
"He is a brilliant offensive mind," he said. "Players love playing for him, and I know that from personal experience obviously."
The Browns quarterback says he no longer holds any ill will towards Kingsbury.
Mayfield was especially appreciative when Kingsbury made Kyle Murray the first pick in the 2019 draft.
Kingsbury and Mayfield spent some time together at the Kentucky Derby, where Mayfield thanked Kingsbury for watching over his friend from Oklahoma State.
As far as any feud, Mayfield says he realizes the 18-year-old Baker Mayfield "was not the all-knowing that he thought he was."
What Motivates Mayfield This Week?
If Mayfield has a banner day in Arizona Sunday, fans might think of it as a "get-back" moment at Kingsbury.
But Mayfield comes into the game with the same motivation the Cardinals competitive quarterback thinks about.
This will be the first time in NFL history that the two most recent Heisman Trophy winners and the top picks from the last two drafts face off.
Mayfield and Murray being good friends is the icing on the cake.
We'll see Sunday whether Mayfield can use positive motivation as well as he uses negative experiences.