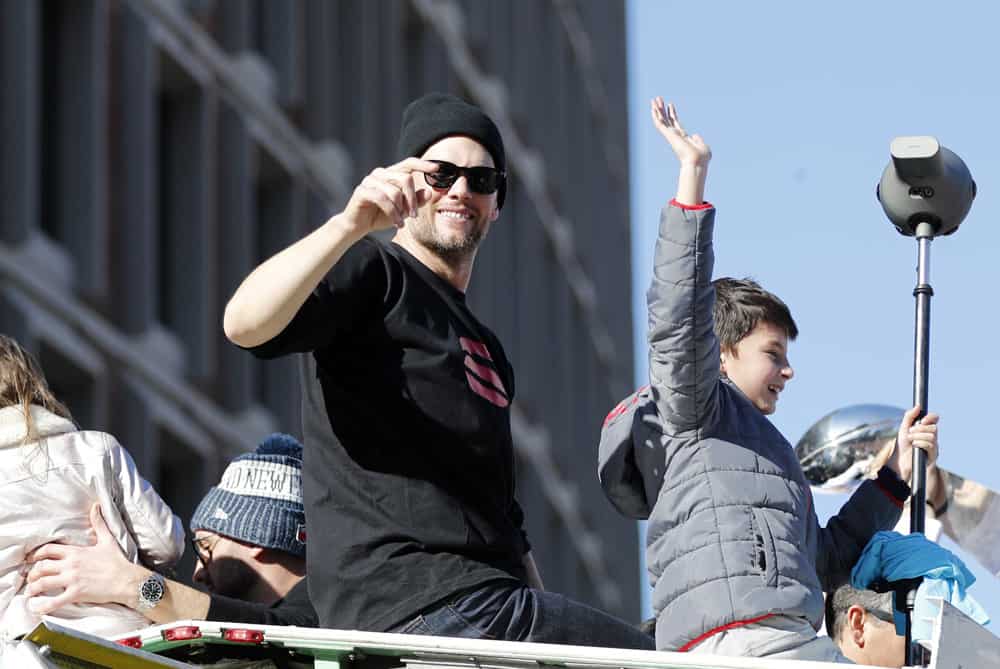 It is not an exaggeration to say that Tom Brady and Cleveland Browns WR Odell Beckham Jr. have shared a bromance on and off the field.
Let's not forget last season's very early Christmas gift from OBJ to Brady.
#Browns wide receiver Odell Beckham Jr. said he has a pair of goat hair cleats to give #Patriots quarterback Tom Brady before or after Sunday's game. OBJ also has a pair for himself. "But I'm gonna give them to him because he's one of the GOATs, and he's more the GOAT than I am."

— Nate Ulrich (@ByNateUlrich) October 22, 2019
TB12 Supports OBJ's Black Lives Matter Work
Now, Tom Brady is returning the favor with his support of OBJ's Black Lives Matter campaign.
OBJ has launched a T-shirt sale/fundraiser whereby 100% of the proceeds will go to the Black Lives Matter organization.
The front of the shirt reads, "I Still Can't Breathe".

On the back it says, "No Justice, No Peace" with a picture of the globe resting in a pair of hands.
The T-shirts sell for $25 each and are available on www.endthistogether.com.
Brady reposted a photo of the shirt on his social media with this comment:
"No one can do everything, but everyone can do something. Proud of you OBJ."
OBJ on George Floyd
After taking a few days to gather his thoughts after the George Floyd murder by Minneapolis Police, OBJ had to deal with the backlash from Philadelphia 76ers player Tobias Harris for his delayed reaction.
He has previously vowed to take a Twitter hiatus but instead is turning his social media into a haven of good and to fundraise.
NFL On Black Lives Matter
Tom Brady is not the only white NFL quarterback supporting this crucial social and civic movement.
Ryan Tannehill came out last week and urged Americans to take action in their communities to institute change.
And a powerful video from prominent African American NFL players (including OBJ) emerged.
#StrongerTogether pic.twitter.com/JkIyTfwgJ4

— Tyrann Mathieu (@Mathieu_Era) June 5, 2020
Commissioner Roger Goodell responded:
"We, the National Football League, condemn racism and the systematic oppression of black people," Goodell said. "We, the National Football League, admit we were wrong for not listening to NFL players earlier and encourage all to speak out and peacefully protest.
"We, the National Football League, believe black lives matter. I personally protest with you and want to be part of the much-needed change in this country. Without black players, there would be no National Football League. And the protests around the country are emblematic of the centuries of silence, inequality and oppression of black players, coaches, fans and staff."
What Does All This Mean?
Everyone can agree that George Floyd's murder is an atrocity.
Unfortunately, he is not the first African American casualty of police brutality.
Colin Kaepernick tried to educate the NFL about this issue when he peacefully protested by taking a knee during The National Anthem.
He ended up losing his job and hasn't played in the NFL since 2016 despite only being 32 years old and perennially football-ready.
Will an NFL team seek him out?
No one knows for sure.
What is known in the NFL and beyond is there are a lot of productive conversations that need to happen to initiate change.
Drew Brees is by no means an ignorant person, but he conveyed a tone-deaf message last week on the National Anthem issue.
He quickly apologized, but he is certainly not alone in his feelings.
Hopefully Black Lives Matter is the glue that brings America together to solve this age-old problem and to help us to talk among ourselves respectfully and collectively to understand each other.
If OBJ's bromance with Brady helps to do that, along with the efforts of other NFL players, mission accomplished.