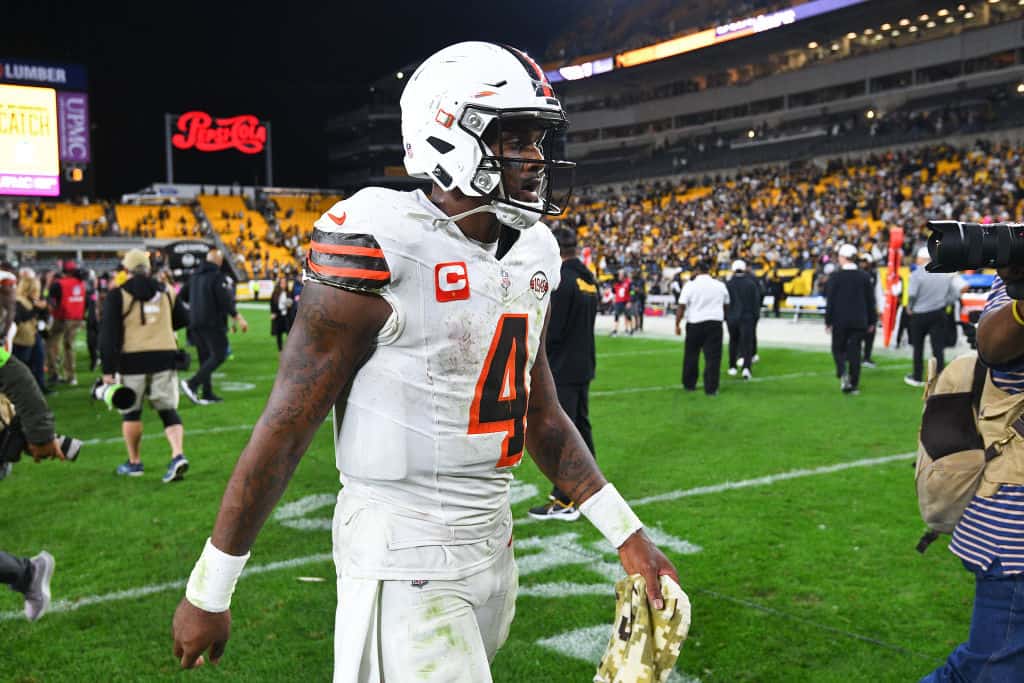 Deshaun Watson had plenty of reasons to look rusty and tentative over six games last season.
Time away from the game lowered expectations for the Cleveland Browns' franchise quarterback.
But despite a full offseason to focus on football and find his skills, Watson looks the same as he did in 2022.
And ESPN Cleveland's Tony Rizzo sees a big reason for the quarterback's lack of progress.
"You just gotta go out and play football how you know how to play," – @TheRealTRizzo on Deshaun Watson.

Do you think Watson will bounce back in week 3? pic.twitter.com/1vU3JnXl3P

— ESPN Cleveland (@ESPNCleveland) September 20, 2023
Rizzo feels that Watson is "in his own head," and not processing things clearly on the field.
His off-the-field matters are mostly settled and Watson said he has put them behind him for the most part.
But Rizzo notes multiple other factors putting pressure on Cleveland's quarterback.
And he implores Watson to put it all behind him and just play football like he knows how to play.
Watson has been sacked nine times already this season, among the highest total in the league.
But his offensive line continues to grade out well, with left tackle the only weak spot in the pass rush.
This is not totally unexpected as Watson has always held the ball as long as possible.
The difference is that he is not getting any benefit from that habit this season.
QB off-target rate (overthrows/underthrows, not including spikes/throwaways) rankings through 2 games:
1. Dak (8.1%)
28. Richardson (21.7%)
29. B. Young (21.9%)
30. Pickett (22.2%)
31. Love (23.1%)
32. Watson (27.6%)

— Jake Trotter (@Jake_Trotter) September 19, 2023
Watson has also been among the most inaccurate passers this season, ranking 32nd overall.
Even his scrambling instincts looked off Monday night.
And that lends credence to Rizzo's notion of Watson being lost "in his own head."