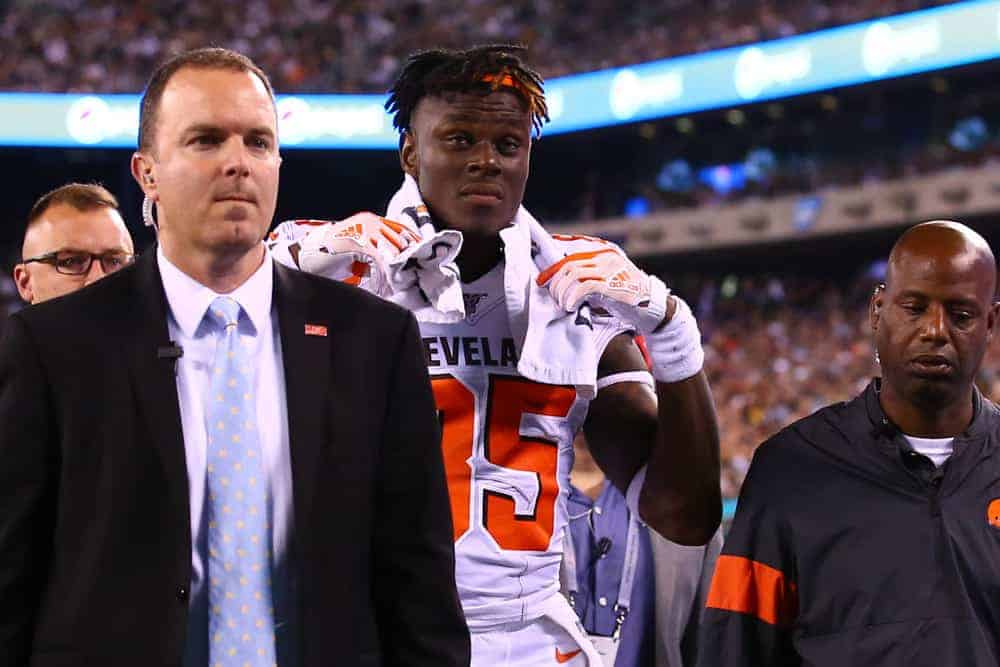 Cleveland Browns tight end David Njoku has created somewhat of a saga during the offseason.
Roughly a month ago, Njoku requested a trade from Cleveland.
He believed that he could be more helpful to another organization and wanted to be moved by the beginning of training camp.
The Browns organization seemed hesitant to trade Njoku and eventually were able to work things out with him.
I'm all in Cleveland. Time to work.

— Chief David Njoku (@David_Njoku80) August 1, 2020
Njoku recently had some meetings with the Browns front office, including general manager Andrew Berry.
After those meetings the two sides were able to come to a happy ending, so it sounds like Njoku is staying in Cleveland.
His dissatisfaction was likely due to the fact that the Browns signed tight end Austin Hooper to an enormous contract over the offseason.
Were Teams Interested in Njoku?
There were plenty of rumors flying around when Njoku first requested the trade.
However, none of them seem significant and clearly the Browns didn't pull the trigger on any of them.
Honestly, it would've been tough to get a solid return on Njoku after last season.
His value significantly dropped after his injury-riddled 2019 campaign.
He was sidelined most of the season due to a concussion and broken wrist.
In addition to a concussion, Browns TE David Njoku suffered a wrist injury Monday night that could require surgery, per source. Njoku getting additional medical opinions to find out if surgery is necessary and how long he would be sidelined.

— Adam Schefter (@AdamSchefter) September 18, 2019
The Browns weren't going to get back the first-round pick they spent on Njoku when they drafted him in 2017.
There was probably interest from teams, but Cleveland wasn't getting an ideal return out of it.
The best course of action for the Browns was to try and keep Njoku as their No. 2 option.
It doesn't sound like the Browns were ever blown away by any Njoku offers over the last month.
What Should Cleveland Do With Njoku?
The Browns never really seemed too interested in moving on from Njoku.
They picked up his fifth-year option in May, so the team wasn't planning on trading him.
He's under contract through 2021 with reasonable salaries of $1.76M this season and $6M next year.
The 2019 season was a lost year for him, but that doesn't mean his career is over.
In 2018, Njoku finished with 56 receptions, 639 receiving yards, and four touchdowns.
The Browns would gladly take those numbers from Njoku in 2020.
He is likely going to see less targets than he did before with Hooper around.
However, Kevin Stefanski is using a zone-blocking scheme that heavily utilizes the tight end.
Cleveland is likely going to run plenty of two-tight end sets, which is great news for Njoku.
Can Njoku Rebound?
It sounds like the trade saga between the Browns and Njoku is finally over.
Which means, they can now turn their attention towards the football field.
Njoku needs a bounce-back season, otherwise he could very well be cut or traded next season.
The Browns have Hooper and drafted Harrison Bryant in the fourth round as depth.
It appears Njoku is still part of their current plans, but that could quickly change if he struggles again.
There didn't seem to be a big trade market for Njoku this time around, but maybe that'll change if he's able to stay healthy this season.