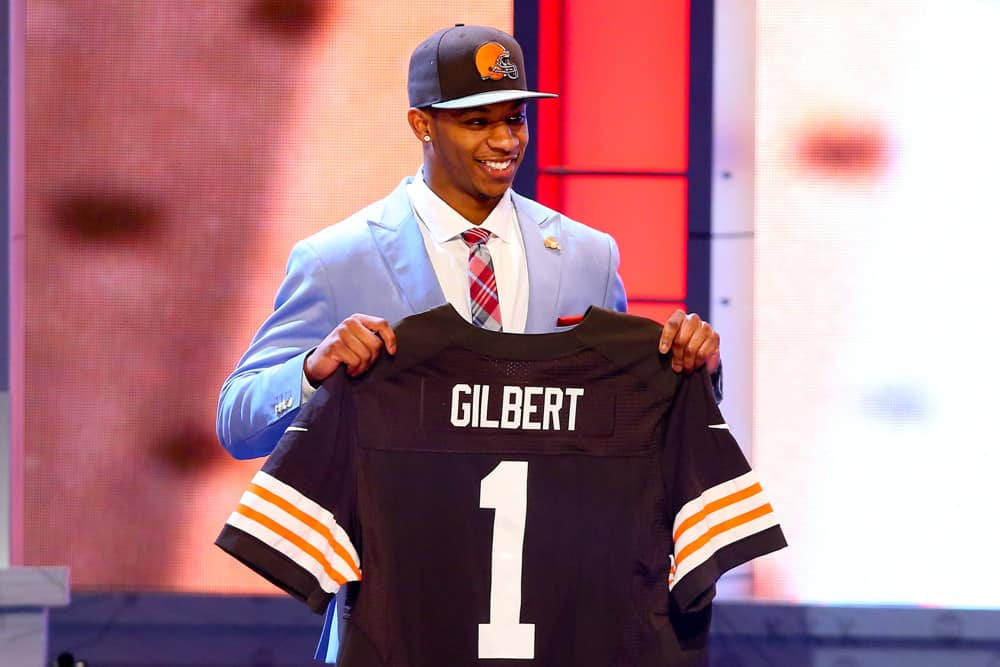 In the 2014 NFL Draft, the Cleveland Browns decided to select Justin Gilbert No. 8 overall.
The move aimed to pair Gilbert with Joe Haden who was establishing himself as a lockdown cornerback for the Browns.
Gilbert impressed with a ball-hawking season at Oklahoma State and headlined a deep defensive back group coming into the league.
The rookie defensive back struggled to lock down a spot in the line-up and saw his snaps remain low throughout his rookie season.
After two dismal seasons in Cleveland, Gilbert was traded to the Pittsburgh Steelers in 2016.
In Pittsburgh, Gilbert didn't find the field very often and ended up as a free agent in 2017.
4 days until #okstate kickoff

#4 Justin Gilbert was thermonuclear with the ball in his hands, and one of the best defensive backs in OSU history. Between 2010-2013, he returned 6 kickoffs for touchdowns, tied for the 4th most in NCAA history. pic.twitter.com/fnzxxJgwfU

— Bryan Keating (@KOCOKeating) August 26, 2018
A substance abuse suspension ended Gilbert's chances of making a comeback in the NFL.
Gilbert's former teammates questioned his commitment to the sport and football IQ.
The No. 8 selection of Gilbert was a bit of a reach when it happened but nobody expected him to bust out of the league so fast.
What happened to Gilbert?
All-Around Athlete
Justin Rodrell Gilbert impressed at Huntsville High School in Texas as a three-sport athlete.
He dominated on the football field as a quarterback and defensive back.
Gilbert also had success in basketball and track and field.
As a two-time district MVP and a four-star recruit, Gilbert received attention from a handful of colleges around the country for football.
He decided to head to Stillwater, Oklahoma, and attend Oklahoma State.
The Cowboys utilized Gilbert as a kick returner and a backup defensive back in his freshman season.
Today's Draft Prospect Spotlight features OSU @CowboyFB CB Justin Gilbert: http://t.co/GxYuQZztKy#NFLDraft pic.twitter.com/vtbGuP9oeA

— Tampa Bay Buccaneers (@Buccaneers) April 11, 2014
He impressed with two kickoff returns for touchdowns.
Heading into his sophomore season, Gilbert's playing time increased as he hauled in five interceptions and scored two more return touchdowns.
His junior season didn't feature the impressive plays his sophomore did, but he finished fourth on the team in tackles.
In 2013, Gilbert sent his draft stock through the roof with seven interceptions, two of which he returned for touchdowns.
The impressive senior season slotted Gilbert as a mid-first-round 2014 NFL Draft pick alongside Kyle Fuller, Darqueze Dennard, and Jason Verrett.
Top Defensive Back in the Draft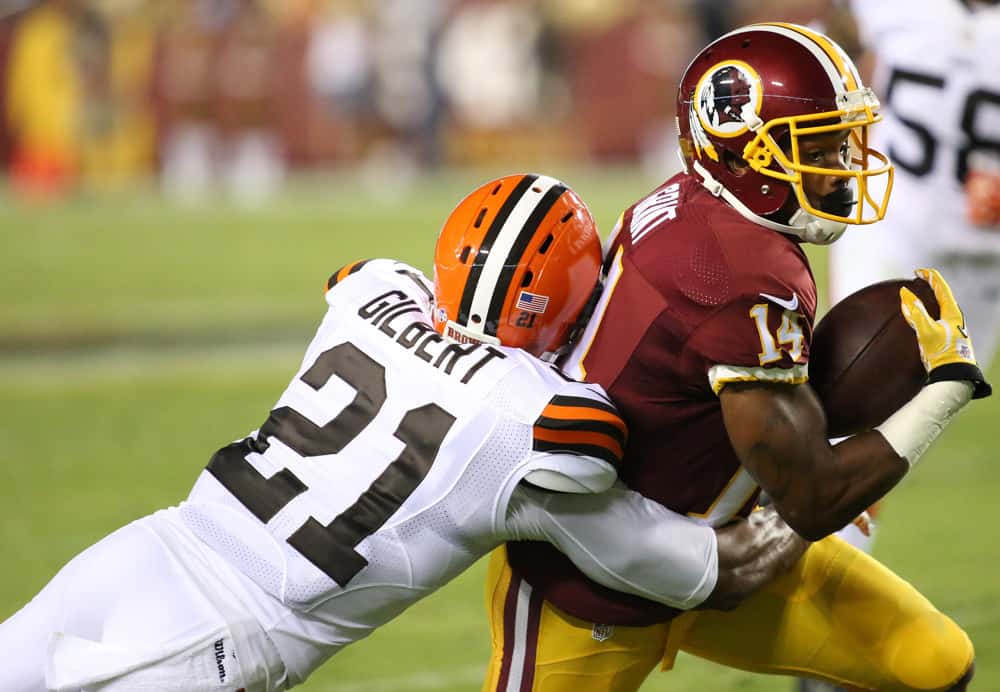 Each team and draft analyst had their favorite among the top-rated defensive backs in the 2014 NFL Draft.
With the eighth overall pick, the Cleveland Browns made Justin Gilbert the first defensive back off the board.
Fuller, Dennard, Verrett, and Bradley Roby all went after Gilbert in the first round.
Gilbert's ability to burn defenders on kick returns was an asset that the Browns chose not to use with Travis Benjamin as their main returner.
The Browns had Gilbert focus on learning how to play defensive back at the NFL level.
After getting his first start in Week 2, Gilbert's role was reduced as he battled for consistent snaps.
A heel injury and illness caused him to miss a few games in 2014.
Remember Justin Gilbert?#ClevelandBrowns #DawgPound #Browns pic.twitter.com/9TWAoVCaob

— Cleveland Browns Guys (@CleveBrownsGuys) April 22, 2020
Gilbert's biggest moment came in Week 14 when he intercepted Andrew Luck and returned the pick 23 yards for a touchdown.
The pick-six would go down as Gilbert's only interception of his career.
In Week 17, Gilbert showed up late for a meeting and was inactive for the Browns' game against the Baltimore Ravens.
Gilbert finished his rookie season with 29 total tackles and eight pass deflections but only made two starts.
Many of Gilbert's teammates unloaded on him for his actions as a rookie.
Browns' safety Donte Whitner called his rookie season a disaster and said he needed to stop acting like a kid.
Heading into the 2015 season, Gilbert claimed he'd been humbled by his rookie year.
"Talking about how I had to grow up, how I had some maturing to do," Gilbert said to ESPN in 2015 about lessons learned from his rookie campaign. "I kind of took that to heart. That's the best I can do. Prove it every day."
However, Gilbert's talk didn't translate to the field.
He was inactive for the first two games of the 2015 season.
Prior to the season opener, Gilbert crashed his car into a ditch as a result of a road rage incident.
Overall, Gilbert only saw 50 defensive snaps throughout the season.
At the conclusion of 2015, the Browns decided to move on and traded Gilbert to the Pittsburgh Steelers.
Browns drafted 6 players in 1st round from 2011-14.

None remain on the roster after trading Justin Gilbert to PIT. pic.twitter.com/EgslJ4X9dC

— SportsCenter (@SportsCenter) September 3, 2016
One Last Chance
The Steelers predominantly used Gilbert on special teams but even that became uncertain.
Gilbert was inactive in Weeks 5, 9, and 16 as the Steelers believed they had better options.
In the postseason, Gilbert appeared against the Chiefs and Patriots and returned three kicks for 43 yards.
He only played 11 defensive snaps for the Steelers all season and was waived at the season's end.
Some of Gilbert's former teammates commented on his release, including Browns' left tackle Joe Thomas.
If you don't like football, it doesn't matter how talented you are, your star will burn out quick. https://t.co/r7PfDSTljL

— Joe Thomas (@joethomas73) February 6, 2017
The consensus after three seasons and two teams was that Gilbert didn't put in the necessary effort to keep a roster spot.
As a free agent, Gilbert looked for another opportunity within the league.
A four-game suspension in May 2017 hurt Gilbert's chances to make another NFL team.
Gilbert's suspension increased to one year in June after another substance-abuse violation.
Free-agent corner Justin Gilbert suspended for at least one yearhttps://t.co/UL5NxXbPB3 pic.twitter.com/TBmREuw1nE

— Around The NFL (@AroundTheNFL) June 20, 2017
The yearlong suspension served as the definitive end to Gilbert's NFL career.
Life After Football
After serving his suspension, Gilbert didn't receive any interest from NFL teams.
Gilbert went off the radar for quite a while and doesn't have much presence on social media.
He appears to have moved back to Texas and has posted videos watching high school games and given praise to current players at his alma-mater, Huntsville High School.
Some of his Facebook posts show that he's still training and attempting to stay in shape, looking for football opportunities.
With so many different football leagues popping up in recent years, Gilbert might find his way back on the field one day.
While the Alliance of American Football folded, the XFL is slated to return eventually, and currently, the Fan Controlled Football League is in its first season.
Gilbert's fellow Cleveland Browns' teammate and fellow 2014 NFL Draft choice Johnny Manziel currently plays in the FCFL.
It appears Gilbert has lived a quiet life after his NFL career ended.
After busting out of the league, Gilbert likely won't play in the NFL again.
With so many football leagues popping up, we might see Gilbert playing somewhere again.