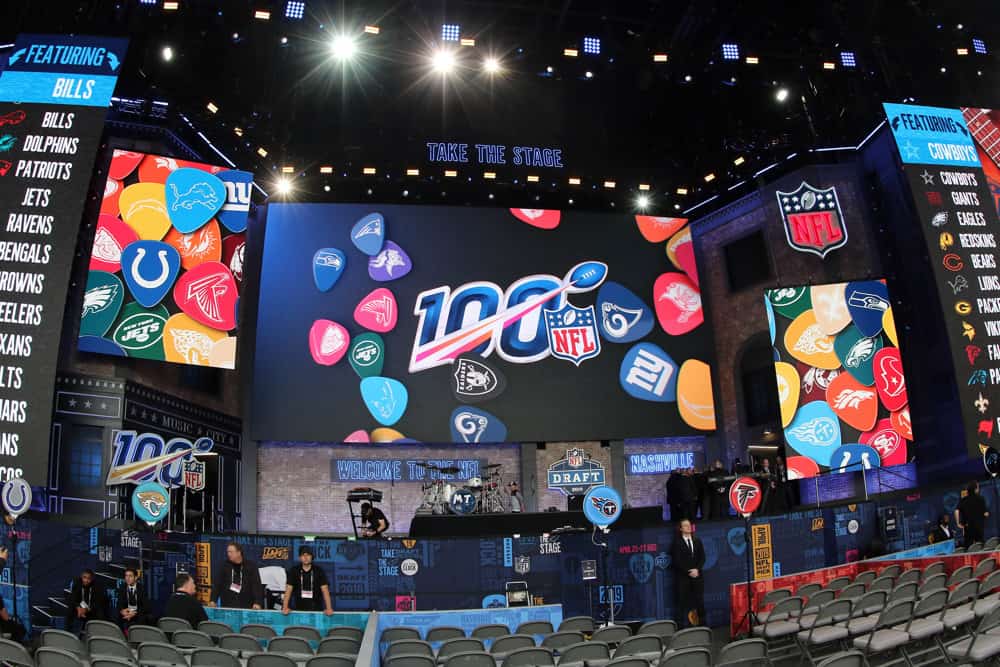 The Cleveland Browns own the No. 10 overall pick in the 2020 NFL Draft.
How the Draft ends up being held is still unknown given the impact of coronavirus-related shutdowns, but the Browns will be locked in at No. 10 regardless.
The only change may come on draft day if Andrew Berry wants to move up or down.
For now, we can focus in on the history of the No. 10 pick.
That draft slot has produced some absolute stars in the past 20 years.
Patrick Mahomes could end up being one of the best players of all time and he was taken at No. 10.
Some major busts have also been taken No. 10 overall, setting teams back a year or more based on the blown pick.
Imagine how fans in Detroit still feel about the Mike Williams selection.
Or how fans in Jacksonville think about taking Blaine Gabbert in 2011.
This article will took a look at each player taken No. 10 overall since 2000.
Seeing the players taken will both inspire confidence and cause some to fear about the Browns potentially making a huge mistake like several teams on the list.
2000: Travis Taylor, WR, Baltimore Ravens
Taylor was taken one spot after Brian Urlacher in the 2000 draft.
The receiver out of Florida played with the Baltimore Ravens from 2000-2004, before departing and eventually falling out of the NFL after the 2008 season.
His best season in Baltimore came in 2002 when he finished with 869 receiving yards and six touchdowns.
Taylor never made a Pro Bowl, but it is hard to consider him a total bust.
In 2004 Ed Reed had almost as many interception return yards (358) as the Ravens' leading receiver had receiving yards (Travis Taylor, 421).

— Michael David Smith (@MichaelDavSmith) May 7, 2015
He had 2,758 yards and 15 touchdowns in five seasons with the Ravens.
Taylor also won a Super Bowl with the Ravens and did not exactly have start quarterbacks throwing him the ball.
2001: Jamal Reynolds, DE, Green Bay Packers
Reynolds is the first true draft bust on this list.
He only appeared in 18 total games in his NFL career with the Green Bay Packers.
The fun fact about the selection is that the Seattle Seahawks traded this pick in exchange for Matt Hasselbeck and the No. 17 overall pick.
The Seahawks grabbed Hall of Fame guard Steve Hutchinson with that pick.
Reynolds was released by the Packers after three seasons and was given a chance by the Browns, only to be cut before he could play in a single game.
Three sacks in 18 games is not what the Packers had in mind for a No. 10 overall pick.
2002: Levi Jones, OT, Cincinnati Bengals
Jones had a good but not great career with the Cincinnati Bengals.
The offensive lineman started 97 of his 103 career games.
He never did make a Pro Bowl, but did earn a second contract with the Bengals.
Jones was let go by the team in 2009 and spent one season with the Washington Redskins.
That one year was all he got and he was out of the league after that.
2003: Terrell Suggs, DE, Baltimore Ravens
Suggs is the first star player on this list.
He was with the Ravens from 2003-2018 before playing for both the Arizona Cardinals and Kansas City Chiefs in 2019.
That makes Suggs a two-time Super Bowl champion.
Terrell Suggs still has some juice left in the tank 🔋🔥#ChiefsKingdom | @untouchablejay4 pic.twitter.com/Uj4K8RdjGO

— Chiefs Focus (@ChiefsFocus) March 15, 2020
He has also made seven Pro Bowls, was first-team All-Pro in 2011, and has 139 career sacks.
Suggs was a hated player in Browns fandom, but it is hard to deny how great of a pick this was for the Ravens.
Six of the top 10 players taken in the 2003 draft ended up making a Pro Bowl.
Meanwhile, the Browns took Jeff Faine at No. 21 overall.
Robinson was in the NFL from 2004-2013 and played for three separate teams.
The defensive back had a great rookie season as he started all 16 games and had six interceptions.
He also had three sacks and three forced fumbles.
Unfortunately, Robinson never matched his rookie success throughout the rest of his career.
The South Carolina product left the Texans after the 2009 season and signed a deal with the Atlanta Falcons.
He only lasted three years in Atlanta before finishing his career with one year in Kansas City.
The pick could frustrate some Texans fans considering Ben Roethlisberger was taken No. 11 overall and Jonathan Vilma went at No. 12.
2005: Mike Williams, WR, Detroit Lions
Williams is on the list of terrible picks made by the Detroit Lions over the past few decades.
He was taken No. 10 overall even after sitting out the entire 2004 college season after being declared ineligible.
His ineligibility stemmed from him trying to enter the 2004 draft without actually being eligible.
Yet the Lions still took the receiver and he ended up being an absolute bust.
Williams played in 22 games for the Lions from 2005-2006, recording 449 yards on only 37 receptions.
He had a measly two touchdowns in two years and was traded to Oakland in 2007.
Williams spent that season in both Oakland and Tennessee before leaving the league.
The receiver made a surprising return in 2010 with the Seahawks and had 751 yards in what was the best season of his career.
He followed that up with an injury-riddled 2011 season and his career officially came to an end.
2006: Matt Leinart, QB, Arizona Cardinals
Leinart was a star coming out of USC.
He was the second quarterback taken in the class, right after Vince Young.
Both players struggled in the NFL and Leinart even had trouble just starting games.
8/14/06 – After holding out of training camp for 15 days, first round pick and presumed franchise QB Matt Leinart and the Arizona Cardinals finally come to terms on a six-year, $51 million deal. He would start 17 games (7-10) over four seasons before being released. #RedSea pic.twitter.com/PVWKtpimbJ

— Arizona Sports History (@AZSportsHistory) August 14, 2019
Leinart made 17 starts and appeared in 29 total games for the Arizona Cardinals from 2006-2009.
His best year was in 2006 when he finished with 2,547 yards and 11 touchdowns in 11 starts.
The Cardinals drafted Leinart to eventually take over for Kurt Warner as the starter.
Instead, Warner had a second wind to his career and took Arizona to the Super Bowl in 2008 as Leinart watched from the sidelines.
Leinart finally had the chance to start again in 2010, only to lose the job and be let go by Arizona.
He spent time in Houston, Oakland, and Buffalo before retiring with 4,065 career passing yards.
2007: Amobi Okoye, DT, Houston Texans
The Texans were on the clock at No. 10 overall in 2007 and decided upon Louisville's Amobi Okoye as the best option to improve the franchise.
Patrick Willis, Marshawn Lynch, Darrelle Revis, and Lawrence Timmons were all still on the board.
The crazy thing about Okoye is that he was drafted when he was only 19 years old after starting college as a 16-year-old.
His ability to dominate at such a young age made him an intriguing prospect.
The problem was he only lasted four years in Houston.
Okoye played in 62 games for the Texans and recorded 11 sacks in that time.
He was released after the 2010 season and spent time in Chicago and Dallas before finishing his career in Canada.
2008: Jerod Mayo, LB, New England Patriots
Mayo played with the New England Patriots from 2008-2015.
He won a Super Bowl, made two Pro Bowls, and was a first-team All-Pro.
Not a bad eight-year career for the linebacker.
Mayo played in 103 career games and recorded 802 total tackles and 11 sacks.
He left the league after the 2015 season, but returned as a coach for the Patriots in 2019.
Mayo was one of three Pro Bowlers to go in the top 10 of his draft class.
Crabtree was the second receiver off the board in 2009 behind Darrius Heyward-Bey.
The 49ers clearly got the better player when making that comparison.
His time in San Francisco lasted from 2009-2014 and he followed that up with stints in Oakland, Baltimore, and Arizona.
The former Texas Tech Red Raider had his best year in 2012 when he finished with 1,105 yards and nine touchdowns.
The only other time he eclipsed 1,000 yards was in 2016 with the Raiders.
His career could be over after being released by the Cardinals last September.
Yet it is possible the 32-year-old gets another shot in 2020 to continue his career.
Here's another look at that Michael Crabtree TD. pic.twitter.com/QEPTgpCcbS

— Baltimore Ravens (@Ravens) January 6, 2019
Crabtree never made a Pro Bowl, but he was a durable player and has 54 career touchdowns.
2010: Tyson Alualu, DT, Jacksonville Jaguars
Alualu is still in the NFL as a member of the Pittsburgh Steelers.
He got off to a hot start with the Jaguars in 2010 when he started all 16 games and had 3.5 sacks.
Alualu just never lived up to the hype of being a No. 10 pick.
That helps explain why the Jaguars let him walk after the 2016 season.
He was taken in a draft that had seven Pro Bowlers taken in the top 10.
He may be a disappointment in Jacksonville, but he is continuing to earn millions in the NFL with the Steelers.
2011: Blaine Gabbert, QB, Jacksonville Jaguars
The Jaguars show up yet again with a chance to change the franchise.
Instead, the team took Blaine Gabbert one pick ahead of J.J. Watt.
To be fair to Jacksonville, Jake Locker and Christian Ponder also went in the top 12 of the draft.
It was not a great year for quarterbacks and several teams were affected as a result.
Gabbert lasted three seasons with the Jaguars.
He compiled a 5-22 record and had 48 touchdowns and 47 interceptions.
This is one of the worst picks on the list and the Jaguars realized it and traded Gabbert to San Francisco in 2014.
The quarterback has remained in the league as a backup, which is what he should have been all along.
Gilmore was a great pick by the Bills.
The problem is the team let him go in free agency and he signed with the New England Patriots in 2017.
He has 24 career interceptions and has made three Pro Bowls in his career.
Gilmore's career got off to a hot start in Buffalo as he started all 16 games in 2012.
Patriots are giving former Bills CB Stephon Gilmore a five-year, $65 million deal that includes $40 million guaranteed, per source.

— Adam Schefter (@AdamSchefter) March 9, 2017
Yet, the team had too much turnover and when the time came to re-sign Gilmore the new regime had decided to move on.
Gilmore's best year came in 2019 when he had six interceptions and 20 passes defended.
Warmack was drafted out of Alabama and was supposed to be a key piece for the Tennessee offensive line.
He started all 32 games his first two seasons before slowly falling out of favor with the team.
His time in Tennessee came to an end when the team declined his fifth-year option.
Warmack did spend two years in Philadelphia and got a Super Bowl ring out of it.
He just rarely played and joins a long list of first-round busts in the 2013 draft.
2014: Eric Ebron, TE, Detroit Lions
Ebron was a solid tight end during his time in Detroit.
He was just not a star.
The tight end was also taken two picks ahead of Odell Beckham Jr.
Ebron's best season came in 2018 with the Indianapolis Colts when he had 750 yards and 13 touchdowns.
He only had 11 touchdowns in four seasons with the Lions and fans must have been left wondering why he was held back so much in Detroit.
The Lions may have given up on Ebron too early as he is still only 26 years old.
He was never allowed a chance to mature at arguably the toughest position in football when it comes to adapting to the NFL game from college.
2015: Todd Gurley, RB, St. Louis Rams
Gurley has been great for the Los Angeles Rams since joining the team.
He has 5,404 rushing yards and 58 touchdowns in five seasons.
The running back also has 2,090 career receiving yards and 12 receiving touchdowns.
The best RB in the league?

Todd Gurley (@TG3II) ran for 208 yards and 2 touchdowns in Week 6! #LARvsDEN #LARams pic.twitter.com/DpRZuv4fqJ

— NFL (@NFL) October 15, 2018
The only concern with Gurley is his long-term health.
His knee issues limited his action in the Super Bowl two seasons ago and could be a concern moving forward.
However, running backs don't have the longest careers and what Gurley has already done qualifies him as a great pick.
The three-time Pro-Bowler and two-time first-team All-Pro back has been a star in Los Angeles.
2016: Eli Apple, CB, New York Giants
Apple was not exactly a great pick for the Giants.
He only played in a total of 30 games for the team before being traded to New Orleans in 2018.
He reportedly got into fights with coaches and teammates in New York and clearly never fit in.
These reports seemed to come out often and it was only a matter of time before Apple was traded.
Apple only had one interception during his time with the Giants and the team's lack of success only made teammates more frustrated with the former top pick.
The 24-year-old has found a new home in New Orleans and started 15 games in 2019.
He is a free agent this offseason after his fifth-year option was declined by the Saints.
2017: Patrick Mahomes, QB, Kansas City Chiefs
Mahomes was drafted in 2017 and it almost seems like he has been around forever as one of the greats of the game.
Teams that did not draft Mahomes, such as the Browns, have fans wondering what could have been if he had not fallen to No. 10 overall.
Just ask Chicago Bears fans what they think about Mahomes being in Kansas City.
He became a regular starter in 2018 and threw for 5,097 yards and an insane 50 touchdowns.
Mahomes made the Chiefs a real contender and led his team to a Super Bowl victory in February in only his second full season as a starter.
It is hard to find any negatives when talking about Mahomes.
He is the best player on this list and his selection should give Browns fans hope that the No. 10 slot could produce a real superstar.
His presence helps make up for some of the busts on the list, including who was taken at No. 10 just one year later.
2018: Josh Rosen, QB, Arizona Cardinals
Rosen's career has not gone as planned.
The quarterback was taken by the Cardinals, only to be traded to Miami one year later.
There he was unable to beat out Ryan Fitzpatrick for the starting job and his career remains in limbo if the Dolphins draft a quarterback in 2020.
Rosen has made 16 career starts and has won only three of those.
It is important to remember he has spent two years on two terrible teams.
The bizarre part of it all is just how much of a bust he is considered based on what Arizona did.
Final Dolphins-Cardinals' trade terms:

💥Miami gets QB Josh Rosen.

💥Arizona gets second-round pick (62) and a 2020 fifth-round pick.

— Adam Schefter (@AdamSchefter) April 27, 2019
He was taken No. 10 overall in 2018 and traded to Miami in 2019 for a second and a fifth-round pick.
That means the Cardinals turned the No. 10 overall pick into two later picks.
Truly mind-boggling bad business by that front office that wanted a clean slate in 2019.
Rosen is only 23 years old and has plenty of time to turn his fortunes around.
He just needs to get a fair shot on a team that isn't a total disaster.
Another trade could be what Rosen needs to show off whether he can actually have success in the NFL.
2019: Devin Bush, LB, Pittsburgh Steelers
Bush had a nice rookie season in 2019.
Browns fans got to see him look great on two separate occasions.
He played in all 16 games and had 109 total tackles.
The rookie also had two interceptions, a forced fumble, and a sack.
The Steelers are usually solid when it comes to acquiring talent and Bush is likely someone who will be in Pittsburgh for quite some time.
Pittsburgh didn't reach for him and in return got a player who could be among one of the best on this list in a few years.