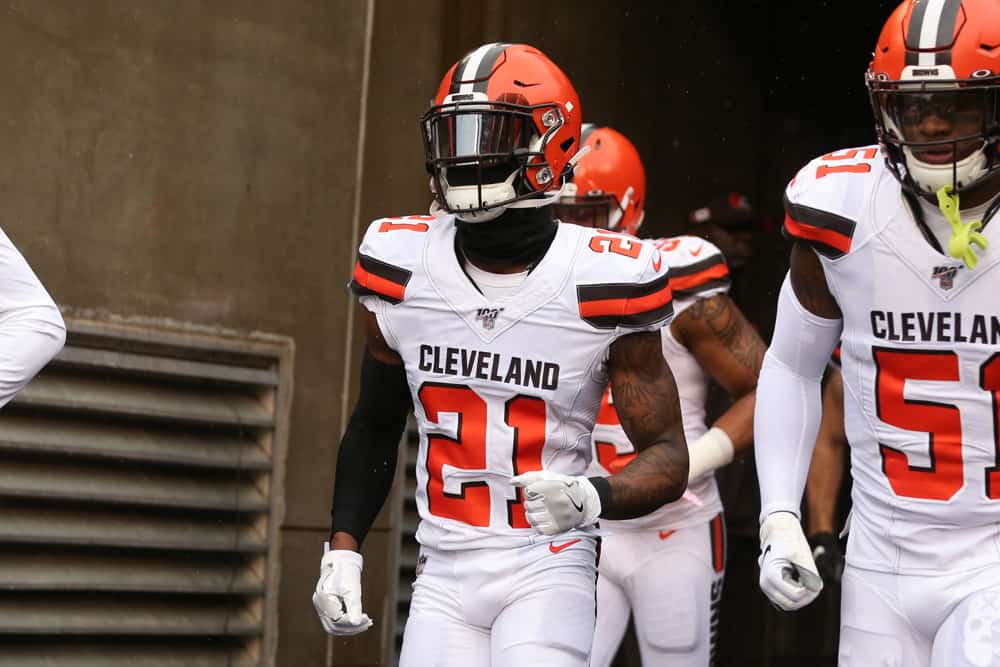 In case anyone didn't hear, Jalen Ramsey got paid with a capital P.
The Los Angeles Rams cornerback, who was acquired from the Jacksonville Jaguars last season, was given a hefty new raise.
Jalen Ramsey got PAID 💰

Star corner agrees to five years, $105M with the Rams, per @adamschefter

Largest deal ever signed by a CB @brgridiron pic.twitter.com/Mnl9WJyTNg

— Bleacher Report (@BleacherReport) September 9, 2020

In case anyone forgot, the Cleveland Browns have a growing cornerback prospect in their backyard too.
With this market-setting deal, what could this mean for Denzel Ward?

A New Market 
Even before guys like Xavien Howard, Byron Jones, and Ramsey signed their record-setting deals, the market at cornerback has been steadily growing.
Highest Paid Cornerbacks pic.twitter.com/T3TvouAxFK

— Deep Threat (@DeeepThreat) March 8, 2017
Among the names on that list, Ward's best comparison is to Josh Norman.
Before signing a five-year, $75 million deal with the Washington Football Team, Norman was a budding star with the Carolina Panthers.
In Norman's final year (fourth in the league), he put together a season that featured 56 tackles, 18 passes defended, four interceptions, and three forced fumbles.
Norman was named to his only All-Pro and Pro Bowl appearance in his career.
Ward is entering his third season and has put together two seasons with 11 passes defended and 53 tackles in his first year.
One breakout season and Ward could be given similar numbers at an inflated rate.

Could Be Paid Greatly 
In all honestly, Ward may not top Ramsey's record unless these next two seasons are along the lines of guys like Howard, Jones, and Ramsey himself.
However, could Ward break into the top-5 in the position's financial rankings?
Absolutely.
A true Denzel Ward breakout season is what the Browns need badly. https://t.co/E9zE9oOf5e

— Jake Burns (@jake_burns18) September 9, 2020
Even though Ward had a "down year" in 2019, he still produced a solid season.
Denzel Ward in coverage in 2019:

🔸 69 targets
🔸 45% catch rate (2nd best among all CBs)
🔸 58.0 passer rating allowed (10th) pic.twitter.com/3XNqIG6gR5

— PFF (@PFF) September 6, 2020
Can the Browns afford him around that time?
That's the true question.

Affordability
The Browns could have a major decision once Ward has a chance to sign a new deal.
Ward was taken in the same draft as quarterback Baker Mayfield.
As long as the team follows their plan, the team could likely sign both players.
Not sure who gave you that info. Browns are $35M under the cap. We're in a good spot with a number of shorter deals that can be cut to make more space in a year or two when we need to pay Myles Garrett, Baker Mayfield, and Denzel Ward.https://t.co/eaQmqIeRrH

— Pat Leonard (@HeyHokie) April 4, 2019
The Browns have a lot of one-year deals on the books.
Since 2019, the Browns extended Myles Garrett to a lucrative contract.
If Mayfield performs like a No. 1 pick should, he could demand a salary in the $20 to $30 million range.
Ward could be around $15 million if he cements at least a couple more Pro Bowl appearances.
The Browns have major decisions to make.
All we know is that Ward is on the right path and in the right market to get paid big bucks in two years.