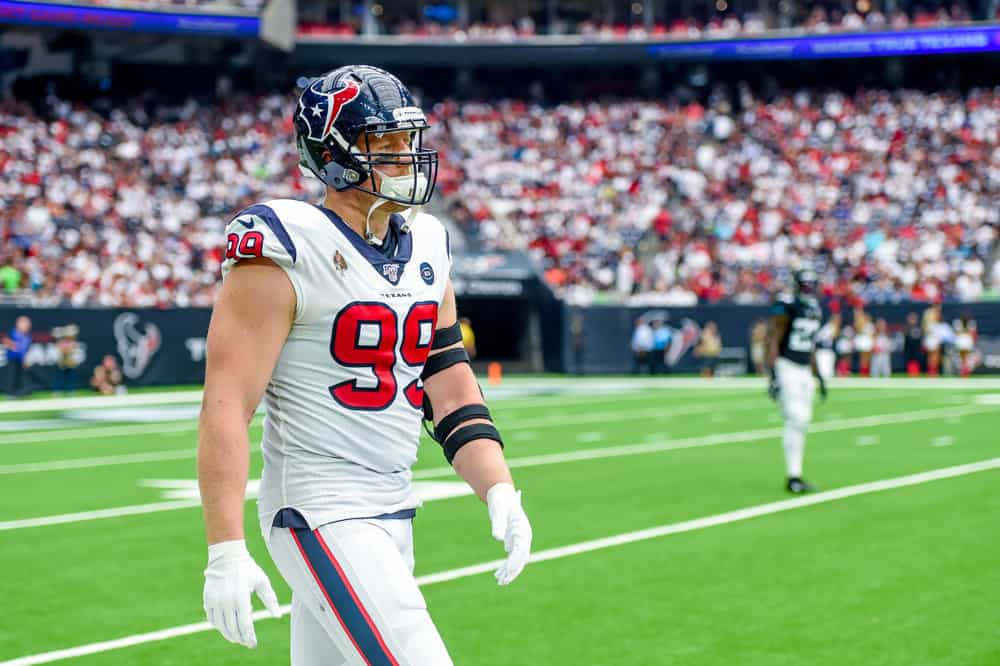 Welcome to the offseason, where the trade rumors are in full swing.
The Cleveland Browns are in the front and center of some major trade speculation.
Superstar defensive end J.J. Watt could be available with the Houston Texans headed towards a rebuild.
It sounds like the Browns could be a potential landing spot with Olivier Vernon expected to head into free agency.
The #Browns seriously need to look into a trade with the #Texans.
.
.
.
.
Because JJ Watt reportedly wants out of Houston and it'd be great to bolster the defense so Baker can have more freedom on the offensive side of things

— Dawgs of War Podcast (@DoWPodcast) January 30, 2021
Acquiring Watt would no doubt give Cleveland the best defensive line in the NFL.
Although, the Browns might have to pay a significant price tag in order to get Watt in Cleveland.
Watt Leaving Houston?
It appears the Texans are looking at a major rebuilding project.
The organization has already traded away multiple star players over the last few seasons.
Franchise quarterback Deshaun Watson reportedly wants out, which no one can blame him considering Houston didn't put much talent around him.
#Texans @deshaunwatson has requested a trade, reportedly weeks ago, so the team went through head coach interview & hiring process knowing Watson's intentions. Candidates were made aware. Here's some immediate reaction from current & former Texans players. https://t.co/EqTbx1pqeD

— SportsTalk 790 (@SportsTalk790) January 28, 2021
That being said, the Texans would likely want to move Watt as well, assuming they plan on trading Watson.
The 31-year-old pass rusher is heading into his final year of his contract.
Watt has been loyal to Houston throughout his career, but the five-time Pro Bowl defensive end also wants to win.
A trade to Cleveland could make sense considering the Browns are quickly becoming a relevant team once again.
However, it's unclear what exactly the Texans are seeking in exchange for Watt.
A Fair Deal
The Browns do have the assets to get a trade done for Watt this offseason.
There is little indication on what the Texans are seeking for Watt, but Houston desperately needs draft picks.
This organization needs to rebuild from the ground up with young talent.
A fair deal for Watt could potentially be a third round pick, a fourth round pick, and tight end David Njoku.
At first glance, that might seem like quite a lot to give up in exchange for a player on a one-year deal.
Although, Watt is not an average player and is still playing at an elite level.
JJ Watt (@jjwatt) goes speed to power with the long arm, then uses his hand placement & the blocker's forward lean to his advantage by executing a snatch/arm over for the inside escape. Ends up with the sack! #passrush #texans pic.twitter.com/wXyqVp7ERA

— DLineVids (@dlinevids1) December 6, 2020
In 2020, Watt recorded 52 tackles, five sacks, and seven passes defended through 16 games.
Through his outstanding career, Watt has over 100 career sacks and is a first ballot Hall of Fame player.
The Browns already have two picks in both the third and fourth round of the upcoming draft.
This roster is already set with a bunch of young talent, so they don't exactly need all of these draft picks.
Houston could use a player like Njoku on their roster next season.
They don't have any reliable options at tight end and a change of scenery could be good for Njoku's career.
Cleveland has depth at the tight end position with Austin Hooper and fourth-round pick Harrison Bryant.
In 2020, Bryant made significant strides and honestly surpassed Njoku on the depth chart.
PFF's highest-grades TE in CFB last year…

HARRISON BRYANT TD

— PFF Draft (@PFF_College) September 27, 2020
However, the Browns accepted Njoku's fifth-year option.
That means, the Texans would have to negotiate a deal with Njoku after the 2021 campaign.
Watt is the type of player that doesn't land in the free agent market too often.
This might seem like a somewhat hefty price to pay for Watt, but he's worth it.
Garrett and Watt together would give Cleveland the best defensive line duo in the league.