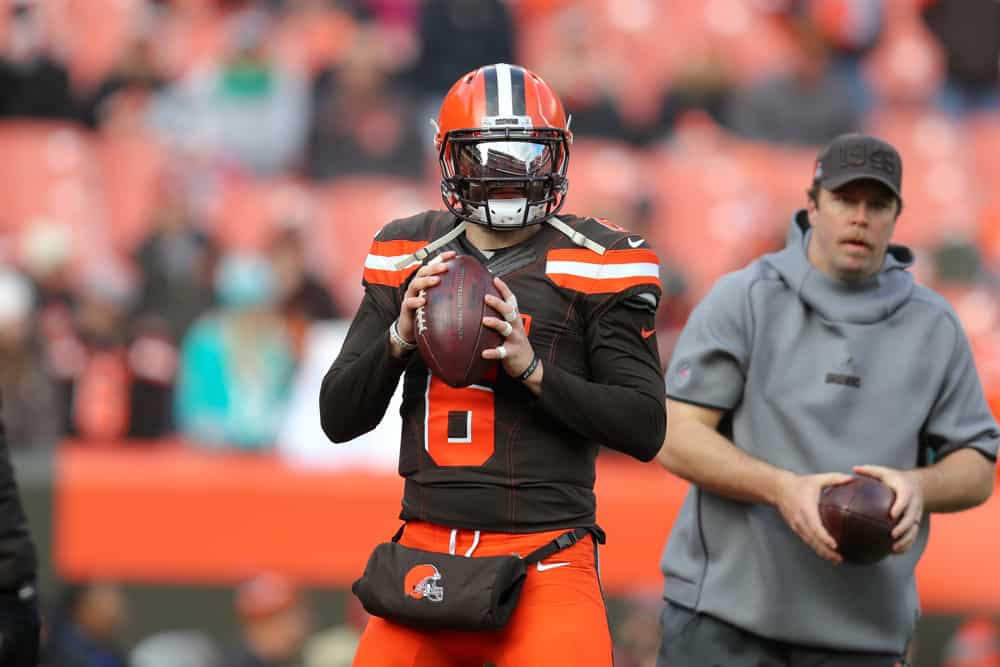 Baker Mayfield had a terrible game Sunday in Baltimore.
The third-year Cleveland Browns quarterback went 21/39 for 189 yards and could not get anything going after throwing a touchdown to David Njoku in the first quarter.
He had passes tipped, took sacks, tried to force passes that weren't there and the list goes on.
Similar issues were seen in 2019, but there is a key difference in 2020.
That is the fact the team has a legitimate backup option in Case Keenum waiting on the sidelines this year.
So what would it take, injuries aside, to see Mayfield benched in favor of Keenum?
Baker Mayfield threw an INT on the Browns' first drive of the year 😦

(via @NFL)pic.twitter.com/afHG6hxHER

— NFL on ESPN (@ESPNNFL) September 13, 2020
Baker Mayfield's Struggles So Far
There are Browns apologists who will give plenty of excuses for Mayfield's play.
One legitimate excuse is the constant turnover in the coaching ranks.
Baker Mayfield will become the first QB in @NFL history to make his first 30 career starts for the same team but under four different head coaches.

— Andrew Siciliano (@AndrewSiciliano) September 13, 2020
Kevin Stefanski is Mayfield's fourth head coach in three seasons if you count Gregg Williams.
That is tough for any quarterback to deal with, let alone someone whose career begins this way.
But Baker talks the talk and has never used this as an excuse for himself.
Does all this turnover cause a quarterback to throw behind his receivers?
Or fail to find any chemistry with one of the supposed star receivers in the league?
Mayfield threw 21 interceptions last season and most of the blame was cast upon Freddie Kitchens.
The quarterback was supposed to be the franchise guy and thus the coach was fired, and rightfully so.
Now Mayfield has an experienced offensive mind in Kevin Stefanski leading the way and some of the blame has to go to the quarterback in 2020.
Going 21/39 is never going to cut it in the NFL.
Mayfield also failed to reach 200 yards and missed open receivers far too often.
Odell Beckham Jr. led the way with 10 targets, but only had three receptions.
Aside from his terrible drop on a 3rd-and-2, Browns fans saw plenty of missed targets courtesy of Mayfield.
Baker Mayfield's Leash in 2020
So what will it take to see Keenum?
Benching Mayfield early in the season is more than just about his 2020 season.
That could mean he is instantly out as the franchise quarterback.
The Browns still have to consider a fifth-year option for Mayfield in 2022.
The Browns have a bye week in Week 9 this season.
The team entering the bye with 0-2 wins would be a disaster and would necessitate a chance.
Even being 3-5 may make the first-year coach go to the veteran in Keenum in order to salvage the season and chase the extra postseason berth available in 2020.
The Browns have to focus on winning at some point, even if it comes at the expense of a past No. 1 overall pick's future.
Mayfield continuing to play like he did in 2019, and on Sunday, is a detriment to the team's chances.
Baker Mayfield today for @Browns
1) you used to be super accurate-what happened to that?
2) stop thinking you're Russell Wilson and running non stop-your style for success needs to be more like Brees.

— Dan Orlovsky (@danorlovsky7) September 13, 2020
Another losing season in 2020 could mean the Browns make some major changes on the roster one year after being talked about for Super Bowl odds due to the addition of Beckham.
Any other quarterback could be at risk of being benched if the Browns look terrible Thursday night against the Cincinnati Bengals.
Mayfield has the fair excuse of another new head coach on his side and plenty of blame seems to be going toward Beckham for their lack of chemistry.
We also need to be fair to Mayfield and the entire team after the loss to the Ravens.
That team is a legitimate Super Bowl contender and one of the best teams in football.
The test comes Thursday night against the Bengals and then in Week 3 against Washington.
Mayfield continuing to make the same mistakes will not help the team's chances of winning Week 4 in Dallas.
Could an 0-3 start prompt an early change with such a tough matchup ahead?
That is entirely possible as the goal is no longer rebuilding.
Keenum is not the long-term answer, but he could provide competent quarterback play if Mayfield cannot.