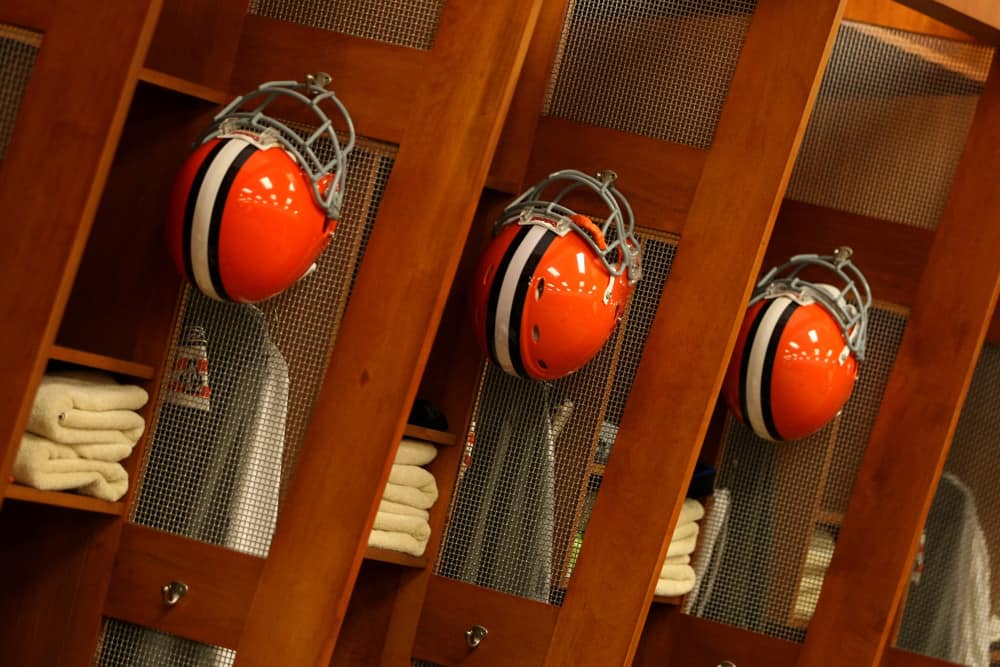 The 2020 season didn't go perfectly for the Cleveland Browns, but it was still a successful season.
They reached the playoffs and took down the Pittsburgh Steelers in the first round.
Quarterback Baker Mayfield took a huge step forward and is beginning to look like a franchise player.
Some of the credit does belong to the front office for bringing all these pieces together.
Last offseason, they brought in key players through free agency and were smart on draft day.
The organization is hopeful that these promising young players can make bigger strides during their second year in the league.
Who Is Ready To Step Up?
Last season, first-round pick tackle Jedrick Wills was as good as advertised.
He stepped up and delivered despite being asked to play a completely different position on the other side of the o-line.
The organization is hopeful that second-round safety Grant Delpit will be ready to make an impact in 2021.
He missed all of the 2020 campaign after suffering an Achilles injury during training camp.
Although, it sounds like the Browns believe Delpit will be ready to play by August.
The Browns got zero snaps from 2019 2nd-round pick Greedy Williams and 2020 2nd-round pick Grant Delpit due to injury this past season. The duo could be a big boost to the Cleveland secondary in 2021.

— Mike Clay (@MikeClayNFL) February 9, 2021
Both Wills and Delpit should make significant contributions, but they aren't the answer to this question.
The player who is going to make the biggest jump in their second year is tight end Harrison Bryant.
A fourth-round pick out of Florida Atlantic who quietly put together an above average rookie campaign considering he played a limited role.
This might be considered a "hot take", but Bryant is not a player that should be overlooked.
Bryant Is Ready
During his senior year, Bryant hauled in 65 receptions, 1,004 receiving yards, and seven touchdowns through 13 games.
Despite that, Bryant somehow fell to the Browns in the fourth round on draft day.
In training camp, Bryant impressed the coaching staff and almost jumped David Njoku on the depth chart.
🗣 "Harrison Bryant caught it! Touchdown!"@hbryant17's first @NFL TD + Jim Donovan's call pic.twitter.com/PvccVOvb9z

— Cleveland Browns (@Browns) September 29, 2020
Through 15 games, Bryant hauled in 24 receptions, 238 yards, and three touchdowns during his first year in Cleveland.
Those stats don't exactly scream "starting tight end", but Bryant did his job when he was called upon.
Last season, Bryant was only targeted 38 times, in which he caught 63.2% of the balls thrown at him.
He is making the plays when he gets targeted and Bryant could end up seeing a lot more action next season.
It appears the Browns are making Njoku available this offseason, which shouldn't come as a surprise to anyone.
#Nfl #Browns, once again, have TE David Njoku available for trade this offseason.

Njoku was the subject of trade rumors last year ,Cleveland was looking for a third-round pick in return for the former first-rounder. pic.twitter.com/IUFS1BzrHB

— #NFL-NEWS-NFL# (@Nfl_Trade_Rumor) March 8, 2021
The former first-round pick has not been a reliable option for the Browns since the 2018 season.
At this point, Njoku causes more drama off the field than he helps the team on it.
The departure of Njoku would likely mean Bryant gets the No. 2 tight end job in 2021.
In theory, being a starting tight end should lead to more targets and increased opportunities for Bryant.
He showed that he was capable of carrying his own weight in a limited role last season.
Bryant could be ready to emerge as a significant contributor for the Browns this upcoming season.