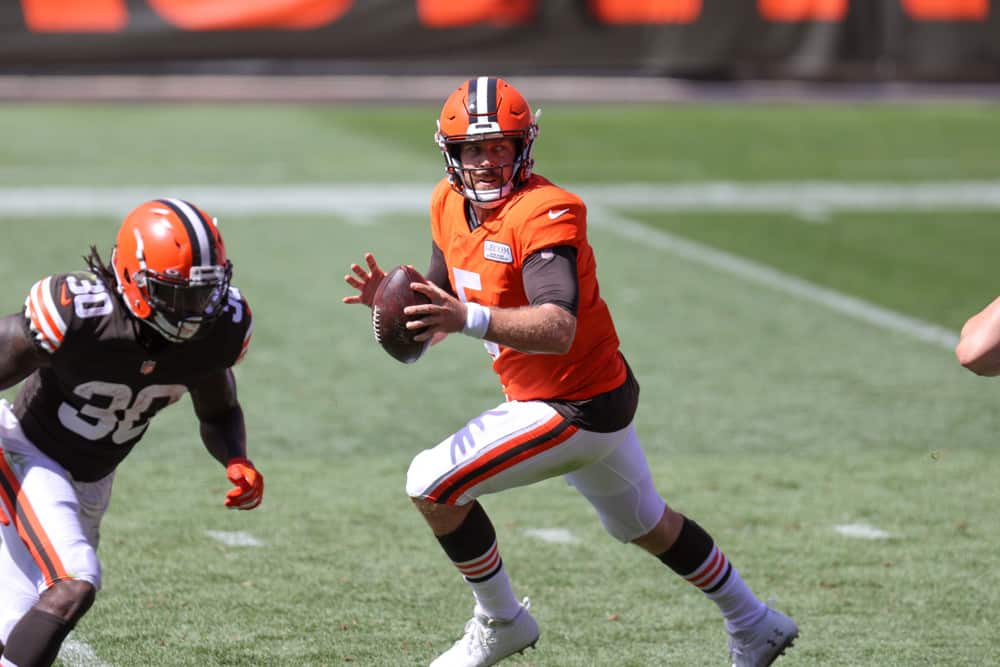 The Cleveland Browns enter tonight's game with backup quarterback Case Keenum under center.
This was likely not a decision made lightly given Baker Mayfield's competitiveness and strong desire to play despite an injured non-throwing shoulder.
Now that we are here, it is important to know who is backing up Keenum.
No one wants to see Keenum get injured at any point, but given the Browns' horrible misfortune with injuries in 2021, we should get to know Keenum's backup, Nick Mullens.
QB Nick Mullens will be elevated to the active roster and serve as Case Keenum's back up #Browns (Via MKC). pic.twitter.com/zTwUmtDfQS

— MoreForYouCleveland (@MoreForYou_CLE) October 20, 2021
Mullens was with the San Francisco 49ers from 2018 through 2020.
Nick Mullens, in his first NFL start went 16 of 22 for 262 yds and 3 touchdowns as the 49ers won 34–3. His passer rating of 151.9 was the highest since 1970 for a QB with at least 20 passes. He was also the first player in 49ers history to throw 3 touchdowns in his first game..🧐

— BrownsFreak51 (@BrownsFreak51) September 1, 2021
He got a lot of playing time last season when Jimmy Garrapolo was injured.
In 8 starts in 2020, he threw the same amount of touchdowns as he threw interceptions: 12.
Over his career, he has completed 387 passes for 4,714 yards for 25 touchdowns and 22 interceptions.
Mullens has 16 career starts and has appeared in 19 games.
He became an unrestricted free agent following the 2020 season.
49ers Connection In Cleveland
T.C. McCartney, the Browns offensive assistant, worked with Mullens in San Francisco so there is some familiarity.
Coach Stefanski talked about how the familiarity led to the team's decision to sign Mullens.
"The thinking is get a quarterback in here, take a look at him. He has some prior experience in this system. (Offensive assistant) T.C. McCartney was with him in San Francisco, so had some intel on him as a person and a player."
The Browns signed Mullens in September.
In June, he was signed by the Philadelphia Eagles but was waived in late August when the Eagles signed ex Jacksonville Jaguar Gardner Minshew.
As mentioned above, we do not hope to see Mullens in action tonight; however, if called upon in a dire circumstance, he has plenty of experience to draw from.
Watch the Browns take on the Broncos tonight at 8:20 PM EDT on Fox and/or NFL Network.