It's been almost a week since the Browns fired Freddie Kitchens and parted ways with GM John Dorsey.
With so many head coaches and GM candidates for the Browns, everyone is going to have an opinion of their choices.
Our writers weigh in with their opinion on who should be the next  Browns head coach and general manager.
Writer: Ben Donahue
After the failed Freddie Kitchens experiment, the Browns can ill afford to make the same mistake twice.
Plenty of offensive and defensive coordinator names have been mentioned as possible replacements for Kitchens.
However, there is no way of knowing for certain how any of these candidates will perform as a head coach.
Urban Meyer's name has been thrown into the conversation to take the lead, staying in-state to lead the Browns.
There are two main issues with Meyer as head coach.
One, he has been a successful college head coach and has no NFL experience.
History is littered with the bodies of former college head coaches who have failed as NFL head coaches.
Two, health problems have led to him stepping down from both Florida and Ohio State.
Meyer is a great coach, but the Browns cannot take a chance given his lack of NFL experience and health.
Josh McDaniels is also frequently mentioned as a Kitchens replacement.
However, as I wrote recently, the Belichick assistant coach to head coaching tree is not good.
In my opinion, since Ron Rivera has already been hired by Washington, Mike McCarthy is the Browns best option.
He has experience as a head coach in Green Bay and has led his team to a Super Bowl.
He may have eventually been on the outs with Aaron Rodgers, but that can happen in any relationship.
McCarthy has spent a year away from football to re-tool and analyze current game trends.
Surrounded by the right staff, McCarthy can have an immediate impact in Cleveland.
In fact, pairing McCarthy and Browns current assistant GM Eliot Wolf could be exactly what the doctor ordered.
My Pick:  Mike McCarthy & Eliot Wolf
Writer: Pat Opperman

The Cleveland Browns showed that NFL developing quarterbacks do best when the offensive coordinator isn't doubling as head coach.
Even Freddie Kitchens got the most out of Baker Mayfield when the defensive coordinator ran the show.
I fear John DePodesta and the Haslams will get lazy and go with last year's better choice in Kevin Stefanski.
They might try to make a splash with Mike McCarthy or appeal to Mayfield's college mentality with Lincoln Riley or Urban Meyer.
But the right call is to hire Robert Saleh as head coach before offering Jay Gruden free reign over the Browns' talent-laden offense.
DePodesta can crunch numbers for a draft advisory board led by newly-promoted GM Eliot Wolf.
Wolf as GM, Saleh as head coach/DC, and Jay Gruden as offensive coordinator is my dream team.
My Pick:  Robert Saleh & Eliot Wolf
Writer: Kyle Daubs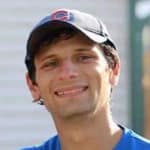 In my opinion, connecting the dots towards the new Browns general manager and coach are pretty clear.
When Minnesota Vikings offensive coordinator Stefanski was in the running last year, he was interviewed by a panel that included Chief Strategy Officer Paul DePodesta.
It was reported that Stefanski was the first choice of DePodesta to become the Browns head coach before John Dorsey opted to hire Freddie Kitchens instead.
In his first season with Vikings quarterback Kirk Cousins, Stefanski helped lead Cousins to a career-high in passer rating (107.4).
Cousins was fourth in the league in passer rating, as well as eighth in touchdowns (26),
Since Stefanski has a clear liking by the organization, then it would likely be enough to lure Andrew Berry.
Berry is the current vice president of football operations for the Philadelphia Eagles
Berry was the Browns' vice president of player personnel from 2016-2018 and has been linked to returning to Cleveland if the Browns were to hire Stefanski.
My Pick: Kevin Stefanski & Andrew Berry
Writer: Drake Jesse

Josh McDaniels has interviewed for the Browns job before and is rumored to be a favorite of the Haslam's.
Enough is enough, it's time to pull the trigger and hire him.
Bring the Northeast Ohio kid home.
Yes, it's a risky hire given his former head coaching experience.
But hey, who hasn't made a few mistakes when given the keys to an NFL franchise in their early 30s?
If the rumors are true, McDaniels will want to bring in his own General Manager.
That puts all the Browns eggs in McDaniels' basket, which is a huge risk.
However, shouldn't the head coach and the personnel manager be aligned in the types of players the team brings in?
Let McDaniels bring in who he wants, likely a New England guy.
My Pick: Josh McDaniels & Dave Zielger
Writer: Jimmy Swartz

The way I see this search going is two ways.
I think they will either take the safe choice with Mike McCarthy or try to hit the homerun with Josh McDaniels.
With everything that happened with Freddie Kitchens, I would be shocked if they took a chance on another coordinator promoted to head coach.
I also do not believe, given their history with coaches, that they can afford to hire another unproven commodity.
This is a roster that is loaded with talent and ready to win now.
This is a team and an organization that is looking for guidance and leadership to get them where they ultimately wanna go.
There seemed to be a quiet confidence about Jimmy Haslam at his latest press conference.
I believe they already know who they are gonna pick and the rest is just due diligence.
These are drastic changes and I do not believe the Haslam's would have made these changes if there wasn't a quiet handshake through the backchannels before the process even started.
Let's be honest, Dorsey made a huge mistake in hiring Freddie Kitchens, but he did inject a lot of talent into the Browns roster.
Most people in NFL circles would agree, given the Browns roster talent, that they grossly underachieved at the fault of the head coach.
Yes, I do understand that Dorsey made some poor choices involving the offensive line personnel as well.
But, there were plenty of games this year when the Browns had far better talent and personnel on the field and were simply outcoached.
I understand the history of Josh McDaniels at Denver and I remember it all at the time when it was happening.
I understand that there are serious concerns about his relationships with players, and rightfully so, based on his time in Denver.
But, these are things that are correctable and you can learn from.
Being a great and innovative mind in the NFL is not something that can be taught.
He is the guy that intrigues me the most for the Browns.
You would be hard-pressed to make a case that McDaniels is not a great football mind.
He's been around the greatest to ever do it for a very long time.
He is the highest-paid coordinator in the league with the most successful organization this century for a reason.
Will he be better the second time around and learn from the mistakes he made in Denver?
That's a question that remains to be answered.
But, as Broncos linebacker DJ Williams put it in an interview, he was never more prepared at ANY level for a game in his career, than under McDaniels.

When you look at all the candidates currently interviewing for the Browns, I would certainly argue that he has the highest ceiling of all of them.
But, on the same note, I would be the first to tell you that he has the biggest bust rate of all of them as well.
So, in the end, what do you have to lose?
This organization has already seen the bottom and hasn't been able to shake the national perspective of being the laughing stock of the NFL.
Don't get me wrong, I would not be disappointed in a McCarthy hire as I feel he would bring instant credibility and leadership.
Super Bowl champion coaches and guys with his resume don't come on the market that often.
But, with a guy like McDaniels, I believe anything is possible and I don't see any ceiling as far as greatness.
What will the Browns do?
We will find out soon enough.
My Pick: Josh McDaniels & Nick Casserio