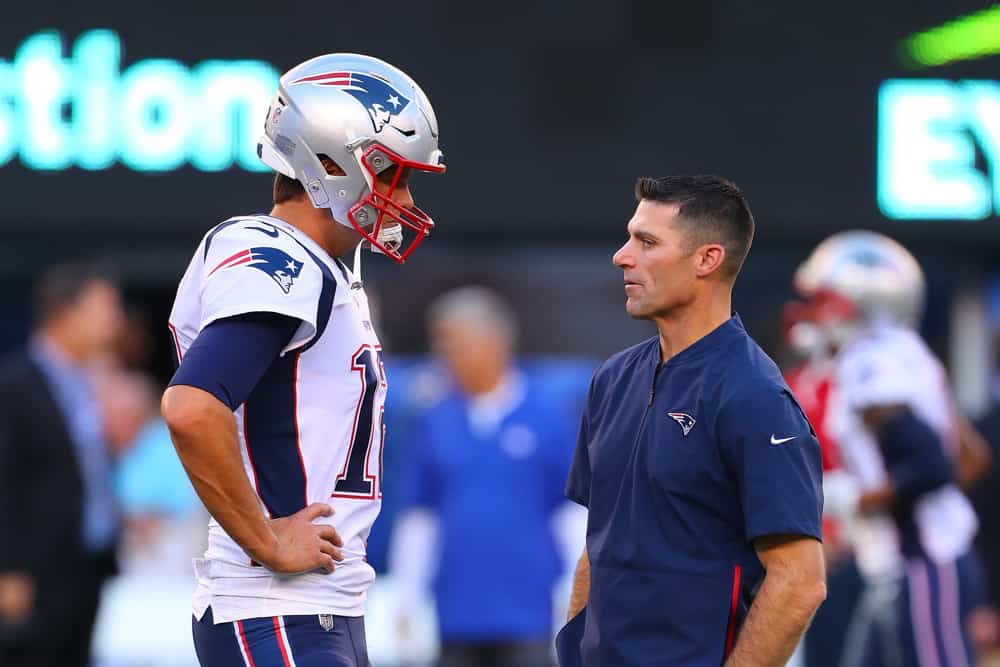 On Tuesday, the Cleveland Browns elected to part ways with general manager John Dorsey. 
Moving forward, his replacement could potentially be any of these five executives.
5 Candidates That Could Replace John Dorsey As GM Of The Cleveland Browns
Andrew Berry-vice president of football operations for the Philadelphia Eagles
Andrew Berry gets to sit at the top of the list because he is an early favorite to land the job.
Berry worked for the Browns from 2016-2018 Browns' vice president of player personnel.
He also has the love of the owner.
As I reported first on Sunday, Haslam would like to bring #Eagles personnel exec Andrew Berry back into the #Browns fold. He loves Berry and has always viewed him as a future Browns GM https://t.co/nWlOtfFCd8

— Mary Kay Cabot (@MaryKayCabot) December 31, 2019

Berry would have a Theo Epstein feel to him if hired.
Berry is just 28-years old but graduated from Harvard with a  Bachelor's degree in economics and a Master's in computer science in four years.
After college, he spent seven seasons (2009-2015) with the Indianapolis Colts, including the final four years as a pro scouting director.
When Berry was hired by the Browns in 2016, he worked with Dorsey in 2017 and 2018.
Berry worked closely with Dorsey in talent evaluation, which included college prospects and NFL free agents.
He also oversaw the franchise's club scouting department.
Haslam reportedly loved Berry and saw him as a future GM, but the Eagle's offer for a job promotion of VP of Football Operations was too good to pass up, so he left in Feb 2019.
Now, we will see if Haslam believes Berry is general manager material.
Dave Ziegler-pro scouting director for the New England Patriots
Dave Ziegler is connected to his former associate in Patriots offensive coordinator Josh McDaniels, who the Browns have reportedly requested to interview. 
He began his career in New England in 2013 after spending three seasons with the Denver Broncos, entering the league in 2010.
In Denver, Ziegler served as a member of the team's scouting department.
At the time, McDaniels was the head coach of the Broncos, so the two have worked together.
From a football standpoint, McDaniels has been a hot option since returning to the Patriots as the OC in 2012.
His offenses have ranked towards the top-five in the league.
With Dorsey out it seems that McDaniels would be more willing to come to the Browns.
As I reported on Sunday, #Patriots Josh McDaniels would not have come here with Dorsey as #Browns GM. He'll want Nick Caserio, Dave Ziegler or Scott Pioli (or some combo); Again, Mike McCarthy will interview w/ #Browns Thursday https://t.co/nWlOtfFCd8

— Mary Kay Cabot (@MaryKayCabot) December 31, 2019
Ziegler was promoted by the Patriots in February 2016.
This was after Bob Quinn decided to leave the franchise after 12 seasons to become the new Detroit Lions' general manager.
Ziegler, who was an assistant to Quinn, took over as the Director of Pro Scouting, a position he has held the past four seasons.
Before setting foot in the league, Ziegler spent time coaching wide receivers and special teams at Iona College in New Rochelle, New York.
He also coached at his alma mater, where he was a wide receiver that set the Blue Streaks record for most receiving yards and touchdowns in a season.
According to many around the league, Ziegler is an "attention-to-detail-type of a grinder."
Nick Caserio-director of player personnel for the New England Patriots
Those around the league could also see the Browns bring in McDaniels and pair him with Nick Caserio.
Caserio has spent the past 19-years with the Patriots and is also a John Carroll graduate.
A native from Lyndhurst, Ohio, Caserio has served as the director of player personnel since 2008.
He has been apart of all six Super Bowls and is considered the franchise's top executive outside from coach Bill Belichick.
Not to mention, if the Browns landed McDaniels as their next coach, he and Caserio go way back.
McDaniels and Caserio were teammates at John Carroll together.
From 1995-1998, Caserio was the Blue Streaks' quarterback and threw to his wide receiver in McDaniels.
It would make sense to pair a coach and general manager that already have some sort of chemistry.
This sounds like the #Browns plan: To pair a head coach and GM to make sure they are on the same page. Similar to what the #49ers did https://t.co/DL6inxL0qt

— Ian Rapoport (@RapSheet) January 1, 2020
After completing college, Caserio began his coaching career at Saginaw Valley State University from 1999 to 2000.
During this time, he earned his MBA and then took a graduate assistant position at Central Michigan University before being hired by the Patriots.
The first six years of Caserio's career featured numerous jobs.
Caserio was a personal assistant in 2001 and was bumped up to an offensive coaching assistant in 2002.
He was then moved to the personnel department as director of player personnel in 2003.
In 2004, Caserio served as the team's director of pro personnel and held that position until 2006.
In 2007, he spent one season as a wide receivers coach before returning to the director of player personnel in 2008.
Caserio has spent time aiding the coaching staff from the press box during games
Scott Pioli-former executive for Browns, Jets, Patriots, Chiefs, and Falcons
Scott Pioli has the most experience out of all candidates.
Pioli has been an executive in the league since 1992.
He started his career with the Browns as a pro personnel assistant when Bill Belichick was the coach.
When Belichick left for the Jets, Pioli followed and became the director of player personnel.
Then, in 2000, Belichick and Pioli became the best head coach/executive combination of the decade.
With Pioli handling player personnel and Belichick making the final decision, the Patriots went onto win three Super Bowls.
From 2000 to 2008, the Patriots went 102-42 and Pioli was named as the decade's top executive.
Reminder that the Browns at that time were ran by Bill Belichick, Ozzie Newsome, Michael Lombardi, and Scott Pioli.

— It's Joe G (@itsjoeg) December 5, 2019
In 2009, Pioli left New England to become the general manager of the Chiefs.
In 2010, Pioli was the Executive of the Year after the Chiefs went 2010.
It was Pioli that decided to hire Todd Haley as head coach, Charlie Weis as offensive coordinator, and Romeo Crennel as defensive coordinator.
The following season Pioli fired Haley as coach and the team finished 7-9, but it was 2012 that led to Pioli's dismissal.
The Chiefs floundered to 2-14 in 2012.
Fans were so upset that a movement called "Save Our Chiefs" was started and protests were led asking for the removal of Pioli as the team's GM.
It was a stressful end to his reign as Pioli was the first to confront Javon Belcher in the locker room before Belcher shot himself.
KC Police: KC Chiefs LB Javon Belcher thanked Chiefs GM Scott Pioli & coach Romeo Crennel before committing suicide. They tried to stop him.

— WSFA 12 News (@wsfa12news) December 1, 2012
After a year away from the league, Pioli joined the Falcons as an assistant GM and held that position from 2014 to 2019.
Jon-Eric Sullivan-director of college scouting for the Green Bay Packers
Jon-Eric Sullivan is a native of Columbia, South Carolina, where his father was a wide receivers coach for South Carolina University.
He was an all-state wide receiver that played college football at South Carolina and Gardner-Webb.
Sullivan's path to the NFL was an unorthodox one.
Sullivan coached football briefly but left for a job at GMAC insurance in Charlotte.
He then left that job to become a sales rep for Balfour in Phoenix and eventually soured on the life of corporate America.
In 2003, Sullivan auditioned as an intern for the Packers' front office but he was not offered a job at the end of the internship.
That caused Sullivan to return to GMAC Insurance as a temporary employee.
Sullivan kept in touch with the Packers and several months later, he and his wife were sitting in a pizza shop when John Dorsey called to offer Sullivan a job.
The Browns appear to be interested in former Packers coach, Mike McCarthy, and that could bring Sullivan along if he is hired.
Mike McCarthy is scheduled to interview for the Browns' head coach job today. If he's Cleveland's guy, GM candidates to watch include Eliot Wolf, currently Browns assistant GM, and Jon-Eric Sullivan, currently co-director of player personnel for the Packers.

— Dan Graziano (@DanGrazianoESPN) January 2, 2020
Members around the league claim that Sullivan is an integral part of the Packers' draft success.
Since 2005, the Packers have hit home runs on first-round picks.
These include Aaron Rodgers, AJ Hawk, BJ Raji, Clay Mathews, and HaHa Clinton-Dix are just a few.
Even his second round gems in DeVante Adams, Jordy Nelson, and Randall Cobb are steals.