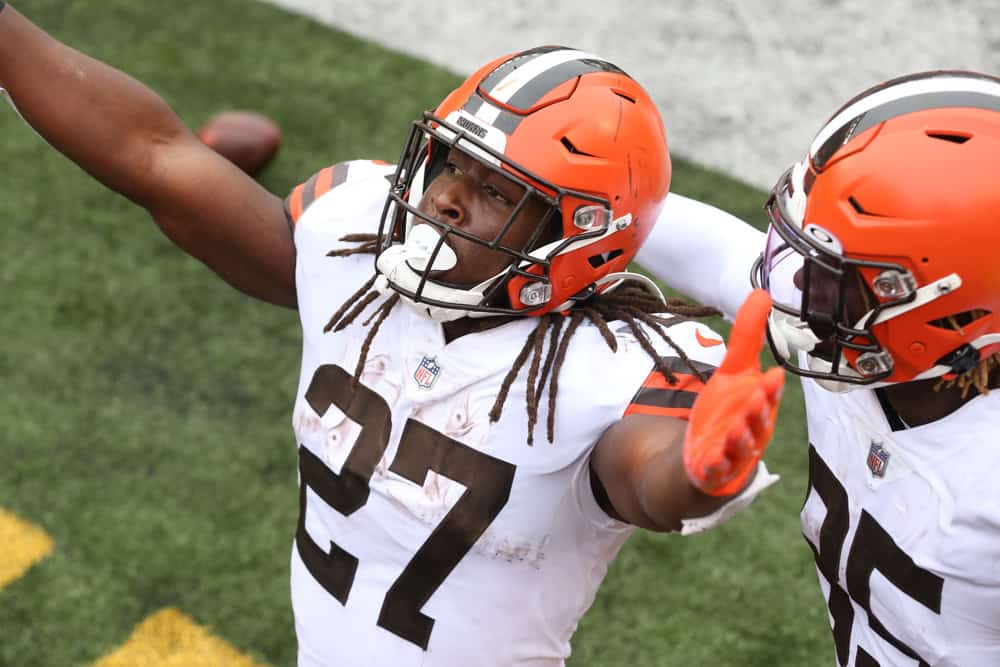 There was a lot of talk about Cleveland Browns' quarterback Baker Mayfield's injuries and how they impacted the team in 2021.
Equally relevant was the health of running back Kareem Hunt.
I'm personally really looking forward to seeing a healthy Kareem Hunt back in the offense.

The Browns sorely missed him last year, especially in the passing game. He missed 9 games last year.

Honestly believe Browns would've snuck into the playoffs with him healthy.

— Mayfield Garrett Stefanski Era 🐶 (@MylesOffTheEdge) March 11, 2022
Hunt played in only 8 games, and his presence was missed so much that it showed just how important he is to the long-term prospects of this team.
There are a few reasons for this.
1. Hunt Is A Great Receiver
With all of the wide receiver issues the Browns dealt with last season, having a healthy Hunt in the lineup would have helped the cause tremendously.
He can line up in the backfield as a running back or on the line as a wide receiver.
More Kareem Hunt lined up as a true receiver please @Browns pic.twitter.com/fWAqibpiXe

— Ian Hartitz (@Ihartitz) December 15, 2020
Either way, he is a threat to catch the ball and gain considerable yards after the catch.
In 2021, he caught 22 passes for 174 yards while gaining 10 first downs.
He did not have any receiving touchdowns last season.
Compare that with 2020, Hunt caught 38 passes for 304 yards, gained 19 first downs, and scored 5 touchdowns.
One more item to note, Hunt is not a player who drops or misses catches.
The lowest catch percentage in his career is 74.3% in his second season with the Kansas City Chiefs.
A healthy Hunt has good hands and moves the chains.
Both of those qualities were lacking among wide receivers in 2021.
2. Complements Chubb
Nick Chubb and Kareem Hunt have different styles of running.
Having both of them on the team allows the Browns flexibility in using the one that is hot or interchanging them to keep the opposing defense off balance.
Both thrive in the partnership and enjoy working together.
Best running back tandem in the modern history of the NFL. pic.twitter.com/TJbShixfiW

— CamFrom🇨🇦 (@camfromcanada3) September 27, 2021
2022 Goals
The Browns should have two items on their offensive to-do list related to the play of Hunt and Chubb in 2022.
The first is to get both to gain 1,000 yards.
Can Nick Chubb and Kareem Hunt both have 1,000 yards rushing seasons in 2022 like Kevin Mack and Ernest Byner in 1985 for the #Browns!!! pic.twitter.com/MQmRwMZSwV

— Down With The Browns Podcast (@DWTB_) February 1, 2022
Browns running backs coach Stump Mitchell believed it would happen in 2020, but it did not.
With a 17 game regular season, it seems even more realistic.
The second one was a goal for last season that injury curtailed.
That is to have designed plays with both on the field at the same time.
Conclusion
Hunt signed a two-year deal worth $12 million so 2022 is his last year under this contract.
Kareem Hunt was quietly the Browns best Rb early in the season. Very much hoping we get the opportunity to run it back!

— Nick Karns (@karnsies817) March 11, 2022
If he is healthy and back to his dominant self, the Browns will do everything they can to afford and keep him on the roster in 2023.
As we heard this morning, the Browns were tendering D'Ernest Johnson so he could stay with the team this season depending on what offers he gets.
There is also Demetric Felton who can be used as both a running back and wide receiver.
Should Hunt continue to have health issues, Johnson (if he is retained by the team) or Felton could step into the role.
They do not possess the same explosive or aggressive style of running that is Hunt's trademark style.
The Browns need a healthy Hunt in 2022 so that the offense can reap the many benefits of this Hunt-Chubb partnership.