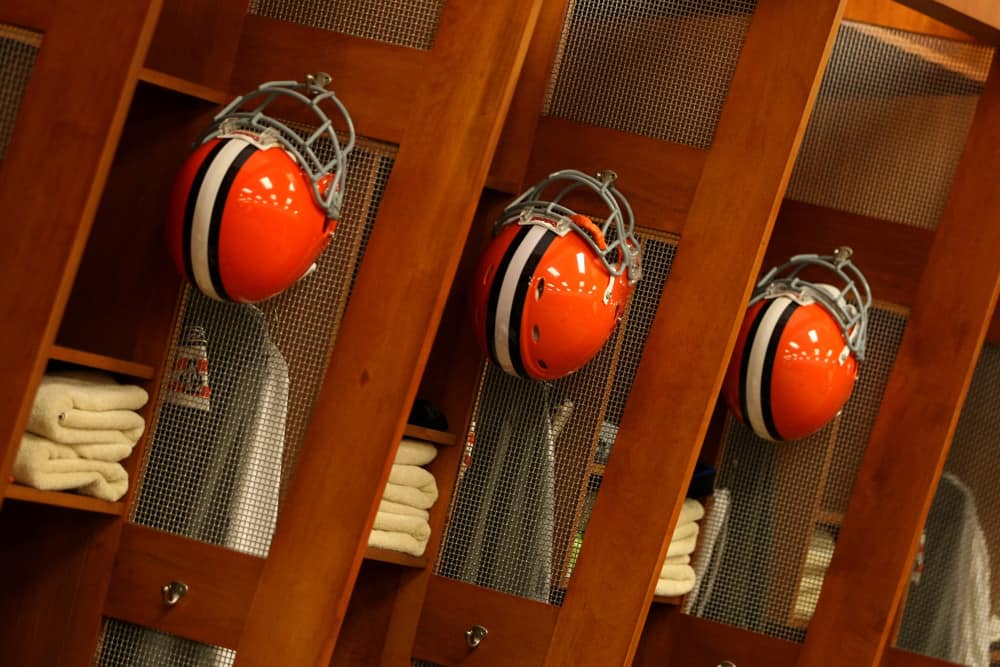 With the calendar turning to April and May, NFL players are normally gearing up for OTAs (organized team activities) and mini-camp.
However, because of the coronavirus threat, the NFL has had to cancel team events for the time being.
Team owners and players alike are hopeful that, at the very least, training camps will begin as usual.
However, recently the organizers of the 2020 Olympics have postponed the summer games to 2021.
The games were scheduled to start in late July.
That decision caused a ripple effect into all sports that typically begin in the fall.
If the coronavirus isn't contained or thwarted, all sports for the foreseeable future could be significantly delayed or canceled.
If the start of the NFL season is delayed, how will that affect teams like the Cleveland Browns?
The Resolution of Significant Injuries
At the end of the 2019 season, Jarvis Landry and Odell Beckham Jr. both revealed injuries that had affected them during the season.
Both have had surgeries to correct their maladies and appear to be on the mend.
#Browns coach Kevin Stefanski on Jarvis Landry and Odell Beckham Jr. coming off surgeries: it's a challenge but something you have to deal with year in and year out b/c injuries and rehab are part of the NFL

— Nate Ulrich (@ByNateUlrich) February 25, 2020

The problem is, with social distancing in place, the Browns don't know exactly how much the two have healed.
Normally, the team could get Landy and Beckham into their facility and have them checked out by team doctors and trainers.
That can't happen for the time being.
Even worse, with the draft approaching, Cleveland is not able to see (first-hand) any medical issues with prospective draftees.
Draft prospects and the Browns medical staff can always use technology such as Zoom, Skype or Google Hangouts to discuss potential hiccups.
The problem with technology is that it still doesn't put the prospect in the room with team personnel.
It's not like prospects or independent medical professionals would lie about red flags, but stranger things have happened.
Essentially, the Browns have to take it on faith that their veterans, free agents, and soon-to-be drafted players are medically sound for 2020.
Lack of Practice Leads to Lack of Cohesion
OTAs' and mini-camps are a perfect time to start getting everyone in the organization on the same page.
These activities allow the members of each team to get to know one another and begin working on the playbook.
Veterans, free agents, recent draft picks, and coaches spend this time working on the nuances and intricacies of each play.
New team additions can work with team veterans on things like timing, technique, formations, audibles and the like.
The NFL recently announced the start of virtual OTAs, but virtual is a far cry from the real thing.
A voluntary offseason virtual workout program is coming next week, but NFL franchises cannot resume in-house work, OTAs or any form of camps until all 50 states have removed lockdown restrictions. pic.twitter.com/e7SbI9wbOA

— theScore (@theScore) April 13, 2020

Withouts actual OTAs' and mini camps, all the time that would be spent together in April and May gets pushed to mid- late July.
Training camps should be getting under way at that time and teams would normally start to gel as they get to know one another.
However, if there are no OTAs, no mini-camps, and a late- start to training camp, every team suffers.
Most people are familiar with cramming for a test in school.
First, you spend an unreasonable amount of time procrastinating and not studying for an upcoming test.
Then, when test day approaches (maybe even the night before) you try to cram as much info into your head as possible to prepare for the test.
Usually, the results from test cramming are less than ideal.
This is kind of the same issue NFL teams will be facing with little time to prepare.
Players can prepare and study their playbooks at home, but they need to actually practice with live bodies as well.
Any coach will tell you that the best way to prepare a team to play a sport, they actually need their team to be able to prepare.
Workouts at home do not replicate practices on a field.
Without practice, coaches can't fine-tune their athletes and get them to where they need to be.
Baker Mayfield, Odell Beckham Jr, Austin Hooper, and Jarvis Landry can't practice their timing on routes.
Jack Conklin, Joel Bitonio, and the new draft pick at left tackle can't practice picking up blitzes.
Myles Garrett, Denzel Ward, Greedy Williams, et al. can't practice reading formations and react to where they need to be.
In short, there is no substitute for the real thing.
Without proper practices (or enough practices) coaches and players alike will struggle to get on the same page.
That lack of cohesion will show on the field during the first few weeks of the season.
Shorter Preseason Game Schedule Doesn't Allow Time for "Good Looks"
For years now, the NFL has had a four-game preseason schedule.
These four games were used by coaches to get a 'good look' at their teams before the real season began.
For free agents and draftees, these games mean everything.
The preseason is make or break time for fringe players hoping to stick.
In the preseason, the new players have very limited opportunities to make their name known to the coaching staff.
They need these games to showcase their skills, either for their current team, or for a team that may sign them if they are cut.
During the recently announced new collective bargaining agreement, the NFL preseason will soon be reduced to three games.
Before that happens, teams still have four games to get their new guys prepared.
One of the immediate concerns NFL coaches have is, if the coronavirus delays the 2020 season, how many preseason games will each team have?
Coaching staffs throughout the league are concerned about being able to work with their new guys.
Along with practices, each team must have enough actual, live games to see how prepared the new acquisitions are grasping the playbook.
Even veteran players benefit from the preseason games.
Sure, they may play a very limited amount of snaps during the preseason to reduce injury.
However, veterans also use these games to prepare physically for the new season.
Vets have their own kinks to work out after a long offseason.
The preseason allows them to see what's working against live competition and what needs to be scrapped.
Throwing players into the regular season with little or no preseason will (much like a lack of practices) also show on the field.
Instead of a well-rehearsed, choreographed game plan, the Browns might look like a high school JV team.
No Time for Mistakes
Okay, say we get past no OTAs, no mini camps, limited preseason practices and games.
What does the regular season look like?
I recently wrote an article about the strike-shortened 1982 season.
That season was reduced to nine games because of the players' strike.
The postseason was turned into an eight-seed tournament for both the AFC and NFC sides leading to the Super Bowl.
It is very possible that the coronavirus could delay the season enough that the regular season is reduced significantly just like that season.
Depending on how many regular season games are scheduled, each team has a very small window for mistakes.
A shortened season means that all NFL teams have to play near perfect or their postseason hopes are dashed.
Think of college football, specifically the schools in the FCS. Any school in the FCS hoping to make it to the elusive College Football Playoff can't afford any losses.
It's the same idea here.
A reduced NFL season puts an onus on each team to be ready for each and every game.
One loss can significantly reduce the chances that a team will make the playoffs let alone find themselves in a preferable playoff spot.
The Browns are on the precipice after a disappointing 2019.
They have been drastically re-made during the off-season and, after the draft, they could conceivably make some noise this season.
Cleveland would seriously benefit from a considerable amount of time getting the veterans and new pieces all on the same page.
But, if the team has a limited preseason, small window of practice time, and isn't prepared for the regular season…
Anyway, let's not go there.
Let's just say that the Browns might not perform as well as they could if they have an abbreviated regular season.
The more time the team has to prepare in the offseason and preseason the better.
Cleveland does have an exciting nucleus forming and the draft isn't even here yet.
Let's not get our hopes up, but given the talent the team has assembled, the Browns are in great shape for 2020.
Now, we just need to get this pesky virus under control.