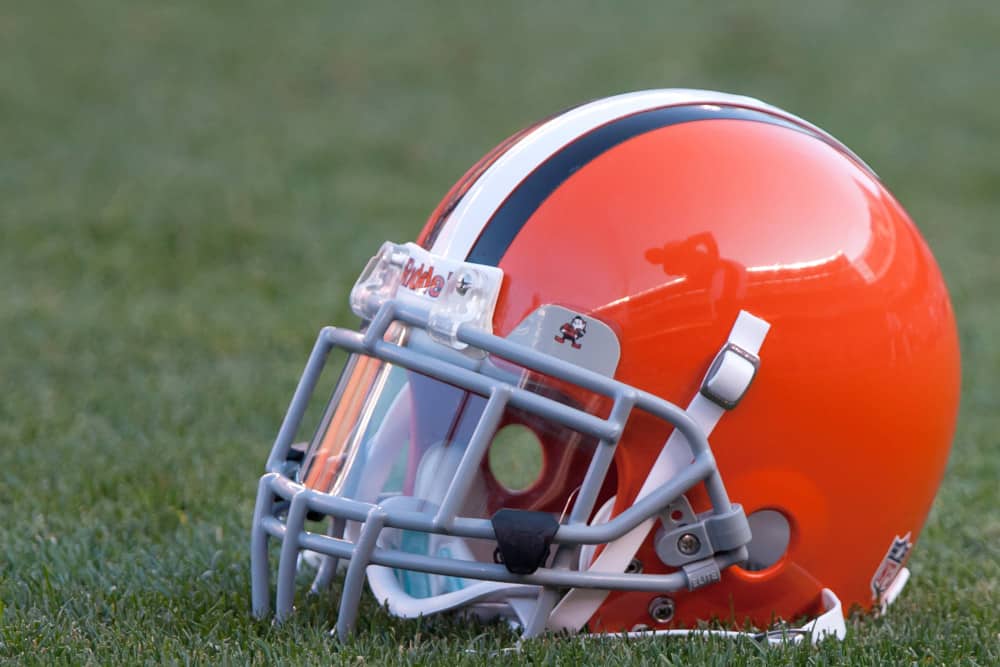 The first week of NFL free agency was, expectedly, very busy.
The Cleveland Browns were no exception as they signed several notable players to upgrade their 2020 roster.
Let's recap todays free agent signings under new GM Andrew Berry:

– TE Austin Hooper – 4-year, $44M
– OT Jack Conklin – 3-year, $42M
– QB Case Keenum – 3-year, $18M

Great start. #Browns pic.twitter.com/tQTiyxYNOl

— MoreForYouCleveland (@MoreForYou_CLE) March 16, 2020
The team continues to bring in new free agents almost daily.
Many of the signings have been lauded by NFL talking heads and (very) early speculation is the team is ripe for a 2020 playoff birth.
However, as we learned from 2019, it's best to temper those expectations, at least for now.
The following is a list of the Browns free-agent signings so far.
A grade has been given for each player based on various factors including age, injury history, career performance, and fitting team needs for 2020.
Hooper was drafted by the Falcons in the 3rd round of the 2016 draft.
Since the '16 season, Hooper's production in receptions, yards receiving, and touchdowns have increased each season.
Hooper also started 59 out of a possible 64 games in his career.
Coming into this off-season, he was considered one of the top free agents available as well as the top overall tight end to target.
Cleveland's tight end room is sketchy considering David Njoku's 2020 status remains unclear.
With that in mind, the team spent big and signed Hooper to a four-year deal worth $44 million and $23 million guaranteed.
Playing alongside receivers Odell Beckham Jr. and Jarvis Landry, Hooper adds another weapon for quarterback Baker Mayfield.
If the trio stays healthy this season, the Browns will make some serious noise in the AFC North.
Grade: A
Conklin was the eighth overall pick of the Tennessee Titans in 2016.
In the 2016 and 2017 seasons he started all 16 games.
However, in the 2017 playoffs, Conklin tore his ACL in a game against New England.
In 2018, Conklin missed the first three games of the season while recovering from his ACL injury.
Then, he suffered an injury during a Week 9 game against Dallas.
He went into concussion protocol after that game and was out for a game.
After returning, he sustained another knee injury in Week 14 and was placed on injured reserve.
Conklin bounced back in 2019 and started every game for the Titans.
He is considered one of the reasons running back Derrick Henry had a successful '19 season.
Conklin will be a considerable right tackle upgrade over last year's starter, Chris Hubbard.
The Browns are targeting a left tackle in the '20 draft.
Pairing him with whomever the team drafts at left tackle, the Browns suddenly have one of the best lines in the league.
Conklin signed a three-year deal for $42 million with $30 million guaranteed.
Grade: B+ (mainly due to injury concerns)
After a notable college career with the University of Houston, Keenum has taken a circuitous route through the NFL.
He was signed as an undrafted free agent in 2012 out of college by the Texans.
After two years in Houston, Keenum went to the then St. Louis Rams.
He spent the 2014 season first with the Rams, then with Houston again after they signed him off the Rams practice squad.
In 2015, Keenum went back to the Rams and stayed with them during their move to Los Angeles.
Keenum signed a contract with the Vikings before the 2017 season and experienced his most successful year to date.
After replacing an injured Sam Bradford, Keenum promptly led Minnesota to a 13-3 record and a birth in the NFC Championship game.
With the Vikings losing in the Divisional Round game against the Saints, Keenum threw a desperation heave with 10 seconds left to receiver Stefon Diggs.
Diggs caught the ball and motored to the end zone to eventually give the Vikings an improbable win.
The play has been dubbed the "Minneapolis Miracle."
Vikings fans will always have the memory of the Minneapolis Miracle 🙌pic.twitter.com/y7dfCDPyc2

— Bleacher Report (@BleacherReport) March 17, 2020
The Vikings showed no love for Keenum after that season, however, and he was not re-signed.
Keenum spent 2018 and 2019 with the Broncos and Redskins respectively.
Keenum is reunited with new Browns head coach Kevin Stefanski who he worked with in Minnesota.
He is a considerable upgrade over last season's backup quarterbacks and will be a great sounding board for Mayfield.
His deal is for three years at $18 million with $10 million guaranteed.
Grade: B
Goodson comes to Cleveland after a four-year career with the New York Giants and Green Bay Packers.
In three years with the Giants, Goodson's production increased each season.
He also played in 37 out of a possible 48 games with the G-men.
Before the 2019 season began, Goodson was signed by the Packers to shore up their linebacker core.
Last season he played in 15 games and started nine.
Goodson brings experience and depth to a position decimated during the past few weeks.
With the departures of Christian Kirksey and Joe Schobert, Goodson will be a solid stop-gap solution for the short term.
His deal is for one year.
Grade: C
Joseph was a first-round pick out of West Virginia by the Raiders in 2016.
He brings four years of playing experience with him including 41 starts with the Raiders.
During his time in Oakland, Joseph played in the playoffs in 2016 and was frequently ranked as one of the top safeties in the game.
In 2019, during a Week 10 game versus the Chargers, Joseph injured his foot and was eventually placed on injured reserve to end the season.
He was not re-signed by the Raiders and eventually signed a one year deal with Cleveland.
Joseph will add much-needed depth and experience for the Browns.
As of now, the team only has Sheldrick Redwine and J.T. Hassell on their depth chart at safety.
More than likely, this position will also be addressed during the draft.
Grade: B
Billings is a former 4th round pick out of Baylor by the cross-state Bengals.
Before the 2016 draft, Billings was considered a first-round prospect.
His fall to the 4th round was unexpected.
Many draft insiders speculated that his fall was due to his size (6'1" 311 pounds) or to a possible knee injury.
Almost on cue, Billings immediately suffered a knee injury during training camp of his rookie year.
He ended up missing the entire season.
Over the next three years, Billings racked up 80 tackles and 3.5 sacks.
Cleveland signed him to a one-year contract to serve in a rotational role with current Browns defensive tackles Sheldon Richardson and Larry Ogunjobi.
Grade: C
Johnson is yet another former first-round pick signed by Cleveland.
After playing collegiately at Wake Forest, Johnson was drafted 16th overall in the 2015 draft by the Texans.
Despite some periods of solid play, Johnson's career has been mostly marked by injuries.
In October of his second season of 2016, he broke his foot and was placed on injured reserve for the remainder of the season.
In 2017, Johnson missed time due to a sprained MCL.
Johnson missed almost all of 2018 after sustaining a concussion during Week 1 and being placed on injured reserve.
He finally stayed healthy in 2019 and finished the season with 36 tackles and five passes defended as a member of the Buffalo Bills.
Johnson's one-year deal will give the Browns depth at corner as well as someone to man the nickel position.
If he can stay healthy, Johnson could be a free agent steal.
Grade: C
Sendejo took an interesting path to NFL stardom.
After completing his college career at Rice, Sendejo went undrafted.
He began his pro career with the Sacramento Mountain Lions of the now defunct United Football League in 2010.
Sendejo then meandered through the next two years with the Cowboys, Jets, and Vikings.
Finally sticking with Minnesota, he became a reliable backstop to the defense for the next seven years.
In March of 2019, the Vikings declined his contract option and Sendejo became a free agent.
He was then signed by the Eagles where he lasted until November before being waived by the team.
He was then re-signed by the Vikings where he finished out the season.
Sendejo is yet another player reunited with Stefanski from their days in Minnesota.
Despite age concerns (32), he brings a solid presence to the Browns safety room.
He will most likely be paired with Joseph as the starters for 2020.
Grade: B+
JoJo Natson, WR, KR, PR
Natson had a distinctive college career at Utah State before being dismissed after three seasons for violating multiple team rules.
He played his senior season at Akron.
Natson went undrafted in the 2017 draft and signed a free agent deal with the Colts.
Indy waived him before the '17 season began and he was then claimed by the Jets.
Natson spent most of that season on the Jets practice squad before being promoted to the active roster.
He was then waived in April of 2018 and claimed by the Rams.
Natson stuck with the Rams through the '19 season but was injured and placed on injured reserve in December.
He was waived by LA earlier this month and signed a one-year deal with Cleveland a few days later.
Natson brings with him a game predicated on special teams.
He is a quality returner with a 20.6 yard average returning kicks and a 7.7 yard punt return average.
It should be noted that he has not scored a touchdown in his NFL career.
Grade: D
Olumba played his college career at Portland State.
He went undrafted in 2018 and was signed by the Cowboys as a free agent.
After spending all of '18 and most of '19 on the Cowboys practice squad, he finally made the active roster in December.
He finished 2019 appearing in only one game.
He was released by Dallas earlier this week and signed by Cleveland.
Olumba will provide depth to the corner position for the Browns as well as contribute to special teams.
Grade: D-